Scarlatti: Sonatas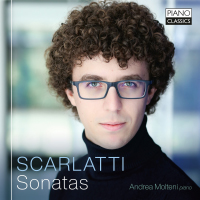 Download booklet
| | |
| --- | --- |
| Composer | Domenico Scarlatti |
| Artist | Andrea Molteni piano |
| Format | 1 CD |
| Cat. number | PCL10233 |
| EAN code | 5029365102339 |
| Release | January 2022 |
About this release
'A strange but wonderful album': one of the accolades for Andrea Molteni's debut album on Piano Classics, of the piano works by his countrymen Dallapiccola and Petrassi (PCL10222). For a sequel, he turns to the endlessly inventive store of sonatas by Domenico Scarlatti, who drew on his own extraordinary abilities at the keyboard to produce the illusion of written improvisations within a basic two-part form which left routine formulas of keyboard composition farther and farther behind.
In a booklet conversation with the pianist and Lisztian Leslie Howard, Molteni explains that he has selected 18 lesser-known sonatas in a sequence which moves through the keys in the manner of The Well-Tempered Clavier, beginning with the A major virtuoso flourishes of K24 and ending with the G minor of K546. Howard praises the clarity and luminosity of Molteni's touch; the sensitivity of his approach to ornamentation, which carefully emulates the effects and articulation available on a harpsichord as much as possible; strong dynamic contrasts; and the breathing pauses between sections, which allow for a change of registration like a harpsichord stop.
Without observing the traditional pairings of Scarlatti's sonatas, Molteni's sequence encompasses the violinistic figurations of the early sonatas from the composer's residence in Rome as well as the fandangos and guitaristic flourishes of his later and much longer stay in Madrid in service to the Princess (then Queen) Maria Magdalena Barbara. Scarlatti himself professed an aim of 'ingenious jesting with art' in a preface to one of volume of sonatas, and Molteni proves himself more than equal to the required balance between musical sophistication and virtuoso demands.

- Born in Italy in 1685, Domenico Scarlatti spent the majority of his career in the service of the Portuguese and Spanish royal families – with the latter appointment enabling him to devote his full attention towards composing for the harpsichord. This unusual cultural background accounts for why the Italian's music, though contemporary with that of Bach and Handel, differs so much in comparison; Spanish dance rhythms (such as the flamenco), and folk tunes with Moorish and gypsy-like flavours, indicate that day-by-day-street life was a great source of inspiration to Scarlatti. Scarlatti died in 1735 in Madrid.
- Written in single-movement form, Scarlatti's sonatas reveal the development of new playing techniques, including note repetitions and fast passages in parallel 3rds and 6ths, as well as the innovation of musical structures, which point to the emerging Classical style.
- Young Italian pianist Andrea Molteni presents his personal choice of sonatas, in which all the aspects of the composer's musical and technical genius are represented.
- Andrea Molteni is one of the most talented young Italian pianists of his generation. He enjoys the artistic guidance of William Grant Naboré and Stanislav Ioudenitch under the auspices of the prestigious International Lake Como Piano Academy. Molteni's mentors also include Arie Vardi, Pavel Gililov, Piotr Paleczny, Vladimir Feltsman, Christopher O'Riley, Vovka Ashkenazy, Mario Patuzzi and Vincenzo Balzani. He is prize winner of several international competitions and gave concerts in the Wiener Saal of the Mozarteum University in Salzburg, Scriabin Museum in Moscow, Concert Hall of Chopin Music University in Warsaw and many more. His previous recording for Piano Classics was the complete piano music of Petrassi and Dallapiccola, which received glowing reviews in the international press.
Listening
Track list
Disk 1
Domenico Scarlatti: Sonata in A Major, K.24

Domenico Scarlatti: Sonata in A Minor, K.532

Domenico Scarlatti: Sonata in B-Flat Major, K.266

Domenico Scarlatti: Sonata in B-Flat Minor, K.131

Domenico Scarlatti: Sonata in B Major, K.262

Domenico Scarlatti: Sonata in B Minor, K.173

Domenico Scarlatti: Sonata in C Major, K.421

Domenico Scarlatti: Sonata in C Minor, K.126

Domenico Scarlatti: Sonata in D Major, K.33

Domenico Scarlatti: Sonata in D Minor, K.138

Domenico Scarlatti: Sonata in E Major, K.20

Domenico Scarlatti: Sonata in E Minor, K.232

Domenico Scarlatti: Sonata in F Major, K.17

Domenico Scarlatti: Sonata in F Minor, K.184

Domenico Scarlatti: Sonata in F-Sharp Major, K.319

Domenico Scarlatti: Sonata in F-Sharp Minor, K.67

Domenico Scarlatti: Sonata in G Major, K.425

Domenico Scarlatti: Sonata in G Minor, K.546