Delucchi: Piano Music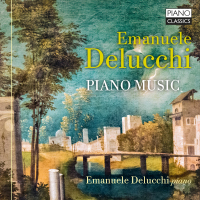 Download booklet
| | |
| --- | --- |
| Composer | Emanuele Delucchi |
| Artist | Emanuele Delucchi piano |
| Format | 1 CD |
| Cat. number | PCL10235 |
| EAN code | 5029365102353 |
| Release | March 2022 |
About this release
Born in 1987, Emanuele Delucchi already has to his credit a string of critically acclaimed recordings for Piano Classics and other labels. Particular praise has been lavished on the technical finesse and subtly musical qualities of his Godowsky albums (PCL0122, PCL0096), which between them contain some of the most challenging music ever written for the piano.

However, Delucchi has also addressed himself to valuable rarities of the Romantic repertoire, such as Eugen d'Albert's lush transcriptions of Bach (PCL10139), and Carl Czerny's tribute to Bach (PCL10204), Der Pianist im klassischen Style, which amounts to his own Well-Tempered Clavier of 48 preludes and fugues.

Aside from his career as a busy solo performer, giving recitals across Italy and farther afield, the Milan-based Delucchi is also a teacher (at the city's Cluster school of music) and a composer of note. His music is inevitably informed by his richly cosmopolitan education and outlook: his booklet notes pay tribute at different points to sources as diverse as Liszt, Einaudi and James Joyce, testament to the breadth of his outlook, and a clue to the tonal roots of music that is nonetheless marked by the lively mind of its creator.

Among the original works are three from a series of six Ricercare composed between 2017 and 2021, which 'search' (recercare) for their form from small and sometimes modest beginnings, though the third of them develops from a 14-note theme into counterpoint from which fulfilment is purposely withheld. The album also features a waltz dedicated to his wife Francesca, a mysterious Lullaby for Chiara and a striking opening Toccata.

Between Delucchi's original compositions he has interleaved diverse transcriptions and arrangements of his own from pieces he particularly admires: 'Pur ti miro' from Monteverdi's L'incoronazione di Poppea, a trio of madrigals by Gesualdo, a late song by Schubert (Im Frühling) and the Capricho árabe by Francisco Tárrega: all more or less faithful in intent, leaving both the spirit and the substance of the original intact.

Emanuele Delucchi (b.1987) lives and works in Milan. He studied with Canzio Bucciarelli (Genoa), Riccardo Risaliti (Imola) and Davide Cabassi (Bozen), graduating in piano and composition. He gives solo recitals, with orchestra and in chamber music formation in Italy and abroad; he composes and lectures about the history of music.
Emanuele Delucchi is one of the most remarkable pianists of his generation. He has the technique and style to master the most difficult pieces with easy, logic and elegance. He made a name with his recordings for Piano Classics of the insanely difficult Chopin Studies by Godowsky, played on a 1906 Steinway D, of which the Gramophone wrote: "Its palette of warm colors remained intact but gained a more incisive attack, allowing Delucchi's voicing and extraordinary digital facility to be heard at its best…'. "Delucchi is in a class of his own", Jed Distler of Classicstoday.com wrote: "9/9: every inch a viable contender to the reference". He recently recorded the 24 Preludes and Fugues by Carl Czerny.
This new recording presents Delucchi as a transcriber and composer. Of the Three transcriptions of Carlo Gesualdo he says: "Gesualdo's music has always fascinated me, for its modernity and originality in the panorama of late Renaissance music. The transcriptions are very faithful to the original, reducing the doubling to a minimum. The writing of the five voices, which is unmanageable on the keyboard, is achieved by keeping two parameters constant: the pitch and the duration of the notes (which means that the overall effect is identical, although the physiognomy of the individual voices is different).
The strong connection with the Renaissance is reflected in Delucchi's own original works, called Toccata and Ricercares, a highly original recreation in contemporary style of centuries old techniques.
Listening
Track list
Disk 1
Emanuele Delucchi: Toccata avanti le canzoni

Emanuele Delucchi: Pur ti miro

Emanuele Delucchi: Ricercare III

Emanuele Delucchi: 3 Transcriptions from Carlo Gesualdo, Prince of Venosa: I. Moro, lasso

Emanuele Delucchi: 3 Transcriptions from Carlo Gesualdo, Prince of Venosa: II. Sparge la morte

Emanuele Delucchi: 3 Transcriptions from Carlo Gesualdo, Prince of Venosa: III. Aestimatus sum

Emanuele Delucchi: Ricercare V – Te lucis ante

Emanuele Delucchi: Im Frühling

Emanuele Delucchi: Ricercare VI – Nephelomachia

Emanuele Delucchi: Capricho árabe

Emanuele Delucchi: Il valzer di Francesca

Emanuele Delucchi: Lullaby for Chiara