Weber: Complete Piano Sonatas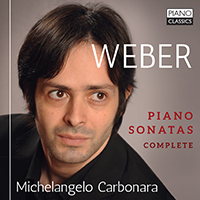 | | |
| --- | --- |
| Composer | Carl Maria Von Weber |
| Artist | Michelangelo Carbonara piano |
| Format | 2 CD |
| Cat. number | PCL0105 |
| EAN code | 5060385450406 |
| Release | April 2016 |
About this release
This new recording contains the four grand piano sonatas by Carl Maria von Weber. Written in the early 19-th century these works mark the transition from the Classical to the Romantic style. Weber infused the classical sonata form with his own lyrical and dramatic, sometimes even theatrical, elements. The pianism is of the highest order, finding orchestral timbres and colours, as well as pianistic novelties in the virtuoso textures.
As valuable additions to the four piano sonatas the famous Invitation to The Dance and the Rondo Brillante are included.
Michelangelo Carbonara find drama, passion, wit and elegance in these wonderful, still underrated works. Carbonara studied at the famous Lake Como Academy, where his teachers included Dimitri Bashkirov, Leon Fleisher, Alicia de Larrocha, Claude Frank and Menachem Pressler. He won several international competitions, among which the Schubert International Piano Competition in Dortmund.
Track list
Disk 1
Piano Sonata No. 1 in C Major, Op. 24: I. Allegro

Piano Sonata No. 1 in C Major, Op. 24: II. Adagio

Piano Sonata No. 1 in C Major, Op. 24: III. Menuetto

Piano Sonata No. 1 in C Major, Op. 24: IV. Rondo, presto

Piano Sonata No. 2 in A-Flat Major, Op. 39: I. Allegro moderato, con spirito ed assai legato

Piano Sonata No. 2 in A-Flat Major, Op. 39: II. Andante

Piano Sonata No. 2 in A-Flat Major, Op. 39: III. Menuetto capriccioso. presto assai

Piano Sonata No. 2 in A-Flat Major, Op. 39: IV. Rondo. moderato e molto grazioso

Rondo brillante in E-Flat Major, Op. 62
Disk 2
Piano Sonata No. 3 in D Minor, Op. 49: I. Allegro feroce

Piano Sonata No. 3 in D Minor, Op. 49: II. Andante con moto

Piano Sonata No. 3 in D Minor, Op. 49: III. Rondo. Presto

Piano Sonata No. 4 in E Minor, Op. 70: I. Moderato

Piano Sonata No. 4 in E Minor, Op. 70: II. Menuetto. presto vivace ed energico

Piano Sonata No. 4 in E Minor, Op. 70: III. Andante quasi allegretto consolante

Piano Sonata No. 4 in E Minor, Op. 70: IV. Finale, prestissimo

Aufforderung zum Tanz, Op 65