Van Dieren: Complete Music for Piano Solo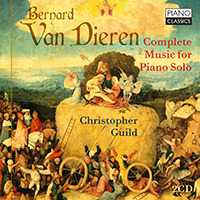 | | |
| --- | --- |
| Composer | Bernard Hélène Joseph van Dieren |
| Artist | Christopher Guild piano |
| Format | 2 CD |
| Cat. number | PCL10241 |
| EAN code | 5029365102414 |
| Release | September 2022 |
About this release
The most comprehensive survey ever made on record of the piano output by a highly individual figure on the Dutch and English music scenes of the early 20th century, featuring two world-premiere recordings.

Bernard Van Dieren (1887-1936) was essentially self-taught as a composer, though friendships with Schoenberg, Busoni, Sorabji, Walton and Lambert all obliquely indicate by association both the technical confidence of his work as well as the variegated colours of his harmonic palette. He was born in Rotterdam but fell in love with and then married a pupil of Busoni's, Frida Kindler, who gave the first performances of most of his piano music.

Kindler and Van Dieren settled in London, where they joined a distinguished artistic circle including the sculptor Jacob Epstein and the Sitwell family. Van Dieren's devotion to Mediterranean culture and his witty questioning of accepted judgments appealed greatly to the group. He was, for example, one of the first to encourage a re-assessment of the work of Donizetti, Alkan and Meyerbeer.

While earlier works such as the powerful Toccata approach Schoenbergian atonality in their tightly woven chromaticism, Van Dieren's world is at root a diatonic one, stretching rather than breaking tonalities with a post-Wagnerian sensibility often comparable to the music of Delius. The composer himself was apparently a pianist of modest ability, but (perhaps not least thanks to Frida Kindler) he writes for the instrument with a formidable array of pianistic technique grounded in his own enduring love of counterpoint.

The most straightforwardly appealing music here is a set of 12 Dutch folk melodies on CD2, followed by a charming little prelude written for Frida's birthday in 1934 – his last piano work before his death from a long-standing kidney complaint two years later. The pianist Christopher Guild, renowned for his advocacy of lesser-known pianistic voices, is then joined by Dr James Reid-Baxter for the first-ever recording of the Ballad de Villon, in which Van Dieren originally set a prayer to the Virgin for reciter and string quartet, with the instrumental lines later transcribed for the piano by Philip Heseltine (a pupil of the composer, himself better known as Peter Warlock). CD1 features a set of six densely polyphonic 'Sketches' in the style of Busoni and a Theme and Variations in the grand Romantic manner.

Bernard Hélène Joseph van Dieren (1887-1936) was born and raised in Rotterdam of a Dutch father and a Dutch-French mother. He moved to London in the autumn of 1909 and married a fellow-Rotterdamer, Frida Kindler, a superb pianist, a favourite pupil of Busoni, and the Italian master had a profound influence on them both. In 1911 van Dieren was present at the Liszt Centenary Concerts that Busoni gave in Berlin. In Busoni's Berlin apartment he heard a private performance of Schoenberg's "Pierrot Lunaire" conducted by the composer, which made a deep impression on him, and inspired some of his early works.
The influence of Busoni and Schoenberg was strong on the young composer, however he developed his own uniquely personal style, harmonically chromatic, rhythmically fluid and freely polyphonic, tonally anarchic rather than atonal and often notated without bar lines. At the same time melody, particularly the importance of the singing line, is central in his works.
This 2-CD set presents Van Dieren's complete works for solo piano, among them 4 Sketches, Tema con Variazione, Three Studies and Netherlands Melodies.
In recent years pianist Christopher Guild (b.1986) has developed a strong reputation for his work with rare piano repertoire, especially that of the British Isles. He has performed as soloist and chamber musician at some of the most prestigious concert venues in the UK, including London's Wigmore Hall, St John's Smith Square, the Purcell Room and Edinburgh's Queen's Hall.
Listening
Track list
Disk 1
Bernard Hélène Joseph van Dieren: 6 Sketches, Op. 4a: I. Moderato assai

Bernard Hélène Joseph van Dieren: 6 Sketches, Op. 4a: II. Quasi andante

Bernard Hélène Joseph van Dieren: 6 Sketches, Op. 4a: III. Allegro, rullante. Gracile ma distinto

Bernard Hélène Joseph van Dieren: 6 Sketches, Op. 4a: IV. Allegramente

Bernard Hélène Joseph van Dieren: 6 Sketches, Op. 4a: V. Poco lento

Bernard Hélène Joseph van Dieren: 6 Sketches, Op. 4a: VI. Poco più lento che pezza I.

Bernard Hélène Joseph van Dieren: Toccata

Bernard Hélène Joseph van Dieren: Tema con variazione: Tema. Sostenuto

Bernard Hélène Joseph van Dieren: Tema con variazione: I.

Bernard Hélène Joseph van Dieren: Tema con variazione: II.

Bernard Hélène Joseph van Dieren: Tema con variazione: III. Molto sostenuto e quasi pesante

Bernard Hélène Joseph van Dieren: Tema con variazione: IV. Risoluto

Bernard Hélène Joseph van Dieren: Tema con variazione: V. Molto più lento

Bernard Hélène Joseph van Dieren: Tema con variazione: VI.

Bernard Hélène Joseph van Dieren: Tema con variazione: VII. Legato

Bernard Hélène Joseph van Dieren: Tema con variazione: VIII. Martellato, assai veloce

Bernard Hélène Joseph van Dieren: Tema con variazione: IX. Molto robusto

Bernard Hélène Joseph van Dieren: Tema con variazione: X. Ugalmente

Bernard Hélène Joseph van Dieren: Tema con variazione: XI. Dolce e distante

Bernard Hélène Joseph van Dieren: Tema con variazione: XII. Presto. Giocoso

Bernard Hélène Joseph van Dieren: Tema con variazione: XIII. Adagio molto

Bernard Hélène Joseph van Dieren: Tema con variazione: XIV. Con ultimo rapidita e brilliantemente
Disk 2
Bernard Hélène Joseph van Dieren: 3 Studies: I. Assai andante ma con dignità

Bernard Hélène Joseph van Dieren: 3 Studies: II. Sostenuto, romanticamente

Bernard Hélène Joseph van Dieren: 3 Studies: III. Presto

Bernard Hélène Joseph van Dieren: Netherlands Melodies: I. Andantino

Bernard Hélène Joseph van Dieren: Netherlands Melodies: II. Semplice ma con solennità

Bernard Hélène Joseph van Dieren: Netherlands Melodies: III. Sostenuto, con mesto

Bernard Hélène Joseph van Dieren: Netherlands Melodies: IV. Leggiero, giocoso

Bernard Hélène Joseph van Dieren: Netherlands Melodies: V. Gaio, fresco ("Ic stont op hoghe berghen")

Bernard Hélène Joseph van Dieren: Netherlands Melodies: V(a). Maestoso-chiaro-semplice

Bernard Hélène Joseph van Dieren: Netherlands Melodies: VI. Poco vivo, dolce ("Daar was laatst een meisje loos")

Bernard Hélène Joseph van Dieren: Netherlands Melodies: VII. Andante con moto

Bernard Hélène Joseph van Dieren: Netherlands Melodies: VIII. Semplice e tenere tempo comodo ("Vroeg op")

Bernard Hélène Joseph van Dieren: Netherlands Melodies: IX. Allegro vivace ("Als ik groot ben")

Bernard Hélène Joseph van Dieren: Netherlands Melodies: X. Assai secco. Diabelliescamente

Bernard Hélène Joseph van Dieren: Netherlands Melodies: XI. Alacramente gagliardo ("Des winters als het reghent")

Bernard Hélène Joseph van Dieren: Netherlands Melodies: XII. Non troppo lento. Pesante

Bernard Hélène Joseph van Dieren: Piccolo pralinudettino fridato

Bernard Hélène Joseph van Dieren: Ballad de Villon