Thalberg: L'Art du Chant Applique au Piano Op.70, Vol. 1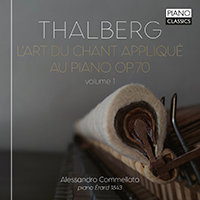 Download booklet
| | |
| --- | --- |
| Composer | Sigismond Thalberg |
| Artist | Alessandro Commellato piano |
| Format | 1 CD |
| Cat. number | PCL10242 |
| EAN code | 5029365102421 |
| Release | December 2021 |
About this release
The first fortepiano recording of a collection belatedly gaining recognition beyond pianophile circles as a major keyboard cycle of late Romanticism.

Thalberg has a reputation as the only pianist who made Liszt feel nervous, but he also won praise from Mendelssohn for the fidelity of his approach to the letter and the spirit of a score. He gathered four volumes of operatic and song transcriptions under the umbrella of L'art du chant appliqué au piano, with the first two volumes published in 1853 and followed a decade later by Volumes 3 and 4.

While it opens with the Quartet from Bellini's I Puritani, Thalberg's selection of original material ranges far and wide beyond masterpieces of bel canto. There is a haunting transformation of a duet once attributed to the Neapolitan composer Stradella; a straightforward but affectionate transcription of Adelaide, the song by Beethoven that became his most popular piece of vocal music during the 19th century; as well as a much more elaborate fantasia on a number from the incidental music composed by Carl Maria von Weber for the Spanish drama Preciosa.

There are some quintessentially Romantic-era walls of sound in the first two volumes of the collection, such as Thalberg's version of the Lacrimosa from Mozart's Requiem, but the limpid textures and uncluttered singing lines of L'art du chant mark a salutary contrast with the cascades and thunderbolts of the hyper-virtuoso repertoire. In this regard, the lighter touch of the fortepiano is well suited to the ideals of vocal expression, transferred to the keyboard, enshrined in Thalberg's collection.

Alessandro Commellato's new version therefore brings something new to the work's selective but distinguished discography. He has already established himself in his native Italy as a leading exponent of historically informed keyboard performance. This reputation is reflected in his Brilliant Classics discography of fortepiano albums of music by Beethoven (the complete early variations, 95245), concertos by Hummel (94338 and 95894) and cello sonatas by Beethoven's contemporary and diarist Ferdinand Ries (95206).

Praise for Alessandro Commellato on Brilliant Classics:

'These performances are excellent… the soloists play with an invigorating sense of delight.' (Fanfare: Hummel, 95894)
'Full of pathos and longing and brilliantly realized here by the duo of Nasillo and Commellato.' (Fanfare: Ries, 95206)

A famous anecdote tells of an evening in Rossini's Parisian salon. Sigismond Thalberg had just finished performing at the piano when Rossini said: "Agree that Thalberg has just given you a singing lesson such as you have never had", referring to the cantabile, refinement and expressiveness of the pianist's touch.
Sigismond Thalberg (1812-1871) was one of the 19-th century greatest pianist-composers, a contemporary and serious rival of Franz Liszt. Only recently his works receive more attention and are played in public again. Thalberg's connection with the vocal art is as deep as ever. If, on the one hand, a large part of his production is made up of paraphrases, fantasies and variations on the main opera themes, works in which he showed off the so-called "sound illusions à la Thalberg", on the other hand, the public praised the pianist's ability to recreate a "vocal" sound on his instrument.
Thalberg delegated to L'Art du chant appliqué au piano Op.70 the task of representing the "theoretical" summary of his "vocal art" and the dynamic means to obtain it. The title clarifies its purpose: to teach how to reproduce the expression, breath and warmth of singing on the piano. Thalberg's collection consists of transcriptions of vocal works by Mozart, Beethoven, Schubert, Bellini, Meyerbeer, Rossini Weber and others.
Played on an Erard piano by Alessandro Commellato, one of Italy's finest period keyboard players. He is a great virtuoso, a sensitive and stylish musician, who already to great critical acclaim recorded for Brilliant Classics piano concertos by Hummel, chamber music by Ries and Hummel and the complete early piano variations by Beethoven.
Listening
Track list
Disk 1
Sigismond Thalberg: Quatuor di I puritani ("Bellini's I puritani")

Sigismond Thalberg: Tre giorni (Air Pergolesi)

Sigismond Thalberg: Adélaïde (Beethoven's Op.46)

Sigismond Thalberg: Air d'église, du célèbre chanteur (Attrib. Stradella)

Sigismond Thalberg: Lacrymosa (Mozart's Requiem K.492)

Sigismond Thalberg: Duo des noces de Figaro (Mozart)

Sigismond Thalberg: Perchè mi guardi e piangi, duetto de Zelmira (Rossini's Zelmira)

Sigismond Thalberg: Bella adorate incognita (Mercadante's Romance "il giuramento")

Sigismond Thalberg: Le meunier et le torrent (Schubert)

Sigismond Thalberg: Il mio tesoro , air de Don Juan (Mozart)

Sigismond Thalberg: Choeur des conjurés de crociato (Meyerbeer)

Sigismond Thalberg: Ballade de preciosa (Weber's J.277)

Sigismond Thalberg: Duo de Freyschütz (Weber)