Thalberg: Apothéose & Fantasies on French Operas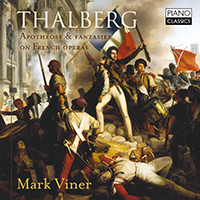 | | |
| --- | --- |
| Composer | Sigismond Thalberg |
| Artist | Mark Viner piano |
| Format | 1 CD |
| Cat. number | PCL10178 |
| EAN code | 5029365101783 |
| Release | June 2019 |
About this release
Mark Viner's Piano Classics albums of romantic repertoire off the beaten track have attracted plenty of critical attention for their 'sympathy and style' as Pianist magazine summarised his recent selection of miniatures by Cécile Chaminade (PCL10164): 'His appreciation and enjoyment of these vignettes is palpable, relishing their wit, whimsy, charm and endearing pictorial qualities.'

His latest release returns to the music of Sigismond Thalberg (1812-1871), a contemporary and serious rival of Franz Liszt. A previous Piano Classics album compiling five of Thalberg's operatic fantasies (PCL0092) drew a glowing encomium from Gramophone for Viner's 'masterly' playing: 'His rubato is subtly, perfectly judged; the piano sings; and from Viner's fingers the iridescent showers of notes cascade with scintillating exuberance.' His touch and formidable technique are here put at the service of six more fantasies based on themes from operas by Auber, Bellini, Berlioz, Halévy, Mercadante and Meyerbeer.

Thalberg's fantasia on themes from Les Huguenots appeared just weeks after the opera's premiere, yet it deftly plays with many of the principal melodies in this epic tragedy in a synthesis all the more remarkable for being written at the age of 24. Belonging to his pedagogical collection of Op.70 pieces, the transcriptions from Bellini's Norma and Mercadante's Il giuramento are more faithful. The fantasia on themes from Auber's La Muette di Portici is more of a virtuoso tour de force from which Thalberg took particular pride, choosing it for his performance to Queen Victoria in June 1844. The Berlioz fantasy is based on the finale of the Grand Grande Symphonie funèbre et triomphale: it provides a suitably barnstorming conclusion to a true celebration of virtuoso pianism.

This new Thalberg recording by Mark Viner is a worthy successor to his highly successful previous recording, of which the Gramophone wrote: "Thalberg's music glitters and is certainly not all gold but, chosen carefully, there are many gems to be found. Mark Viner has done just that..Viner injects a real sense of drama, using the full range of his beautifully voiced Steinwy to full advantage. His rubato is subtly, perfectly judged, the piano sings (this is what Thalberg was all about..) and from Viner's fingers the iridescent showers of notes cascade with scintillating exuberance…an exceptional disc from a blazing young British talent"(Jeremy Nicholas).
For this second Thalberg recording Mark Viner chose the fantasies on French operas: Les Huguenots (Meyerbeer), Charles VI (Halévy), La Muette de Portici (Auber), Marche de l'Apothéose (Berlioz), Casta Diva (Bellini) and Bella Adorata (Mercadante), containing several First Recordings.
Mark Viner took the musical world by storm by his innovative concert programs and CD recordings containing rarely heard repertoire from unjustly forgotten romantic composers. His Alkan and Chaminade recordings earned him 5 star reviews from Gramophone, The Guardian, Sunday Times and International Piano. He is the Chairman of the Liszt and Alkan Societies. An excellent scholar as well he wrote the extensive liner notes for the booklet himself.
Listening
Track list
Disk 1
Sigismond Thalberg: Fantaisie sur des motifs de l'opéra Les Huguenots de Meyerbeer, Op. 20

Sigismond Thalberg: Grand caprice sur des motifs de l'opéra Charles VI de F. Halévy, Op. 48

Sigismond Thalberg: L'Art du chant appliqué au piano, Op. 70: VII. Bella adorata incognita, romance de l'opéra Il Giuramento de Mercadante

Sigismond Thalberg: L'Art du chant appliqué au piano, Op. 70: XIX. Casta diva, cavatine de l'opéra Norma de Bellini

Sigismond Thalberg: Grande fantaisie sur des motifs de l'opéra La muette de portici de D. F. E. Auber, Op. 52

Sigismond Thalberg: Grand caprice sur la marche de l'apothéose de Berlioz, Op. 58