Takemitsu: Complete Works for Piano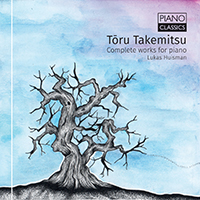 | | |
| --- | --- |
| Composer | Toru Takemitsu |
| Artist | Lukas Huisman piano |
| Format | 1 CD |
| Cat. number | PCL10147 |
| EAN code | 5029365101479 |
| Release | June 2018 |
About this release
Although the composer once admitted that he took the title for Rain Tree Sketch from a can of shaving foam, the piece and several others in this invaluable collection share a watery theme which links them back to the music of Debussy as well as the more obvious influence of Messiaen. This collection of Takemitsu's piano music is filled with a quizzical air and often touches of oblique humour, as though someone is smiling, somewhere.

With warm, softly resounding chords and pitter-pattering melodic motifs above, Takemitsu's piano so often evokes rain gently falling on earth and leaves. There are bright, brisk flashes of light as well as a pervasive undertone of melancholy, which in a work such as Les Yeux Clos can be accounted for by the work's nature as a memorial to a friend.

The poetic title of For Away is matched by the distant reverie of its notes: 'my expression of extolment,' according to the composer, 'and an offering to the Galaxy of Life – a galaxy that is not the sole domain of mankind.' This is among the most harmonically spare and experimental works on the album, whereas Litany (written in memory of Michael Vyner, the founder of the London Sinfonietta) draws inspiration from Eastern modes as well as their reinterpretation at the hands of Debussy and Messiaen. Perhaps the boldest piece Takemitsu wrote for piano is Piano Distance, which is notated without a clear metre in the hyper-distilled style of Webern.

Born in 1987, the Belgian pianist Lukas Huisman has made a speciality of new music, studying with the likes of Ian Pace and Geoffrey Douglas Madge. Through these and other teachers he has immersed himself in the complex worlds of Brian Ferneyhough and Kaiksohru Sorabji, among others, requiring a phenomenal technique as well as an appetite for the unfamiliar and challenging.

"Composing is giving meaning to that stream of sounds that penetrate the world we live in" , in short the credo of Toru Takemitsu.
Toru Takemitsu (1930-1996) is one of Japan's foremost 20-th century composers, an innovator combining elements of oriental and occidental philosophy to create a sound uniquely his own, fusing opposites together such as sound with silence, the east with the west.
This new recording presents Takemitsu's complete works for piano solo. The titles speak for themselves: Rain Tree Sketch, Clouds, Breeze, Uninterrupted Rests, Far Away…music of great originality, opening new worlds of sound and consciousness.
Lukas Huisman is one of Belgium's foremost pianists specializing in unusual and often contemporary repertoire. He successfully recorded for Piano Classics the Symphonic Nocturne by Sorabji.
Listening
Track list
Disk 1
Toru Takemitsu: Rain Tree Sketch II

Toru Takemitsu: Les yeux clos II

Toru Takemitsu: Rain Tree Sketch

Toru Takemitsu: Les yeux clos

Toru Takemitsu: Piano Pieces for Children: I. Breeze

Toru Takemitsu: Piano Pieces for Children: II. Clouds

Toru Takemitsu: For Away

Toru Takemitsu: Piano Distance

Toru Takemitsu: Uninterrupted Rests: I. Slowly, Sadly and as if to Converse with

Toru Takemitsu: Uninterrupted Rests: II. Quietly and with a Cruel Reverberation

Toru Takemitsu: Uninterrupted Rests: III. A Song of Love

Toru Takemitsu: Litany: I. Adagio

Toru Takemitsu: Litany: II. Lento misterioso

Toru Takemitsu: Romance

Toru Takemitsu: De Brauwer: Something, Something. 'n' Rain 'n' Such