Takahashi & Nishimura: Piano Music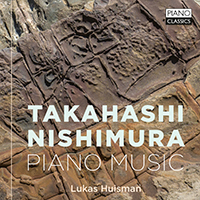 | | |
| --- | --- |
| Composer | Akira Nishimura, Keitaro Takahashi |
| Artist | Lukas Huisman piano |
| Format | 1 CD |
| Cat. number | PCL10243 |
| EAN code | 5029365102438 |
| Release | April 2023 |
About this release
Two major contemporary Japanese composers, writing for the piano with vivid imagery and brightly piercing harmony.

Born in Osaka in 1953, Akira Nishimura is one of Japan's most distinguished living composers, extensively performed and recorded, though many of those albums are unavailable internationally. He has contributed to all the major classical genres including opera. There is a slow but irresistible momentum to the pull of his harmony in most of his orchestral works which is shared by the trio of pieces recorded by Lucas Huisman.

Nishimura's Mirror of Star (1992) is a musical picture of the night sky which imbues the melody line with subtle echo effects, like a halo of reverberation: 'calm on the surface but obsessional anxiety deeper down,' according to the composer. Two years later, he completed a set of three Visions for piano, titled of Aqua, Flame, and Invoker. Flame uses only the bottom ten notes of the piano, glowing with overtones like Mirror of Star. Aqua is inspired by the river Ganges and the rituals of burial which take place on its waters, while Invoker is a prayer using the technique of heterophony which overlays subtly different versions of the same melody. Finally, from 1987, Carillons of Ekstasis also makes extensive use of the piano's lower register as well as the top octave to evoke the starry heavens and the gap between them and us.

Born in 1986, Keitaro Takahashi has studied and worked in both his native Japan and in Europe (especially Switzerland), and his music fulfils an ambition to integrate those disparate cultures by employing instrumental, electronic, or environmental sounds according to East Asian philosophies and concepts. Fūrin evokes a traditional Japanese wind chime made of glass or pottery in a sound portrait of a Japanese summer which is gently distanced by preparing the piano with rubber tuning mutes. From 2014, Ryouka also uses a prepared piano in a tone portrait of the towering mountain ridges of the Tateyama range and in particular a painting of them by the Hiroshima-born artist Genso Okuda. Shikkun (2018, rev 2022) is scored for piano four hands; like Ryouka, the title is a neologism coined by Takahashi to describe a state of simultaneous motion and stillness which he came up with on a mountain bike-ride in Japan.

Contemporary piano music by two leading Japanese composers: Keitaro Takahashi and Akira Nishimura, a fascinating journey of unheard sounds, harmonies, colours and timbres.
Keitaro Takahashi born 1986 in Tokyo, is a Japanese composer, media artist, and programmer. He currently is a research fellow at CeReNeM (Center for Research in New Music) at the University of Huddersfield in the UK. With his artistic background established both in Japan and Switzerland, his artistic interests as a composer mainly focus on creating musical gestures and acoustic associations under the concept of the morphology of sound textures and the mixture of various compositional techniques such as Heterophony, Micropolyphony, and Micro montage music.
Akira Nishimura was born in Osaka in 1953. He studied composition and music theory at the Tokyo National University of Fine Arts and Music. While studying contemporary Western compositional techniques, he also developed a strong interest in traditional Asian music, religion, aesthetics, cosmology, etc. which led him to develop the concept of heterophony and other forms of music. His works won many prizes, among which the ExxonMobil Music Prize, Queen Elizabeth International Music Composition Competition and the Luigi Dallapiccola Composition Award.
Belgian pianist Lukas Huisman is one of the most remarkable and original pianists of his generation. From 2012 to 2016 he worked on an artistic doctoral project relating to contemporary complex solo piano music (Ferneyhough, Finnissy, Xenakis, Sorabji) at the School of Arts Ghent/University Ghent. He premièred Sorabji's Symphonic Nocturne (PCLD0119) and recorded this monumental piece for solo piano on the Piano Classics label, for which he also recorded the piano music by Takemitsu (PCL10147), which was nominated for the Preis der deutschen Schallplattenkritik. He also recorded Michael Finnissy's Gershwin Arrangements (PCL10218).
Listening
Track list
Disk 1
Keitaro Takahashi: Fūrin

Keitaro Takahashi: Ryouka

Keitaro Takahashi: Shikkun

Akira Nishimura: Mirror of Star

Akira Nishimura: Three Visions: I. Aqua

Akira Nishimura: Three Visions: II. Flame

Akira Nishimura: Three Visions: III. Invoker

Akira Nishimura: Carillons of Ekstasis