Shamo: Complete Piano Music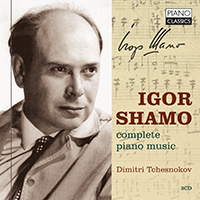 | | |
| --- | --- |
| Composer | Igor Shamo |
| Artist | Dimitri Tchesnokov piano |
| Format | 3 CD |
| Cat. number | PCL10152 |
| EAN code | 5029365101523 |
| Release | January 2019 |
About this release
First recordings galore on a comprehensive survey of a major 20th-century Ukrainian composer.

Born in Kiev in 1925, Igor Shamo studied with the elder statesman of modern Ukrainian art music, Boris Lyatoshinsky. Schumann, Mussorgsky and Rachmaninov were the giants of the past who seized the young Shamo's attention, and traces of their impassioned, lyrically centred idioms may be discerned throughout the early works on CD1 of this new recording such as the Ukrainian Suite, Classical Suite and Shamo's own take on Pictures at an Exhibition in his suite of Pictures by Russian Painters.

The second CD is occupied by two more substantial cycles, of 12 Preludes from 1962 and six impressionistic Aquarelles from a decade later – both the appreciation and execution of painting was important to Shamo throughout his life. The final CD gathers up piano pieces throughout Shamo's career, from the Marche fantastique, which so impressed the professors of the Kiev Conservatoire when the composer elected at the last minute to play it for his entrance exam, to three dances composed in 1972 and inspired by the folk culture of nearby Soviet republics, Armenia, Azerbaijan and Uzbekistan. A counterpoint to their uncomplicated charms may be found in the three Songs of Friendship from 1954, in which Shamo treats melodies from Poland, Romania and what was then Czechoslovakia.

Though jazz and minimalist techniques periodically surface in Shamo's music,
it bears the stamp of its Soviet times in its generally sunny character and clearly laid-out forms – though the serenity of the Ninth Prelude is answered by the machine-gun-fire Tenth, and Bartók casts a shadow over this music almost as often as Prokofiev.

Dmitri Tchesnokov is, like Shamo, a native of Kiev, born in 1982 and long resident in France, where he pursues a career as both composer and pianist, as well as founding a directing a well-established festival of contemporary piano music in Paris.

Igor Shamo (1925-1982) was born in Kiev, Ukraine, where his composition teacher at the national Conservatory was the famous composer Boris Lyatoshinsky. Attached to his home land he declined an invitation to move to Moscow, and he stayed the rest of his life in his native Kiev, where he became a highly respected composer and teacher.
Shamo wrote orchestral works, chamber music, songs and works for film and theatre. His piano works however form the core of his oeuvre. His musical language is tonal and based on classical principles (his favourite composer was J.S. Bach). The melodies have a strong narrative character, the harmonies are based on classical and popular modes, enriched by chromaticism and jazz. All his works are rooted in the rich folklore of his native country Ukraine, the moods alternating between melancholic sadness and gloom and dance-inspired frenzy.
Dimitri Tchesnokov is an excellent pianist and an important composers himself as well. His works are increasingly noted, especially his haunting and mystical choral works. He wrote the extensive liner notes for this set himself, in English and French.
Listening
Track list
Disk 1
Igor Shamo: Ukrainian Suite: I. Duma

Igor Shamo: Ukrainian Suite: II. Vesnyanka

Igor Shamo: Ukrainian Suite: III. Melody

Igor Shamo: Ukrainian Suite: IV. Dance

Igor Shamo: Pictures by Russian Painters: I. Troika

Igor Shamo: Pictures by Russian Painters: II. Summer Evening

Igor Shamo: Pictures by Russian Painters: III. Morning in the Woods

Igor Shamo: Pictures by Russian Painters: IV. Volodymyrka

Igor Shamo: Pictures by Russian Painters: V. Little Birch Tree

Igor Shamo: Pictures by Russian Painters: VI. Country Dance

Igor Shamo: Pictures by Russian Painters: VII. Vesnyanka

Igor Shamo: Classical Suite: I. Prelude

Igor Shamo: Classical Suite: II. Menuet

Igor Shamo: Classical Suite: III. Aria

Igor Shamo: Classical Suite: IV. Courante

Igor Shamo: Classical Suite: V. Gavotte

Igor Shamo: Classical Suite: VI. Gigue
Disk 2
Igor Shamo: Hutsul Aquarelles: I. Sunrise in the Mountains

Igor Shamo: Hutsul Aquarelles: II. Musicians Ascend a Mountain

Igor Shamo: Hutsul Aquarelles: III. Little Shepherd

Igor Shamo: Hutsul Aquarelles: IV. Spring Rain

Igor Shamo: Hutsul Aquarelles: V. Haivka

Igor Shamo: Hutsul Aquarelles: VI. Shepherd's Dance

Igor Shamo: 12 Preludes: I. Prelude in C-dur

Igor Shamo: 12 Preludes: II. Prelude in a-moll

Igor Shamo: 12 Preludes: III. Prelude in G-dur

Igor Shamo: 12 Preludes: IV. Prelude in e-moll

Igor Shamo: 12 Preludes: V. Prelude in D-dur

Igor Shamo: 12 Preludes: VI. Prelude in h-moll

Igor Shamo: 12 Preludes: VII. Prelude in A-dur

Igor Shamo: 12 Preludes: VIII. Prelude in fis-moll

Igor Shamo: 12 Preludes: IX. Prelude in E-dur

Igor Shamo: 12 Preludes: X. Prelude in cis-moll

Igor Shamo: 12 Preludes: XI. Prelude in H-dur

Igor Shamo: 12 Preludes: XII. Prelude in gis-moll
Disk 3
Igor Shamo: Tarasovi Dumy: I. My Thoughts, my Thoughts...

Igor Shamo: Tarasovi Dumy: II. Nothing Sweeter than a Young Mother...

Igor Shamo: Tarasovi Dumy: III. Ukraine was Worried...

Igor Shamo: Tarasovi Dumy: IV. My Heart Takes me to a Quiet Garden, in Ukraine

Igor Shamo: Tarasovi Dumy: V. Break the Chains!

Igor Shamo: Tarasovi Dumy: VI. In the Steppe

Igor Shamo: Songs of Friendship: I. Czech Song

Igor Shamo: Songs of Friendship: II. Polish Song

Igor Shamo: Songs of Friendship: III. Romanian Song

Igor Shamo: Toccata

Igor Shamo: Horovodna

Igor Shamo: Humoresque

Igor Shamo: Three Dances: I. Uzbek Dance

Igor Shamo: Three Dances: II. Azerbaidjani Dance

Igor Shamo: Three Dances: III. Armenian Dance

Igor Shamo: Scherzo

Igor Shamo: Fantastic March