Sgambati: Complete Piano Music, Vol. 1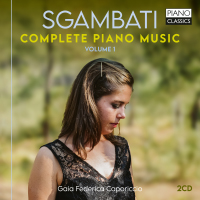 Download booklet
| | |
| --- | --- |
| Composer | Giovanni Sgambati |
| Artist | Gaia Federica Caporiccio piano |
| Format | 2 CD |
| Cat. number | PCL10216 |
| EAN code | 5029365102162 |
| Release | April 2022 |
About this release
Piano Classics presents the first volume in a major new series which promises to become the most comprehensive recorded survey of a central but now little-known figure in 19th-century Italian music.

Born in Rome in 1841, Giovanni Sgambati cut an impressive but relatively familiar figure as a prodigious young virtuoso until, as a 21-year-old keyboard lion in the making, he was introduced to Franz Liszt. The encounter changed Sgambati's life. Liszt, perhaps the single most influential figure in European musical life in the middle of the 19th century, took the young Sgambati under his wing, and his faith was richly repaid. Still in his 20s, Sgambati conducted the Italian premiere of the Dante Symphony and even the premiere of the first (lengthy) part of the Christus oratorio.

There is an irony that the single piece through which his name has travelled worldwide is a piano Melodie, a sensuously achieved transcription of the Dance of the Blessed Spirits from Gluck's opera Orfeo ed Euridice. Guaranteed to hush a rapturous audience into silence, it became the much-loved encore piece for the late Nelson Freire, among others.

Too little of Sgambati's music for his own instrument is known beyond the Melodie. This neglect is being redressed in style by the Italian pianist Gaia Federica Caporiccio, born in Florence in 1988. The first volume of a projected complete series of Sgambati's piano works proceeds in mostly chronological fashion. Thus the curtain is drawn back with a flourish in the Gothic, Bachian arpeggios of the Prelude and Fugue Op.6.

The two Etudes de Concert Op.10 already show Sgambati's gift for sketching a tone-painting while focusing on a particular piece of technique. While Sgambati made considerable use of patterned keyboard figurations to seize an audience's imagination, He was scarcely less adept than Schumann or Chopin at outlining a mood and then drawing a veil over it. Thus there are no sonatas or even long-form ballades here, but a series of evocative impromptus, lyric pieces and nocturnes, each of them memorable in their own right, adding up to an absorbing portrait of a young pianist-composer with Romantic-era Europe at his feet.

Born in Rome, to an Italian father and an English mother, Giovanni Sgambati (1841-1914), received his early education at Trevi, in Umbria. In his early twenties he met Franz Liszt in Rome, where the great composer resided for a period each year from 1861. The young man immediately became his favourite pupil, a faithful interpreter of his compositions and a precious collaborator for the mission that warmed both their hearts: to spread classical music in the Roman society of the time. Liszt's Roman school was based in Sgambati's home, where the master trained the best pianists of the time. Sgambati was the first to conduct his Dante Symphony, as well as Beethoven's Third Symphony. Liszt took him with him on his travels and introduced him to Richard Wagner, who deeply admired his compositions. His fame grew rapidly, leading him to give concerts all over Europe and in Russia. He received invitations and signs of esteem from the most important musicians of his time: in addition to Liszt and Wagner, he was friends with Brahms, Tchaikovsky, Grieg, Massenet and Busoni.
Sgambati's piano music consists of a wide variety of shorter pieces: nocturnes, impromptus, preludes. This doesn't say it is merely salon music, his piano works have a solid and well-defined structure, innovative ideas and interesting harmonic choices, showing mastery of the musical discourse and an unique expressiveness, all concentrated in a few minutes.
Born in Florence in 1988, Gaia Federica Caporiccio's first encountered the piano at the age of 5 showing a clear interest and an undeniable musical gift. At the age of 18, she received the Bachelor Diploma at the "Cherubini" Conservatory. Two years later, she obtained the Master in Music Performance – Concert with highest score. During the following years, she refined her art by attending some of the best musical academies with Pietro De Maria, Marian Mika, and Vovka Ashkenazy, performing in many concerts and winning several Piano Competitions.
Listening
Track list
Disk 1
Giovanni Sgambati: Prélude et fugue in E-Flat Minor, Op. 6: I. Prélude

Giovanni Sgambati: Prélude et fugue in E-Flat Minor, Op. 6: II. Fugue

Giovanni Sgambati: 2 Études de concert, Op. 10: I. Tranquillo

Giovanni Sgambati: 2 Études de concert, Op. 10: II. Agitato

Giovanni Sgambati: Étude triomphale in A Major

Giovanni Sgambati: 6 Pièces lyriques, Op. 23: I. Rapelle-toi!

Giovanni Sgambati: 6 Pièces lyriques, Op. 23: II. Á la Fontaine

Giovanni Sgambati: 6 Pièces lyriques, Op. 23: III. Vox populi

Giovanni Sgambati: 6 Pièces lyriques, Op. 23: IV. Do-do

Giovanni Sgambati: 6 Pièces lyriques, Op. 23: V. Ländler

Giovanni Sgambati: 6 Pièces lyriques, Op. 23: VI. Gigue

Giovanni Sgambati: Sérénade valsée
Disk 2
Giovanni Sgambati: Nocturne No. 1 in B Minor, Op. 20

Giovanni Sgambati: Nocturne No. 2 in G Major, Op. 20

Giovanni Sgambati: Nocturne No. 3 in C Minor, Op. 20

Giovanni Sgambati: Nocturne in B Major per l'album di Bellini

Giovanni Sgambati: Nocturne in D-Flat Major, Op. 31

Giovanni Sgambati: Nocturne in E Major, Op. 33

Giovanni Sgambati: Nocturne in G Major

Giovanni Sgambati: Impromptus: I. Allegretto in E- Flat Major

Giovanni Sgambati: Impromptus: II. Allegro moderato in B-Flat Major

Giovanni Sgambati: Impromptus: III. Allegretto grazioso in E-Flat Major

Giovanni Sgambati: Impromptus: IV. Animato allegramente in E Major

Giovanni Sgambati: Impromptus: V. Andantino in A Major

Giovanni Sgambati: Impromptus: VI. Allegro appassionato ma non troppo mosso in F-Sharp Minor

Giovanni Sgambati: Gavotte in A-Flat Minor, Op. 14