Scriabin: Complete Piano Sonatas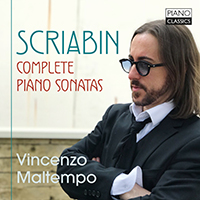 | | |
| --- | --- |
| Composer | Alexander Scriabin |
| Artist | Vincenzo Maltempo piano |
| Format | 2 CD |
| Cat. number | PCL10168 |
| EAN code | 5029365101684 |
| Release | October 2019 |
About this release
Two hours of the most intense, disturbed and erotic piano music ever written, recorded by a pianist renowned for his mastery of even the most vertiginously challenging piano repertoire from the late-Romantic era.

Scriabin's cycle of ten piano sonatas charts a wild and unpredictable journey from the apotheosis of Romantic piano writing in the first two sonatas through narratives of stars, sky, light and darkness, desire, fire and flight, and the tormented yearning of the artist in the middle-period works, to a state of visionary grace in the Tenth and final sonata. Relatively compact works, several of them cast in a single movement no longer than 10 minutes, they each nonetheless inhabit a discrete and intoxicating sound world of their own, and great pianists throughout the last century have stamped their own authority and personality upon them.

Now comes the Italian pianist Vincenzo Maltempo, already garlanded with critical praise for his concert performances and discography on Brilliant Classics. Maltempo contributes his own, thoughtful essay to this new recording, and it reveals him giving full value to Scriabin the mystic, the composer who attempted to understand the entire universe through his own compositions. He relishes the dark and unsettling qualities of works such as the Sixth Sonata, so full of languid themes, sudden flashes and moods of disturbing violence that even the composer himself never dared to perform it in public.

Maltempo has made his name as an interpreter of Alkan, with an impressive collection of recordings for Piano Classics such as the collection of shorter works (PCL0083) 'strongly recommended' by Fanfare magazine, as well as the composer's more monumental collections of Etudes and Preludes. But the pianist's sympathies extend beyond Alkan to the Hungarian Rhapsodies of Liszt, PCL0108 ('Maltempo, throughout this entire recital, is up to the challenge: not just the initial one of mastering the notes themselves—a daunting task, to say the least!—but more importantly in bringing these works to life') and early works by Schumann, PCL0074 ('This impressive young Italian pianist displays a great love and dedication towards this music). All Scriabin collectors will want to give this recording of the sonata cycle serious consideration.

After his epic recordings of piano works by Alkan, Lyapunov and Liszt, Vincenzo Maltempo immerses himself into the cosmic and metaphysical world of the Piano Sonatas by Alexander Scriabin. His superhuman technique and hyper sensitive musical intuition bring out the hidden depths of beauty and terror in these individualistic master pieces. A fascinating journey, from the romantic, Chopin-inspired Sonatas 1-4, towards the later sonatas, written in the unique "Scriabinesque" atonal language, inspired by his theosophical ideas, and megalomaniac metaphysics.
Maltempo, one of the most interesting pianists of the young generation, made his name in his staggering recordings of unjustly forgotten romantic repertoire: Transcendental Studies by Lyapunov (Piano Classics PCL0124) received 5 stars in several classical magazines (a.o. the French Diapason). His recording of Liszt's Hungarian Rhapsodies received rave reviews, a Gramophone Editor's Choice: "extraordinary breadth and nobility..little short of perfection..", "9/9, close to ideal" (Jed Distler Classicstoday.com). His recordings of Alkan have "confirmed his place in the restricted circle of Alkan's best performers, 5 stars"(Diapason), "Exhilarating, thrillingly demonic, 5 Stars" (Andrew Clement in The Guardian.
Listening
Track list
Disk 1
Alexander Scriabin: Piano Sonata No. 1 in F Minor, Op. 6: I. Allegro con fuoco

Alexander Scriabin: Piano Sonata No. 1 in F Minor, Op. 6: II. Crotchet = 40

Alexander Scriabin: Piano Sonata No. 1 in F Minor, Op. 6: III. Presto – Funèbre

Alexander Scriabin: Piano Sonata No. 2 in G-Sharp Minor, Op. 19: I. Andante

Alexander Scriabin: Piano Sonata No. 2 in G-Sharp Minor, Op. 19: II. Presto

Alexander Scriabin: Piano Sonata No. 3 in F-Sharp Minor, Op. 23: I. Drammatico

Alexander Scriabin: Piano Sonata No. 3 in F-Sharp Minor, Op. 23: II. Allegretto

Alexander Scriabin: Piano Sonata No. 3 in F-Sharp Minor, Op. 23: III. Andante

Alexander Scriabin: Piano Sonata No. 3 in F-Sharp Minor, Op. 23: IV. Presto con fuoco

Alexander Scriabin: Piano Sonata No. 4 in F-Sharp Major, Op. 30: I. Andante

Alexander Scriabin: Piano Sonata No. 4 in F-Sharp Major, Op. 30: II. Prestissimo volando
Disk 2
Alexander Scriabin: Piano Sonata No. 5, Op. 53

Alexander Scriabin: Piano Sonata No. 6, Op. 62

Alexander Scriabin: Piano Sonata No. 7, Op. 64

Alexander Scriabin: Piano Sonata No. 8, Op. 66

Alexander Scriabin: Piano Sonata No. 9, Op. 68

Alexander Scriabin: Piano Sonata No. 10, Op. 70