Scarlatti: Sonatas (LP)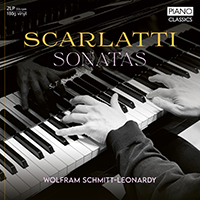 | | |
| --- | --- |
| Composer | Domenico Scarlatti |
| Artist | Wolfram Schmitt-Leonardy piano |
| Format | 2 LP |
| Cat. number | PCL10293 |
| EAN code | 5029365102933 |
| Release | December 2023 |
About this release
A luxury-grade vinyl transfer in a gatefold 2LP set for a beautifully engineered 2021 album of Scarlatti on the piano from a master German pianist.
On its CD release in 2022, this personal choice from Scarlatti's 555 keyboard sonatas won an enthusiastic welcome from Gramophone. 'Contrasts of mood together with unified relationships of tempo and key signature characterise one the most intelligently programmed and distinctively played Scarlatti collections to cross my reviewer's desk in years.'
Hardly less than Bach, these sonatas have become for many pianists a proving ground for their own technique and imagination, rewarding an improvisatory response to their flamboyant effects. Schmitt-Leonardy also features several of Scarlatti's most poetic and reflective sonatas such as the 'Aria' Kk 29 and the melancholy soliloquy of Kk 208.
The approach taken by Schmitt-Leonardy is always 'pianistic', in that he exploits the full tonal resources of a modern concert grand. Yet his phrasing is also sensitive to 18th-century style and to the kind of effects and articulation particular to the harpsichord for which Scarlatti was writing. 'Kaleidoscopic nuances and dynamic gradations abound throughout the E major Kk135,' continued the Gramophone reviewer Jed Distler, the Gramophone reviewer Jed Distler, 'but not garishly so. Nor does the pianist's curvaceous and tapered phrasing throughout the A major Kk322 lapse into mannerism or cliché.'
As with all Brilliant Classics and Piano Classics LPs, this set is issued on 180-gram, high-grade vinyl pressed at the Optimal factory in Hamburg. Its audiophile quality is worthy of performances which bear comparison with great Scarlatti performers of past and present from Horowitz to Pletnev. Inner-sleeve booklet notes by Peter Quantrill discuss each of the sonatas in turn.
Listening
Track list
Disk 1
Domenico Scarlatti: Sonata in D Minor, K.01: I. Allegro

Domenico Scarlatti: Sonata in D Minor, K.32: I. Aria

Domenico Scarlatti: Sonata in D Major, K.33

Domenico Scarlatti: Sonata in B Minor, K.87

Domenico Scarlatti: Sonata in D Major, K.29: I. Presto
Disk 2
Domenico Scarlatti: Sonata in B Minor, K.27: I. Allegro

Domenico Scarlatti: Sonata in G Major, K.427: I. Presto quanto sia possible

Domenico Scarlatti: Sonata in C Major, K.132: I. Cantabile

Domenico Scarlatti: Sonata in E Minor, K.98: I. Allegrissimo
Disk 3
Domenico Scarlatti: Sonata in E Major, K.136: I. Allegro

Domenico Scarlatti: Sonata in E Major, K.162: I. Andante-allegro

Domenico Scarlatti: Sonata in A Major, K.208: I. Adagio e cantabile

Domenico Scarlatti: Sonata in A Major, K.39: I. Presto
Disk 4
Domenico Scarlatti: Sonata in A Major, K.322: I. Allegro

Domenico Scarlatti: Sonata in G Major, K.455: I. Allegro

Domenico Scarlatti: Sonata in C Major, K.95

Domenico Scarlatti: Sonata in F Minor, K.466: I. Andante moderato