Pinto: Complete Piano Music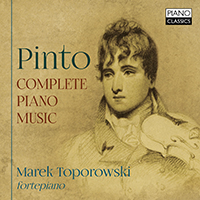 | | |
| --- | --- |
| Composer | George Frederick Pinto |
| Artist | Marek Toporowski piano |
| Format | 2 CD |
| Cat. number | PCL10177 |
| EAN code | 5029365101776 |
| Release | November 2019 |
About this release
The only complete survey on record of the piano music by a prodigal English contemporary of Mozart.

According to the impresario Salomon, had George Frederick Pinto not died at the age of 21, 'England would have had the honour of producing a second Mozart.' Early in 1806 he probably succumbed to the effects of tuberculosis, much exacerbated by a dissolute lifestyle; Pinto's 'very questionable character, his habits of intemperance, and his somewhat lax principles,' were notorious to his contemporaries.

And yet despite the praise of Salomon and Samuel Wesley, who remarked that 'a greater musical Genius has not been known', Pinto's music fell into obscurity, only to be revived in the 1960s. Within the two or three years before his death he produced an astonishingly mature body of work centred on the instruments with which he was also a celebrated performer, the violin and the piano. Perhaps his most remarkable music is to be found in the piano sonatas recorded here by Marek Toporowski:, more particularly the two sonatas op.3 and the Grand Sonata in C minor 'Inscribed to his Friend John Field' (1803).

A Fantasia and Sonata in C minor, left unfinished and completed by Wesley and Wölfl; and three sets of Variations also match up to Pinto's best standards. These works are blessed with beautiful and original ideas; although the influences of Mozart, Dussek and Cramer are clearly discernible there are many original touches, as well as astonishing anticipations of Beethoven, Schubert and even Chopin. Anyone with even a passing interest in Classical-era piano music will find Pinto's highly inventive music worth further investigation.

This new recording is the first complete survey undertaken on instruments of Pinto's own time. Marek Toporowski plays three fortepianos, all of them modern copies of distinguished German models from the end of the 18th century. He also contributes a detailed booklet essay on Pinto's life and works, informed by both practical and scholarly experience as one of the Polish historical performance movement's most renowned musicians.

First recording of the complete piano music by George Frederick Pinto.
English composer George Frederick Pinto (1786-1806) was a child prodigy on violin and piano, playing his first violin concerto at the age of 11. His untimely death at age 21 prompted his teacher and mentor, the famous impresario Salomon to say: "If he had lived…England would have had the honour to produce a second Mozart".
Pinto's piano music consists of three Grand Sonatas and several variation cycles. His bold harmonic and melodic language, his experiments in form and keyboard writing are all well ahead of his time and suggest comparison with Schubert and Beethoven.
Pianist Marek Toporowski chose 5 (copies of) historical instruments, fortepianos which do full justice to the character and sonority of Pinto's extraordinary piano music.
Marek Toporowski is a harpsichordist, organist, pianist and conductor, one of Poland's foremost performers in the Historical Performance movement. He is a scholar and a well known collector of historical instruments.
The booklet contains extensive liner notes on the composer and his works, as well as photos and descriptions of the instruments used.
Listening
Track list
Disk 1
George Frederick Pinto: Grand Sonata for the Piano Forte in C Minor: I. Allegro espressivo con foco é risoluto

George Frederick Pinto: Grand Sonata for the Piano Forte in C Minor: II. Poco adagio, tranquillo, legato è con espressione

George Frederick Pinto: Grand Sonata for the Piano Forte in C Minor: III. Rondo allegro molto agitato con fuoco è con espressione

George Frederick Pinto: Minuetto in A-Flat Major

George Frederick Pinto: Cory Owen: I. Allegro moderato

George Frederick Pinto: Rondo for the Piano Forte in E-Flat Major

George Frederick Pinto: Grand Sonata for the Piano Forte in A Major, Op. 3 No. 2: I. Allegro moderato

George Frederick Pinto: Grand Sonata for the Piano Forte in A Major, Op. 3 No. 2: II. Poco adagio affettuoso

George Frederick Pinto: Grand Sonata for the Piano Forte in A Major, Op. 3 No. 2: III. Rondo molto allegro con spirit

George Frederick Pinto: Sonata in E-Flat Minor, Op. 3 No. 1: I. Allegro moderato con espressione

George Frederick Pinto: Sonata in E-Flat Minor, Op. 3 No. 1: II. Adagio con gusto

George Frederick Pinto: Sonata in E-Flat Minor, Op. 3 No. 1: III. Allegro con brio
Disk 2
George Frederick Pinto: 3 Favourite Airs with Variations for the Piano, Op. 2 No. 1: I. Mamma Mia…

George Frederick Pinto: 3 Favourite Airs with Variations for the Piano, Op. 2 No. 2: II. ...and a French Air from the Opera

George Frederick Pinto: 3 Favourite Airs with Variations for the Piano, Op. 2 No. 3: III. Variations on Original Theme

George Frederick Pinto: New Waltz Composed by G. Pinto

George Frederick Pinto: Sonatina I for the Piano Forte in G Major, Op. 4 No. 1: I. Allegro moderato

George Frederick Pinto: Sonatina I for the Piano Forte in G Major, Op. 4 No. 1: II. A la ecopois

George Frederick Pinto: Sonatina I for the Piano Forte in G Major, Op. 4 No. 1: III. Quick March

George Frederick Pinto: Sonatina II for the Piano Forte in B-Flat Major, Op. 4 No. 2: I. Allegro moderato

George Frederick Pinto: Sonatina II for the Piano Forte in B-Flat Major, Op. 4 No. 2: II. Romance

George Frederick Pinto: Sonatina II for the Piano Forte in B-Flat Major, Op. 4 No. 2: III. Rondo. Allegro

George Frederick Pinto: Sonatina III for the Piano Forte in C Major, Op. 4 No. 3: I. Marcia maestoso

George Frederick Pinto: Sonatina III for the Piano Forte in C Major, Op. 4 No. 3: II. Irish Air

George Frederick Pinto: Sonatina III for the Piano Forte in C Major, Op. 4 No. 3: III. Waltz

George Frederick Pinto: Fantasia and Sonata for the Piano Forte from 4 Canzonets and Sonata: I. Adagio con espressione e poco ad libitum

George Frederick Pinto: Fantasia and Sonata for the Piano Forte from 4 Canzonets and Sonata: II. Allegro con spirito – Adagio

George Frederick Pinto: Fantasia and Sonata for the Piano Forte from 4 Canzonets and Sonata: III. Fugato

George Frederick Pinto: Fantasia and Sonata for the Piano Forte from 4 Canzonets and Sonata: IV. Sonata Grave con espressione

George Frederick Pinto: Fantasia and Sonata for the Piano Forte from 4 Canzonets and Sonata: V. Allegro