Petrassi, Dallapiccola: Complete Piano Works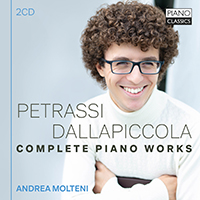 | | |
| --- | --- |
| Composer | Goffedro Petrassi, Luigi Dallapiccola |
| Artist | Andrea Molteni piano |
| Format | 2 CD |
| Cat. number | PCL10222 |
| EAN code | 5029365102223 |
| Release | April 2021 |
About this release
An unusual perspective on two luminaries of the Italian avant-garde, full of high spirits and neoclassical elegance.
The strident conviction of Goffredo Petrassi (1904-2003) his seven postwar Concertos for Orchestra could hardly be anticipated from the fluent pastiche of his piano Partita, composed in 1926. The Baroque titles of the four movements introduce a disarming simplicity of expression, whose dominant strains are the Classicism of Mozart and Beethoven. Even the more exploratory harmonies of the Toccata (1933) are couched in an idiom of gentle introspection – a far cry from the contemporary toccatas of Bartok and Prokofiev, for example – and an escapist, playful spirit courses through the seven Inventions of 1944.
Extant surveys of Petrassi's piano music end there, whereas Andrea Molteni adds three further, attractive miniatures: a mischievous Petit Piece of 1950 and then the two movements of Oh Les Beaux Jours! (1976), which rework material from the early 1940s including an unfinished Divertimento Scarlattiano. Unexpected this may be, for all but the most devoted student of Petrassi, but Andrea Molteni brings out the most attractive and witty features of his piano writing.
Luigi Dallapiccola (1904-1975) was, if anything, an even keener student of Baroque music than Petrassi, and blessed with a more subversive wit: in one of his most famous works, the Quaderno Musicale di Annalibera (1951-2) he fashions a dodecaphonic sequence on Bach's name (B.A.C.H). Twelve-tone counterpoint should be a contradiction in terms, but that would underestimate Dallapiccola's powers of technique and invention, which create a genuine homage in the spirit of his own time.
Before that, Andrea Molteni presents two further works in a haunting neoclassical vein: a 'Canonic Sonata' based on Paganini's Capricci for solo violin, and a set of three 'Episodes' drawn from his ballet Marsia, by turns anguished and serene in mood. The coupling of these works is unique on record, but perfectly natural; Andrea Molteni's performances enjoy the ring of authenticity; he was taught by William Grant Naborè, who was himself a student of Petrassi, and the booklet features an engaging interview between pupil and teacher.

A unique concept: the complete piano music by Petrassi and Dallapiccola on 2 CDs.
Goffredo Petrassi was an Italian composer and pedagogue. After his graduation he joined the composition faculty for advanced studies at the Accademia Nazionale di Santa Cecilia, a post he held from 1960 to 1978. His numerous students include Peter Maxwell Davies and Ennio Morricone.
Petrassi's early works have a neoclassical bias, similar to the neoclassical style of composers like Igor Stravinsky, Béla Bartók, and Paul Hindemith. However, he later set off on a completely independent path that led him to remarkable experiments in atonal abstractionism.
Luigi Dallapiccola was an Italian composer and pianist, whose works have an intense lyricism and spiritual idealism. He was the first composer in Italy to use dodecaphony in his compositions. Today, Dallapiccola's music is widely recognized as one of the milestones of the Italian 20th century music. His dodecaphonic journey, derived from a profound spiritual research, is evident in his two one-act operas, "Volo di Notte" and "Il Prigioniero".
Luigi Dallapiccola dedicated a modest share of his compositions to the piano; his constant quest for perfection and his extreme attention to the smallest details limited him from writing more than three pieces for this instrument.
This 2CD set marks the debut of Andrea Molteni, one of the most talented young Italian pianists of his generation. Molteni enjoys the artistic guidance of William Grant Naboré and Stanislav Ioudenitch under the auspices of the prestigious International Lake Como Piano Academy. Molteni's mentors also include Arie Vardi, Pavel Gililov, Piotr Paleczny, Vladimir Feltsman, Christopher O'Riley, Vovka Ashkenazy, Mario Patuzzi and Vincenzo Balzani. He is prize winner of several international competitions and gave concerts in the Wiener Saal of the Mozarteum University in Salzburg, Scriabin Museum in Moscow, Concert Hall of Chopin Music University in Warsaw and many more.
Listening
Track list
Disk 1
Goffedro Petrassi: Partita: I. Preludio. Allegro

Goffedro Petrassi: Partita: II. Aria. Calmo con dolcezza

Goffedro Petrassi: Partita: III. Gavotta. Moderato

Goffedro Petrassi: Partita: IV. Giga. Vivace

Goffedro Petrassi: Toccata: I. Adagio - Più mosso - Più lento - Presto - Adagio – Lento

Goffedro Petrassi: Piccola invenzione: I. Andantino

Goffedro Petrassi: Invenzioni: I. Presto volante - Poco meno – Presto

Goffedro Petrassi: Invenzioni: II. Moderato - Più presto, quasi allegro

Goffedro Petrassi: Invenzioni: III. Presto, leggero

Goffedro Petrassi: Invenzioni: IV. Moderatamente mosso, scorrevole – Moderato

Goffedro Petrassi: Invenzioni: V. Andantino, non molto mosso e sereno - Calmo – Mosso

Goffedro Petrassi: Invenzioni: VI. Tranquillo

Goffedro Petrassi: Invenzioni: VII. Scorrevole

Goffedro Petrassi: Invenzioni: VIII. Allegretto e grazioso

Goffedro Petrassi: Petit piece: I. Allegretto e grazioso, con spirito

Goffedro Petrassi: Oh les beaux jours!: I. Bagatelle. Andantino, un poco mosso - Allegretto pesante

Goffedro Petrassi: Le petit chat: I. Allegro - Vivace leggerissimo – Presto
Disk 2
Luigi Dallapiccola: Sonatina canonica su "capricci" di Niccolò Paganini: I. Allegro Comodo - Allegro molto misurato - I. Tempo

Luigi Dallapiccola: Sonatina canonica su "capricci" di Niccolò Paganini: II. Largo - Vivacissimo – Largo

Luigi Dallapiccola: Sonatina canonica su "capricci" di Niccolò Paganini: III. Andante sostenuto

Luigi Dallapiccola: Sonatina canonica su "capricci" di Niccolò Paganini: IV. Alla marcia. Moderato

Luigi Dallapiccola: Tre episodi dal balletto Marsia: I. Angoscioso

Luigi Dallapiccola: Tre episodi dal balletto Marsia: II. Ostinato

Luigi Dallapiccola: Tre episodi dal balletto Marsia: III. Sereno

Luigi Dallapiccola: Quaderno musicale di Annalibera: I. Simbolo

Luigi Dallapiccola: Quaderno musicale di Annalibera: II. Accenti

Luigi Dallapiccola: Quaderno musicale di Annalibera: III. Contrapunctus primus

Luigi Dallapiccola: Quaderno musicale di Annalibera: IV. Linee

Luigi Dallapiccola: Quaderno musicale di Annalibera: V. Contrapunctus secundus

Luigi Dallapiccola: Quaderno musicale di Annalibera: VI. Fregi

Luigi Dallapiccola: Quaderno musicale di Annalibera: VII. Andantino amoroso e contrapunctus tertius

Luigi Dallapiccola: Quaderno musicale di Annalibera: VIII. Ritmi

Luigi Dallapiccola: Quaderno musicale di Annalibera: IX. Colore

Luigi Dallapiccola: Quaderno musicale di Annalibera: X. Ombre

Luigi Dallapiccola: Quaderno musicale di Annalibera: XI. Quartina