Pärt: Lamentate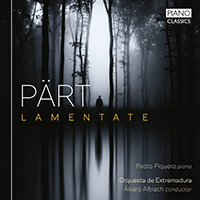 Composer
Arvo Pärt
Artist
Pedro Piquero piano
Orquesta de Extremadura
Álvaro Albiach conductor
Format
1 CD
Cat. number
PCL10273
EAN code
5029365102735
Release
March 2023
About this release
Taking his initial inspiration from Marsyas, a massive sculpture created by Anish Kapoor in 2002 for the Turbine Hall in Tate Modern in London, the Estonian composer Arvo Pärt conceived Lamentate as a lament not for the dead but for the living, 'who have to deal with these issues for themselves' – something of a spiritual sequel to Brahms's German Requiem.

The soundworld of the piece, however, as a 40-minute concertante work for piano and large orchestra, could hardly be more different from Brahms, dealing in characteristically polar opposites between 'brutal-overwhelming' and 'intimate-fragile', in the composer's terminology. Swiftness and calm, light and dark, time and timelessness are fused in a vast organic score of ten continuous movements pointing to the ineffability of death and suffering.

The two short companion pieces distil that feeling for intimacy and fragility which the composer has made his own for six decades and more in the 'tintinabulation' style which has proved so influential on subsequent generations looking to compose distinctively modern music with spiritual content and meaning. Psalom is an instrumental setting of Psalm 112, as a summons to praise God, to place hope in Him and to find redemption for suffering in the intercession of God. The Cantus written in memory of Benjamin Britten remains one of Part's most haunting and perfect works, almost half a century on from its composition: a modern classic of music's special capacity to absorb and transform and then transcend grief.

The pianist Pedro Piquero studied in his home country of Spain and then the US. He has pursued a dual career of pianist and translator, producing definitive editions of foundational texts of Zen Buddhism and in 2017 becoming a Zen master. This search for spiritual wisdom and transcendence makes him a performer of rare insight when addressing the music of Pärt, and his essay for this album concludes by offering it as 'a release from affliction through the truth pointed to by the composer's generous and compassionate craft.'

Death and suffering are the themes that concern every person born into this world. The way in which the individual comes to terms with these issues (or fails to do so) determines his attitude towards life, whether consciously or unconsciously… This is the subject matter underlying my composition Lamentate. Accordingly, I have written a lament – not for the dead, but for the living, who have to deal with these issues for themselves». This was how composer Arvo Pärt referred to his largest instrumental work to date and these are precisely the questions – death and suffering – which run through this recording. Pärt, born in 1935 in Paide (Estonia), knows what he is talking about: harassed by the Soviet authorities who branded his art as over-modern and excessively religious, he underwent a profound personal crisis that led him to unfathomable suffering, reclusion and an end to his first phase of composition. As part of his subsequent artistic resurrection in the mid-nineteen seventies, he began to produce music which he defined as «tintinnabuli», inspired by the pealing of bells and based on sacred texts, mostly in Latin or in the Slavic language used in Orthodox church liturgy. Pärt himself described his style as follows: «… I must search for unity… everything that is unimportant falls away. Tintinnabulation is like this. Here I am alone with silence. I have discovered that it is enough when a single note is beautifully played. This one note, or a silent beat, or a moment of silence, comforts me».
Also recorded on this new CD are the Psalom for string orchestra and Cantus in Memoriam Benjamin Britten.
Born in Seville in 1976, Pedro Piquero received his musical training in Spain with Esteban Sánchez and in the United States with Caio Pagano. The pianist Maria João Pires invited him in in 2002 to reside in the Belgais Center for Arts in Portugal. He has won several awards and Melómano wrote about him: «Piquero exceeds himself … a glorious blend of Glenn Gould and Carlos Kleiber».
Described as «one of the leading orchestras in this country» (Scherzo), the Orquesta de Extremadura has performed in all the major concert halls of Spain.
Conductor Álvaro Albiach pursues a successful international career, with invitations from orchestras such as the Wiener Kammerorchester, the NDR Radio Philharmonie in Hannover, the Trondheim Symphony, the Orchestre national d'Auvergne, the Flemish Radio Orchestra, the Würtembergische Philharmonie and the Orchestre National de Lyon.
Listening
Track list
Disk 1
Arvo Pärt: Lamentate: I. Minacciando

Arvo Pärt: Lamentate: II. Spietato

Arvo Pärt: Lamentate: III. Fragile

Arvo Pärt: Lamentate: IV. Pregando

Arvo Pärt: Lamentate: V. Solitudine –stato d'animo

Arvo Pärt: Lamentate: VI. Consolante

Arvo Pärt: Lamentate: VII. Stridendo

Arvo Pärt: Lamentate: VIII. Lamentabile

Arvo Pärt: Lamentate: IX. Risolutamente

Arvo Pärt: Lamentate: X. Fragile e conciliante

Arvo Pärt: Psalom

Arvo Pärt: Cantus in memoriam Benjamin Britten