Novak: Pan, a Tone Poem for Piano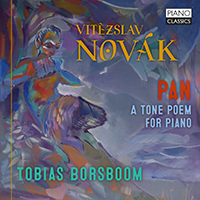 | | |
| --- | --- |
| Composer | Vítězslav Novák |
| Artist | Tobias Borsboom piano |
| Format | 1 CD |
| Cat. number | PCL10219 |
| EAN code | 5029365102193 |
| Release | April 2021 |
About this release
A masterpiece of Czech late-Romanticism, in its original piano version: the only modern recording.
For his debut on Piano Classics, the Dutch pianist Tobias Borsboom presents a unique new recording sure to attract the attention of pianophiles everywhere: the five-movement, hour-long tone-poem which Vítězslav Novák (1870-1949) composed in 1910. The work is marginally better known through the orchestration made by the composer two years later, but the great breadth, melodic richness and sumptuous harmonies of Pan still await discovery by all but the most devoted follower of Slavonic byways.
Novak composed the work at the height of his powers. IT presents a pantheistic, spiritual autobiography in music, responding to the idea of the Greek god, and the myths associated with him, through highly colourful, evocative music. The forest stirs and murmurs in a manner reminiscent of Dvorak, but the sea also swells with Debussyan waves of sonority and there are hints of Janacek in the cycle's brooding second movement, 'The Mountains', which inhabits the mood of Novak's more concise orchestral masterpiece, In the Tatras Mountains.
As Tobias Borsboom observes in his invaluable booklet essay, the cycle emulates Smetana's Ma Vlast in pursuing a cyclical unity through the return of themes and leitmotifs. Thus the opening 'Pan' theme lends a universal, shaping power to the entire work. A glorious C major apotheosis – on the scale of Scriabin, Schoenberg and Strauss in their contemporary works – brings the finale, 'Woman' to a transcendent climax. The piano version has many virtues of its own, not least clarity of line and texture, which Tobias Borsboom's performance brings out.

Vítězslav Novák was born in Kamenice nad Lipou Bohemia. Novák was baptized as Viktor, but when he left for Prague to study composition with Antonín Dvořák, he changed his name to Vítězslav in order to connect more with the Czech identity.
Novák's earliest compositions were influenced by the 'moderns' of his youth. These were Grieg, Tchaikovsky and Dvořák, but also the German Romantics such as Brahms and in particular Schumann. These compositions are mainly piano works, with typical romantic names. In 1897, Novák was introduced to Janáček, who shared his interest in folk music, which led Novák to make serious work of studying Czech and Moravian folk music and he arranged many folk songs. This contact with folk music was reflected in Novák's compositions and it came to characterize his style. Later influences were the works of Debussy and Richard Strauss.
Pan is a tone poem for piano in five movements. After the Prolog (prologue) the music transforms into spirited representations of three different natural scenery, mountains, sea and forest. The last movement pays tribute to 'the woman' and womanhood. The music is highly evocative, scenic, visual and atmospheric, while the piano writing is of the highest order, in Lisztian fashion.
Dutch pianist Tobias Borsboom is a versatile musician, who, apart from his solo and concerto appearances, also likes to collaborate with other theater and art forms.
Listening
Track list
Disk 1
Vítězslav Novák: Pan, Op. 43: I. Prologue

Vítězslav Novák: Pan, Op. 43: II. Mountains

Vítězslav Novák: Pan, Op. 43: III. Sea

Vítězslav Novák: Pan, Op. 43: IV. Forest

Vítězslav Novák: Pan, Op. 43: V. Woman