Messiaen: Piano Music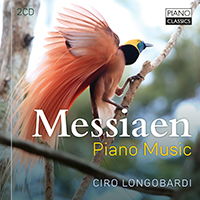 Download booklet
| | |
| --- | --- |
| Composer | Olivier Messiaen |
| Artist | Ciro Longobardi piano |
| Format | 2 CD |
| Cat. number | PCL10202 |
| EAN code | 5029365102025 |
| Release | September 2021 |
About this release
New recordings from an acclaimed Messiaen pianist of major works beyond the Vingt regards and Catalogue d'oiseaux.

While most listeners to 20th-century music and piano masterpieces will have recordings of Messiaen's two major cycles in their collection, the rest of his piano music often tends to fly under the radar. Yet Messiaen wrote piano music throughout his life, and among his most characteristic early works is the set of eight Preludes, with their playful evocations of wind and air and dreams and light.

The piano writing may owe much to Debussy's example, but it's clear that the 20-year-old composer was already well on its way to developing unique aspects of his language: the blue harmonies, the repetitions and the patient ascensions towards a state of ecstasy that make him among the most imitated of last century's composers.
From the middle period of Messiaen's protean career, the Quatre études de rythme exercised lasting influence over the most brilliant composers of the avant-garde generation including Boulez and Stockhausen, though their application of the principles of 'total serialism' is much less dry and more vivid than countless later imitators.

Ciro Longobardi's album concludes with perhaps the composer's single most technically challenging piano work, La fauvette des jardins. This half-hour portrait of the reed-warbler stands as an appendix to the Catalogue d'oiseaux, rarely encountered but a feat of coruscating virtuosity to set
alongside the Transcendental Etudes of Liszt and the studies of Alkan and Godowsky. The Italian pianist Ciro Longobardi proved his mettle in Messiaen with a glowingly received album of the Catalogue d'oiseaux for Piano

Praise for the Catalogue d'oiseaux (PCL10155):
''His performance makes you listen, through its diverse use of dynamics and the expert use of silences. His playing is concise and bright... his notes on the music expertly set the scene.' MusicWeb International

'Among the most sensitive and stimulating pianists for modern repertoire, Longobardi addresses the landscapes of the cycle with a technical finesse that allows him to paint them with many different shades... Longobardi brings a brilliant and balanced touch to this music... Marvellous.' Giornale della Musica

'As the series went on, I really came to like Longobardi's enthusiasm for this music and insouciance in his delivery. You can't feign these things; you either have these qualities or you don't. I also appreciated the crisp, clear quality of the recorded sound.' ArtMusicLounge (Lynn René Bayley)

- This box set presents a selection of piano works composed by Messiaen over the span of more than 40 years. In comparison with the great cycles of Vingt regards sur l'enfant-Jésus and Catalogue d'Oiseaux it might seem like a simple collection of scattered pieces but nothing could be further from reality: these works, due to their complexity of conception and depth of inspiration, can fully stand alongside those monuments, and are widely acknowledged as turning points in the history of Western compositional thinking.
- It is easy to recognize Debussyian origins in the Huit Préludes (1928-29), with regard to the choice of form, the titles and the use of ambiguous and suspended harmonies. However, these pieces already sound as Messiaen's music unmistakably does, thanks to the composer's particular sensitivity to color and harmony. Cantéyodjayâ - a pseudo-Sanskrit word - composed in 1948, is a complex and articulated piece marking the composer's involvement in the study of Hindu rhythms, and the entry of serial writing into his music. The radical change in piano writing is also clear in the Quatre Études de rythme (1949-50). The two Île de Feu (Isle of Fire) are dedicated to Papua New Guinea, so the themes "have all the violence of the magical rites of that country". La Fauvette des Jardins is the last of Messiaen's bird pieces (not part of Catalogue d'oiseaux), the culmination and landmark of Messiaen's ornithological inspiration.
- This is the second instalment of Messiaen's piano music by Italian pianist Ciro Longobardi, a specialist in contemporary repertoire. His previous recording of Catalogue d'Oiseaux received excellent reviews, a.o. a 5-star review in French Diapason.
Listening
Track list
Disk 1
Olivier Messiaen: 8 Préludes: I. La colombe

Olivier Messiaen: 8 Préludes: II. Chant d'extase dans un paysage triste

Olivier Messiaen: 8 Préludes: III. Le nombre léger

Olivier Messiaen: 8 Préludes: IV. Instants défunts

Olivier Messiaen: 8 Préludes: V. Les sons impalpables du rêve...

Olivier Messiaen: 8 Préludes: VI. Cloches d'angoisse et larmes d'adieu

Olivier Messiaen: 8 Préludes: VII. Plainte calme

Olivier Messiaen: 8 Préludes: VIII. Un reflet dans le vent...

Olivier Messiaen: Fantaisie burlesque

Olivier Messiaen: Pièce pour le tombeau de Paul Dukas

Olivier Messiaen: Rondeau

Olivier Messiaen: Cantéyodjayâ
Disk 2
Olivier Messiaen: 4 Études de rythme: I. Île de feu I

Olivier Messiaen: 4 Études de rythme: II. Mode de valeurs et d'intensités

Olivier Messiaen: 4 Études de rythme: III. Neumes rythmiques

Olivier Messiaen: 4 Études de rythme: IV. Île de feu II

Olivier Messiaen: La fauvette des jardins