Messiaen: 8 Préludes, Ile de feu I & II, Fantasie Burlesque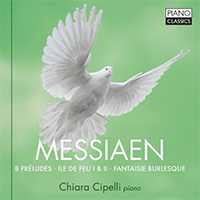 | | |
| --- | --- |
| Composer | Olivier Messiaen |
| Artist | Chiara Cipelli piano |
| Format | 1 CD |
| Cat. number | PCL10200 |
| EAN code | 5029365102001 |
| Release | February 2020 |
About this release
Chiara Cipelli made a notable debut on Brilliant Classics in 2019 with the little-known music of the Milanese composer and teacher Bruno Bettinelli: 'presented with wonderful vigour and colour by the fine young Lombardy native Chiara Cipelli.' (Fanfare magazine, November 2019)

Now she turns her attention to the early works of Olivier Messiaen which are contemporary with much of Bettinelli's piano music. Dating from 1929, the cycle of Eight Preludes finds Messiaen at his most impressionistic, with an opening, entrancing evocation of a dove that perhaps owes more to the spare language of Ravel in the 'Oiseaux tristes' of Miroirs than it does to his own, later and more extrovert transcriptions of birdsong.

These Preludes strike a prevailing mood of reflection and calm, tending towards aFrench but uncharacteristic melancholy. Already in the second Prelude the 21-year-old Messiaen is trying out the effect of a visionary, aspiring melody over the top of a solemn chorale – the master organ improviser at a very early stage of development (he had not even set eyes on an organ manual until three years earlier).

The rarely encountered Pièce pour le tombeau de Paul Dukas strikes an even more sombre note, as a piece written by Messiaen in memory of his much-loved teacher of composition at the Paris Conservatoire. Here is a superb example of Messiaen's chorale style, at once ecstatic and severe, at its most imposing and yet compressed (lasting only four minutes).

Thereafter, Chiara Cipelli's album strikes a more extrovert note, with the Fantaisie Burlesque of 1932 and a pair of the Quatre Etudes de rythme with which the composer revolutionised his own language in the early 1950s and prefigured much avant-garde music by his pupils such as Boulez and Stockhausen, In the two Ile de feu studies, every aspect of composition is systematised according to a pre-arranged plan – not only notes in the 12-tone method devised by Schoenberg, but rhythms and even durations. Yet the results are much too stark and fiery to be confused with anyone but Messiaen.

Chiara Cipelli ends her recital with a genuine rarity, the standalone Prelude which Messiaen wrote in 1964 but withheld, so that it only saw the light of day in 2000, eight years after his death. This reveals similarities to his earlier Preludes and in the same time incorporates his later interest in bird-songs: it's a must-hear for anyone interested in Messiaen's unique world.

The "8 Préludes" that Olivier Messiaen wrote in 1928/29 bear witness of the deep influence of Claude Debussy on the young composer.
Like Debussy, Messiaen gave each Prelude a title. For example 'La Colombe' ('The Dove'), with delicate flutterings in the high register. In fact, Messiaen's Preludes are very connected with religion rather than purely impressionistic, and look forward to his great and profoundly spiritual pieces as "Vingt regards sur l'enfant Jesus."
Il de Feu I & II are part of "Quatre Etudes de Rythme". Both etudes are dedicated to the Papua Nuova Guinee music and the principal motif has "all the violence of the magic rites of this country".
Italian pianist Chiara Cipelli previously recorded a CD for Brilliant Classics with piano works by Bettinelli, which was very favourably received by the press: "Chiara Cipelli plays these piano pieces with an evident sympathy for their stylistic variety and contrasts; she seems totally in command of the music's technical armoury."(Musicweb), "Sie spielt glasklar, betont kontrapunktisch und analytisch, aber auch mit viel Gefühl für Farben, Rhythmen und Stimmungen"(Piano News).
Listening
Track list
Disk 1
Olivier Messiaen: 8 Préludes: I. La colombe

Olivier Messiaen: 8 Préludes: II. Chant d'extase dans un paysage triste

Olivier Messiaen: 8 Préludes: III. Le nombre léger

Olivier Messiaen: 8 Préludes: IV. Instants défunts

Olivier Messiaen: 8 Préludes: V. Les sons impalpables du rêve…

Olivier Messiaen: 8 Préludes: VI. Cloches d'angoisses et larmes d'adieu

Olivier Messiaen: 8 Préludes: VII. Plainte calme

Olivier Messiaen: 8 Préludes: VII. Un reflet dans le vent…

Olivier Messiaen: Pièce pour le tombeau de Paul Dukas

Olivier Messiaen: Fantaisie burlesque

Olivier Messiaen: Quatre etudes de rythme: I. Ile de feu I

Olivier Messiaen: Quatre etudes de rythme: IV. Ile de feu II

Olivier Messiaen: Prélude