Medtner: Piano Sonatas Op.25 Nos. 1 & 2, Six Fairy Tales Op.51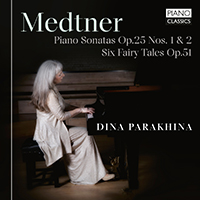 | | |
| --- | --- |
| Composer | Nikolai Medtner |
| Artist | Dina Parakhina piano |
| Format | 1 CD |
| Cat. number | PCL10266 |
| EAN code | 5029365102667 |
| Release | March 2023 |
About this release
The two sonatas published by Medtner as his Opus 25 make a salutary contrast: the longest and most taxing of his sonatas placed alongside a sonatina-like work possibly intended for children. Apart from showing the range of the composer's imagination and his capacity to build musical structures that show the most careful craftsmanship, these two sonatas reveal a view of the world that is very Medtnerian: a pairing of something childlike with the heroic and terrifying. 'In Medtner you find the whole complexity of life,' says Dina Parakhina. 'He built his spiritual cathedrals out of chaos.'

Op.25 No.1 is known as the 'Fairy Tale' Sonata, and its four concise movements really do sound as if they deal with fairies, giants, witches and goblins. The Six Fairy Tales Op.51 further illuminate this side of Medtner's musical personality. Dina Parakhina hears a Russian figure of the Fool in No.2, and Cinderella in the balletic turns of No.3, 'the most lyrical, elegant and feminine in style' and perhaps a portrait of his wife.

Medtner prefaced the mighty Op.25 No.2 Sonata with a poem by Fyodor Tyutchev: 'Night wind, night wind, why do you howl?' Longer than half an hour, this single movement invites comparison with the B minor Sonata of Liszt and the final sonata of Beethoven as a summit of late-Romantic piano literature, which absorbs tempests and idylls within his personal synthesis of German, contrapuntal rigour and Russian lyricism.
The Russian-born pianist Dina Parakhina has Medtner's music in her blood and under her fingers, as a student at the Moscow Tchaikovsky Conservatoire at the top of a class which included Mikhail Pletnev. She became a professor of piano there before moving to the UK, where she teaches at the Royal College of Music and Royal Northern College, as well as performing around the country.

Nikolai Medtner (1880-1951) was born in Moscow. After piano lessons with his mother he entered the Moscow Conservatory where he had lessons from Pavel Pabst and Sergey Taneyev. He won the prestigious Anton Rubinstein Prize at age 20. A younger contemporary of Scriabin and Rachmaninoff he was destined for a brilliant pianistic career but he chose to concentrate on composition. In 1936 he settled in London where he spent the rest of his life teaching and composing till 1951. Medtner's style is rooted in the 19th century, full-blooded romantic, with a highly personal harmonic and melodic language, often complex and dense, but hauntingly beautiful.
This new recording presents the two Piano Sonatas Op. 25, the first a Fairy Tale Sonata, the second a colossal, enigmatic, fantastic, nocturnal work, which is considered by many to be not only Medtner's best work, but one of the best sonatas of the entire 20th Century. It was completed in 1911 and dedicated to Sergei Rachmaninoff, who immediately recognized its greatness. Under the title "Sonata" Medtner added a note: "The whole piece is in an epic spirit". Dina Parakhina is a Russian-born pianist and teacher. Piano Professor at the Royal College of Music since 2009, and College Fellow since 2019, Dina taught piano at the Central Music School in Moscow for sixteen years. She performs as a soloist with orchestras, makes recordings for CDs and radio, gives master-classes across the world, and sits on the juries of international piano competitions. Born in Sochi, Dina moved to Moscow without her family to study piano aged twelve. At the Central Music School, she studied under Professor Tamara Aleksandrovna Bobovich; at the Tchaikovsky Conservatory, Dina studied with Evgeny Malinin, a protégé of Heinrich Neuhaus.
Listening
Track list
Disk 1
Nikolai Medtner: 6 Fairy Tales, Op. 51: I. Allegro molto vivace

Nikolai Medtner: 6 Fairy Tales, Op. 51: II. Cantabile, tranquillo

Nikolai Medtner: 6 Fairy Tales, Op. 51: III. Allegretto tranquillo

Nikolai Medtner: 6 Fairy Tales, Op. 51: IV. Allegretto con moto flessible

Nikolai Medtner: 6 Fairy Tales, Op. 51: V. Presto

Nikolai Medtner: 6 Fairy Tales, Op. 51: VI. Allegro vivace

Nikolai Medtner: Piano Sonata, Op. 25 No. 1: I. Allegro abbandonamente

Nikolai Medtner: Piano Sonata, Op. 25 No. 1: II. Andantino con moto

Nikolai Medtner: Piano Sonata, Op. 25 No. 1: III. Allegro con spirito

Nikolai Medtner: Piano Sonata, Op. 25 No. 2: I. Introduczione. Andante-Allegro