Liszt: Études d'exécution transcendante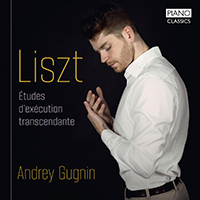 | | |
| --- | --- |
| Composer | Franz Liszt |
| Artist | Andrey Gugnin piano |
| Format | 1 CD |
| Cat. number | PCL10158 |
| EAN code | 5029365101585 |
| Release | November 2018 |
About this release
A famously demanding summit of the Romantic piano literature performed by a Russian artist of prodigious talents.

Having gained the Gold Medal and the Audience Award at the XVI International Gina Bachauer Piano Competition in 2014, Andrey Gugnin (b.1987) is in huge demand as both a concert and recording artist. Following that particular competition success (one of many, including the Sydney International Piano Competition in 2016), Gugnin recorded Pictures at an Exhibition, which has become a tour de force for Gugnin on recent tours of Europe, America and Asia.

Glenn Gould, Emil Gilels and Sergei Rachmaninov are Gugnin's 'piano heroes': the last two noted exponents of Franz Liszt in their own right, and among the composer's vast output, still only a fraction of which is generally known, the Transcendental Etudes are the pre-eminent works to embody the contradictions and contrasts at the heart of the man and his music: 'transcendent' both in terms of the demands they make upon the performer and yet, at points, in their spiritual aspirations.

'Half Franciscan, half gypsy' was Liszt's own description of himself, not entirely ironic, and it chimes with the extraordinary variety of these studies, encapsulated by the expressive distance between the last two, the visionary 'Harmonies du soir' and the unstoppable force of 'Chasse-Neige': 'a sublime and steady fall of snow which gradually buries landscape and people' according to Ferruccio Busoni. In Andrey Gugnin these studies find a pianist with both the technique and the sensibility to encompass the precipitous leaps of 'Wilde Jagd' and the Mendelssohnian eye for landscape in 'Paysage'.

Andrey Gugnin is one of the most exciting pianists of the younger Russian generation. A pupil of Lev Naumov and the legendary Vera Gornostayeva at the Moscow Conservatory he participated in several international competitions: he is first prize Winner of the Sidney Piano Competition 2016, Gold Medal of the Gina Bachauer Competition 2014 and 2-nd prize of the Vienna Beethoven Competition in 2013. He played in important Festivals like Verbier and Ruhr Klavier, he played with the London Philharmonic Orchestra and all the Russian orchestras with conductors like Valery Gergiev and others.
Andrey Gugnin regularly plays the complete set of Liszt's notoriously difficult Études d'exécution transcendante in public. His performance has a sweeping vision, a grand arch of tension and relaxation, of the wild and furious and of the serene and contemplative.
Booklet notes by David Moncur.
Listening
Track list
Disk 1
Franz Liszt: Études d'exécution transcendante, S. 139: I. Preludio, presto in C Major

Franz Liszt: Études d'exécution transcendante, S. 139: II Molto vivace in A Minor

Franz Liszt: Études d'exécution transcendante, S. 139: III. Paysage, poco adagio in F Major

Franz Liszt: Études d'exécution transcendante, S. 139: IV. Mazeppa, allegro in D Minor

Franz Liszt: Études d'exécution transcendante, S. 139: V. Feux follets, allegretto in B-Flat Major

Franz Liszt: Études d'exécution transcendante, S. 139: VI. Vision, lento in G Minor

Franz Liszt: Études d'exécution transcendante, S. 139: VII. Eroica, allegro in E-Flat Major

Franz Liszt: Études d'exécution transcendante, S. 139: VIII. Wilde Jagd, presto furioso in C Minor

Franz Liszt: Études d'exécution transcendante, S. 139: IX. Ricordanza, andantino in A-Flat Major

Franz Liszt: Études d'exécution transcendante, S. 139: X. Appassionata, allegro agitato in F Minor

Franz Liszt: Études d'exécution transcendante, S. 139: XI. Harmonies du soir, andantino in D-Flat Major

Franz Liszt: Études d'exécution transcendante, S. 139: XII. Chasse-neige, andante con moto in B-Flat Minor