Lekeu: Complete Piano Works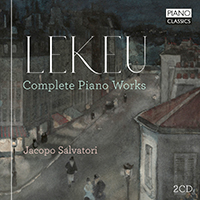 | | |
| --- | --- |
| Composer | Guillaume Lekeu |
| Artist | Jacopo Salvatori piano |
| Format | 2 CD |
| Cat. number | PCL10289 |
| EAN code | 5029365102896 |
| Release | December 2023 |
About this release
The most complete set of Lekeu's piano music ever recorded, demonstrating the full range of genius cut off in his prime.
After his death from typhoid fever at the age of just 24, in January 1894, Debussy and many others lamented the passing of a musician with the world at his feet. 'There is a Belgian school,' wrote Debussy in 1896. 'Next to Franck, Lekeu is one of its most remarkable representatives, this Lekeu, the only musician to my knowledge whom Beethoven really inspired.'
Partly due to his sudden demise, very little of his extant music has been published; among the works for piano only the monumental, five-movement Sonata in G minor, an album of three beautiful short pieces written in 1892, and a Mazurka. Jacopo Salvatori demonstrates, on this groundbreaking new album, how much else there is for pianophiles and enthusiasts for French romanticism to enjoy.
In his booklet note, Salvatori describes how he tracked down the manuscripts for several pieces heard here effectively for the first time. They include a beautiful four voices fugue written in 1889, a piece clearly influenced by the teaching of Franck. There is also a series called Morceaux egoists, of which some are lost, but there are pointers in what survives towards a different side of Lekeu to the one known from the familiar, Wagnerian richness of the Violin Sonata. Even the Piano Sonata takes on a different complexion as potentially more of a Suite, somewhat loosely assembled, but unified by a poetic motto from the writer George Vanor. Shedding such light on Lekeu makes Salvatori's album a unique and valuable contribution to the appreciation of a still little-known but powerfully talented voice of the Belle Epoque.

- Guillaume Lekeu (1870-1894) was born in Veviers, Belgium. He studied music and philosophy in Paris. A visit to Bayreuth brought him under the spell of the music of Richard Wagner. Upon his return he took lessons with César Franck, who was his mentor and greatest music inspiration. Lekeu was one of the foremost talents of his generation and his tragically early death at age 24 of typhoid fever robbed music history of a great promise.
- This new recording presents the complete piano music by Lekeu. Lekeu was a prolific composer already as a teenager, and he left a considerable amount of music, including a whole repertory of piano pieces. Claude Debussy, introducing his "unfinished Quartet for piano and strings" in 1896, wrote "[..] Yes, there is a Belgian school. Next to Franck, Lekeu is one of its most remarkable representatives, this Lekeu, the only musician to my knowledge whom Beethoven really inspired". Also, the Boston Herald wrote: "Lekeu's voice was his own. His music is not like that of other men; he thought in his own way and his emotional eloquence in the quartet is genuine and convincing…".
- Only a few of his piano works have been published: the monumental Piano Sonata in G minor, the Trois Pièces and a Mazurka. All other works on these two CDs have been gathered in manuscript from various libraries, including fugues, character pieces and a series of Morceaux égoïstes.
- Jacopo Salvatori is composer and pianist. He studied piano and composition at the University of Music and Performing Arts Munich. Jacopo's recent activity includes two operas, premiered at Grachtenfestival in Amsterdam and Theater an der Wien. He recorded the complete piano works by Debussy, Etudes by Glass and Mendelssohn's Lieder Ohne Worte.
Listening
Track list
Disk 1
Guillaume Lekeu: 3 Pieces, V.107: I. Chansonette sans paroles

Guillaume Lekeu: 3 Pieces, V.107: II. Valse oubliée

Guillaume Lekeu: 3 Pieces, V.107: III. Danse joyeuse (dans le style des chansons populaires)

Guillaume Lekeu: Berceuse, V.94

Guillaume Lekeu: Piano Sonata in G Minor, V.105: I. Prélude (Très modéré)

Guillaume Lekeu: Piano Sonata in G Minor, V.105: II. Fugue 1

Guillaume Lekeu: Piano Sonata in G Minor, V.105: III. Fugue 2

Guillaume Lekeu: Piano Sonata in G Minor, V.105: IV. Dans un mouvement plus lent

Guillaume Lekeu: Piano Sonata in G Minor, V.105: V. Finale

Guillaume Lekeu: Pot-pourri, V.95 (Intermède comique): I. Berceuse

Guillaume Lekeu: Pot-pourri, V.95 (Intermède comique): II. Valse

Guillaume Lekeu: Andantino semplice e molto espressivo, V.93

Guillaume Lekeu: Tempo di mazurka, V.106
Disk 2
Guillaume Lekeu: Morceaux égoïstes, livre 2: I. Allegro marcato, V.85

Guillaume Lekeu: Morceaux égoïstes, livre 2: II. Andante, V.88

Guillaume Lekeu: Morceaux égoïstes, livre 2: III. Andantino malinconico, V.91

Guillaume Lekeu: Morceaux égoïstes, livre 2: IV. Andante, V.86

Guillaume Lekeu: Morceaux égoïstes, livre 2: V. Andante, pour moi seul (manuscript), V.87

Guillaume Lekeu: Andante religioso col più grand'espressione, V.84

Guillaume Lekeu: Morceaux égoïstes, livre 1: IV. Lento doloroso, V.100

Guillaume Lekeu: Moderato quasi largo, V.103

Guillaume Lekeu: Pastorale (manuscript)

Guillaume Lekeu: Fuga (manuscript)