Koharik Gazarossian: 24 Etudes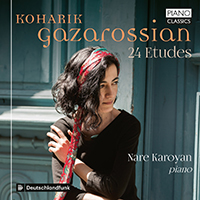 | | |
| --- | --- |
| Composer | Koharik Alis Gazarossian |
| Artist | Nare Karoyan piano |
| Format | 1 CD |
| Cat. number | PCL10263 |
| EAN code | 5029365102636 |
| Release | December 2022 |
About this release
The first complete recording of scintillating piano studies by an Armenian pupil of Dukas.
Though she gave piano recitals throughout Europe during her career, the name of Koharik Gazarossian has largely been forgotten today. Born to Armenian parents in 1907, she grew up in Constantinople (modern Istanbul) and studied piano there with a Hungarian pupil of Liszt. Not yet 20, she was admitted to the Paris Conservatoire, where her teachers were Paul Dukas (composition) and Lazare Lévy (piano).
Gazarossian proceeded to make a name and a career for herself as a pianist touring 24 'well-tempered' recitals, arranged by tonality after the model of Bach's keyboard manuals. But she also composed throughout this time, especially for her own instrument, in a tonal language influenced by her teachers and by Armenian folk melodies and harmonies. Many of these pieces have yet to be rediscovered, but this album of the 24 Etudes presents the most compelling case for her revival.
Gazarossian completed the Etudes in 1958, and they attracted the praise in particular of Armenia's most renowned composer, Aram Khachaturian, who maintained that her reputation would have been much higher had she gone back to her native land rather than to Paris – though in fact she never did so, and she continued to live in Istanbul. Not only the pre-eminent exemplar of Chopin can be heard in the technique of the Etudes, but also the sound of Scriabin (No.1), Rachmaninov (No.3) and Prokofiev (No.10).
Each of the Etudes is dedicated to a different friend, and the set thus testifies to a wide social circle of accomplished musicians from across Europe and Asia. Several of them are dedicated to the best of her pupils back in Istanbul, others to fellow female pianists such as Magdi Rufer and Idil Biret. It is all the more appropriate that they should be revived here by Nare Karoyan, who grew up in Yerevan, capital of Armenia, before studying in Cologne with Pierre-Laurent Aimard, among other distinguished teachers. Now based in Germany, she gives regular recitals in Berlin, Bonn and other major destinations.

· Koharik Gazarossian (1907-1967), of Armenian descend, was born in Constantinople (now Istanbul) and received there her first piano and composing lessons, her teachers were Edgar Manas and Rudolph Leibovitch. When she was not even 20 years old, she followed up on advice given to her and went to Paris in order to study composition and piano. She entered the Paris conservatoire and took lessons with Paul Dukas (composition), Jean Roger-Ducasse (composition), Paul Fauchet (harmony) and Lazare Lévy (piano). Koharik was very talented at learning languages quickly, she easily settled in Paris. In 1934 she gave her first piano recital in Paris, in the renowned Salle Pleyel. And she continued building up her career as pianist and composer, as far as it was possible with World War II coming up. She left Paris in 1939 for some years but returned after the war and continued commuting between Istanbul and Paris. In Istanbul she gathered artists, intellectuals and also religious authorities like the patriarch around herself – most of them Armenians like her.
· The "24 Etudes for Piano" are highly personal, pianistically innovative and challenging piano pieces, showing traces of a mélange of Armenian melodies, musical Zeitgeist of the first half of the 20th century and harmonies from the border zone of tonality, while containing reminiscences of Scriabin, Rachmaninoff and Prokofiev.
· Pianist Naré Karoyan grew up in Yerevan surrounded by contemporary art, dozens of vinyl records and an upright. Nare had the honor to work with unique personalities like Pascal Devoyon, Pierre-Laurent Aimard, Peter Eicher, Anthony Spiri and Gérard Buquet.
Listening
Track list
Disk 1
Koharik Alis Gazarossian: 24 Etudes: I. Allegretto

Koharik Alis Gazarossian: 24 Etudes: II. Animé et grouillant

Koharik Alis Gazarossian: 24 Etudes: III. Andantino

Koharik Alis Gazarossian: 24 Etudes: IV. Vivo – Meno mosso

Koharik Alis Gazarossian: 24 Etudes: V. Allegretto

Koharik Alis Gazarossian: 24 Etudes: VI. Con spirito

Koharik Alis Gazarossian: 24 Etudes: VII. Andantino cantabile

Koharik Alis Gazarossian: 24 Etudes: VIII. Andante espressivo

Koharik Alis Gazarossian: 24 Etudes: IX. Con moto e con anima

Koharik Alis Gazarossian: 24 Etudes: X. A la marcia

Koharik Alis Gazarossian: 24 Etudes: XI. Allegretto con spirito

Koharik Alis Gazarossian: 24 Etudes: XII. Allegro majestuoso

Koharik Alis Gazarossian: 24 Etudes: XIII. Comodo e tranquillo

Koharik Alis Gazarossian: 24 Etudes: XIV. Con moto e con espressione

Koharik Alis Gazarossian: 24 Etudes: XV. Allegretto grazioso

Koharik Alis Gazarossian: 24 Etudes: XVI. Allegretto

Koharik Alis Gazarossian: 24 Etudes: XVII. Lento

Koharik Alis Gazarossian: 24 Etudes: XVIII. Moderato

Koharik Alis Gazarossian: 24 Etudes: XIX. Vivo

Koharik Alis Gazarossian: 24 Etudes: XX. Vif et rhythmé

Koharik Alis Gazarossian: 24 Etudes: XXI. Allegro

Koharik Alis Gazarossian: 24 Etudes: XXII. Allegretto

Koharik Alis Gazarossian: 24 Etudes: XXIII. Grazioso

Koharik Alis Gazarossian: 24 Etudes: XXIV. Allegro furioso