J.S. Bach: Goldberg Variations (LP)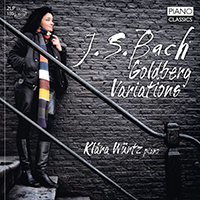 | | |
| --- | --- |
| Composer | Johann Sebastian Bach |
| Artist | Klara Würtz piano |
| Format | 2 LP |
| Cat. number | PCL10283 |
| EAN code | 5029365102834 |
| Release | October 2023 |
About this release
A superb, collector's-item vinyl transfer for a recent and widely acclaimed recording of Bach's nocturnal meditations.

When Piano Classics released this recording of the Goldberg Variations on CD in 2022, critics praised its natural phrasing and unobtrusively skilful and sensitive response to the technical demands made by Bach in his most virtuosic piece of keyboard writing. According to Fanfare magazine, the playing of Klára Würtz 'has limpid clarity, and rhythmic firmness and exactitude; her articulation is clean and nimble (she has a cleaner trill than Perahia), and her voicing of different lines is splendidly balanced. Her rapid playing is vigorous, her slower playing has calm repose. Her interpretive outlook has spirit and vivacity, but also a total sense of confidence and security, the kind of integrity that needs no ostentatious display to make its mark of absolute rightness... Perahia now has a pianistic rival on my shelf; strongly recommended.'

Reviewers elsewhere were hardly less enthusiastic. 'Cards on the table, what Würtz's Goldbergs offer is calm appreciation of the music's manifold beauties,' according to Rob Cowan in Gramophone. 'Her pianism sidesteps overt display or affectedness in favour of purely musical values... This for me is truly great piano playing, a direct route to the soul with no tiresome diversions along the way.'

Vinyl collectors can now enjoy this superb recording in a new transfer made for analogue at the Edel factory in Hamburg, which specialises in collector's print LP editions such as this one. The heavy-grade vinyl has exemplary quiet surfaces, and the Dutch church acoustics of the original recording gain a rounded, luminous quality which ideally complements Klára Würtz's pianism. The set is issued as a 2LP gatefold with booklet notes on the inner sleeve.

- "Deeply musical, vibrantly communicative, and utterly alive Bach pianism. Highly recommended. 10/10" (Jed Distler on Classicstoday.com).
- GRAMOPHONE EDITOR'S CHOICE: "Würtz is, in this writer's view, one of the best pianist/musicians currently performing… truly great piano-playing, a direct route to the soul. I've heard a handful of Goldbergs that are as good as this (Beatrice Rana, for one – Warner, 4/17), but none that are better." (Rob Cowan).
- STEREO: CD OF THE MONTH: 10/10, "Her rare gift for combining clarity and magic gives us a glimpse into the beauty, logic and mystery of Bach's counterpoint." (Atilla Csampai).
- "The successful CD recording with Klára Würtz is now also released in LP format! Numerous highly positive international reviews, are a testimony of Klára Würtz' rare affinity to Bach's eternal and iconic work, the Goldberg Variations. Recorded during and as a reaction on the Pandemic it is a landmark of great pianism and deep humanity.
Listening
Track list
Disk 1
Johann Sebastian Bach: Goldberg Variations, BWV 988: I. Aria

Johann Sebastian Bach: Goldberg Variations, BWV 988: II. Variatio 1

Johann Sebastian Bach: Goldberg Variations, BWV 988: III. Variatio 2

Johann Sebastian Bach: Goldberg Variations, BWV 988: IV. Variatio 3, canone all unisuono

Johann Sebastian Bach: Goldberg Variations, BWV 988: V. Variatio 4

Johann Sebastian Bach: Goldberg Variations, BWV 988: VI. Variatio 5

Johann Sebastian Bach: Goldberg Variations, BWV 988: VII. Variatio 6, canone alla seconda

Johann Sebastian Bach: Goldberg Variations, BWV 988: VIII. Variatio 7, al tempo di giga

Johann Sebastian Bach: Goldberg Variations, BWV 988: IX. Variatio 8

Johann Sebastian Bach: Goldberg Variations, BWV 988: X. Variatio 9, canone alla terza

Johann Sebastian Bach: Goldberg Variations, BWV 988: XI. Variatio 10, fugetta

Johann Sebastian Bach: Goldberg Variations, BWV 988: XII. Variatio 11
Disk 2
Johann Sebastian Bach: Goldberg Variations, BWV 988: XIII. Variatio 12, canone alla quarta

Johann Sebastian Bach: Goldberg Variations, BWV 988: XIV. Variatio 13

Johann Sebastian Bach: Goldberg Variations, BWV 988: XV. Variatio 14

Johann Sebastian Bach: Goldberg Variations, BWV 988: XVI. Variatio 15, canone alla quinta andante

Johann Sebastian Bach: Goldberg Variations, BWV 988: XVII. Variatio 16, ouverture

Johann Sebastian Bach: Goldberg Variations, BWV 988: XVIII. Variatio 17

Johann Sebastian Bach: Goldberg Variations, BWV 988: XIX. Variatio 18, canone alla sexta

Johann Sebastian Bach: Goldberg Variations, BWV 988: XX. Variatio 19
Disk 3
Johann Sebastian Bach: Goldberg Variations, BWV 988: XXI. Variatio 20

Johann Sebastian Bach: Goldberg Variations, BWV 988: XXII. Variatio 21, canone alla settima

Johann Sebastian Bach: Goldberg Variations, BWV 988: XXIII. Variatio 22, allabreve

Johann Sebastian Bach: Goldberg Variations, BWV 988: XXIV. Variatio 23

Johann Sebastian Bach: Goldberg Variations, BWV 988: XXV. Variatio 24, canone all' ottava

Johann Sebastian Bach: Goldberg Variations, BWV 988: XVI. Variatio 25, adagio
Disk 4
Johann Sebastian Bach: Goldberg Variations, BWV 988: XVII. Variatio 26

Johann Sebastian Bach: Goldberg Variations, BWV 988: XVIII. Variatio 27, canone alla nona

Johann Sebastian Bach: Goldberg Variations, BWV 988: XIX. Variatio 28

Johann Sebastian Bach: Goldberg Variations, BWV 988: XXX. Variatio 29

Johann Sebastian Bach: Goldberg Variations, BWV 988: XXXI. Variatio 30, quodlibet

Johann Sebastian Bach: Goldberg Variations, BWV 988: XXXII. Aria da capo