Janácek: On an Overgrown Path, in the Mists, Sonata 1.X1905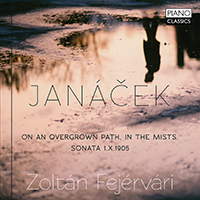 | | |
| --- | --- |
| Composer | Leoš Janácek |
| Artist | Zoltán Fejérvári piano |
| Format | 1 CD |
| Cat. number | PCL10176 |
| EAN code | 5029365101769 |
| Release | May 2019 |
About this release
Janáček composed his piano music around the turn of the 19th and 20th centuries, before he found fame late in life with operas such as 'Jenůfa', 'Káťa Kabanová' and 'The Makropulos Case'. Epigrammatic but obsessive, these intimate pieces speak of the composer's passions and frustrations. But like his later works they are loaded with drama and big ideas.

The first book in 'On An Overgrown Path' is notable for its poetic titles – such as 'Our evenings', 'They chattered like swallows', 'Unutterable anguish' – which find expression in music of apparent folk-like innocence and sudden passions, which reach a powerful climax in the violent contrasts of the first book's final piece, 'The Barn-Owl has not flown away'. This is music of heartbreak and desolation hardly less moving in its way than the great scenas of love and abandonment which Janáček composed for his operatic heroines.

Stripped of such titles, the second book in 'On An Overgrown Path' is more elusive in meaning, swinging between a gentle, Czech translation of Debussy's Impressionist tone-painting and darker, more sinister currents of expression that run raw and angry in the Sonata which Janáček wrote to commemorate the death of a young man at the hands of the police in Prague during political protests in the autumn of 1905. From seven years later, the four-movement cycle of Mists recovers some of the Romantic melancholy of 'On an Overgrown Path', though its cathartic finale presents a stiff challenge to any pianist with its torrents of notes.

As the recipient of a prestigious Borletti-Buitoni award, the Hungarian pianist Zoltán Fejérvári is a solo, concerto and chamber-music pianist with several well-received recordings to his credit such as Liszt's Malédiction and an album of Mozart violin sonatas in partnership with Ernő Kállai.

This new recording contains the main body of piano music by Czech composer Leos Janáček: the Piano Sonata, the complete cycle On an Overgrown Path and the cycle In The Mists.
Janáček's piano music is highly personal, his language immediately recognizable: short, almost aphoristic motives form the basis of a highly dramatic discourse. The Sonata was written after the death of a man during a worker's demonstration and expresses a deep and bleak despair. The cycle In The Mists and On An Overgrown Path contain miniatures of sometimes violent, sometimes painfully intimate emotions.
Zoltán Fejérvári is one of the most exciting young pianists to emerge from present day Hungary. A recipient of the Borletti-Buitoni Trust Fellowship and 1rst prize winner of the Montréal Piano Competition he played with the Budapest Festival Orchestra/Iván Fischer, with Zoltán Kocsis, at the Verbier Festival, Washington Library of Congress, Carnegie Weill Hall and many international Music Festivals. He is a member of the "Building Bridges" program of Sir András Schiff.
Listening
Track list
Disk 1
Leoš Janácek: On an Overgrown Path, Series I: I. Our Evenings

Leoš Janácek: On an Overgrown Path, Series I: II. A Blown-Away Leaf

Leoš Janácek: On an Overgrown Path, Series I: III. Come with Us!

Leoš Janácek: On an Overgrown Path, Series I: IV. The Frýdek Madonna

Leoš Janácek: On an Overgrown Path, Series I: V. They Chattered Like Swallows

Leoš Janácek: On an Overgrown Path, Series I: VI. Words Fail!

Leoš Janácek: On an Overgrown Path, Series I: VII. Good Night!

Leoš Janácek: On an Overgrown Path, Series I: VIII. Unutterable Anguish

Leoš Janácek: On an Overgrown Path, Series I: IX. In Tears

Leoš Janácek: On an Overgrown Path, Series I: X. The Barn Owl Has not Flown Away!

Leoš Janácek: In the Mists: I. Andante

Leoš Janácek: In the Mists: II. Molto adagio

Leoš Janácek: In the Mists: III. Andantino

Leoš Janácek: In the Mists: IV. Presto

Leoš Janácek: Sonata, 1.X.1905: I. The Presentiment - Con moto

Leoš Janácek: Sonata, 1.X.1905: II. The Death – Adagio

Leoš Janácek: On an Overgrown Path, Series II: I. Andante

Leoš Janácek: On an Overgrown Path, Series II: II. Allegretto

Leoš Janácek: On an Overgrown Path, Series II: III. Più mosso

Leoš Janácek: On an Overgrown Path, Series II: IV. Allegro

Leoš Janácek: On an Overgrown Path, Series II: V. Vivo