Handel: 9 Suites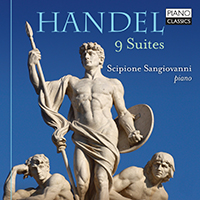 | | |
| --- | --- |
| Composer | Georg Frideric Handel |
| Artist | Scipione Sangiovanni piano |
| Format | 2 CD |
| Cat. number | PCL10143 |
| EAN code | 5029365101431 |
| Release | October 2018 |
About this release
Following the success across Europe of his eight 'Grand Suites' for harpsichord in 1720, albeit in a doctored and pirated edition, Handel resolved to make good on his promise of a sequel, 'reckoning it my duty with my small talent to serve a Nation from which I have received so generous a protection.'

At length this occurred, with the appearance in 1730 of a second volume, now containing nine such suites, though again the composer's responsibility for its publication remains unclear. Handel appears eventually to have entered into cooperation with the London publisher John Walsh once the Royal Privilege he had secured for the printing of his own works had expired. Thus a radically revised edition of the suites appeared in 1733-4, and it is this that Scipione Sangiovanni has recorded.

Like the Grand Suites, the second volume contains both original and arranged music for keyboard composed throughout Handel's career, though heavily weighted towards his youth: virtually all the contents predate 1706 (the exceptions being HWV434 from before 1717/8 and HWV436 from between 1721 and 1726). Having received no further attention from the mature composer, they retain a sense of the confident if sometimes undisciplined exuberance of his youth. They include the grand, standalone G major Chaconne HWV435 as well as a still more expansive example of the form, HWV442.

In recording the suites (and chaconnes), Scipione Sangiovanni joins an increasing number of soloists who view the range of tonal possibilities afforded by the modern piano as complementary to the soundworld envisaged by the composer. Having recorded a well-received album of Vivaldi's Four Seasons in a solo-piano arrangement, he is practised in the art of transferring Baroque articulation and idiom to the touch of the piano, which in this case is a Kawai model.

The keyboard suites by Handel never gained the same popularity as the suites by Bach (French, Suites, English Suites, Partitas) or the sonatas by his Italian contemporary Domenico Scarlatti. Yes they are very attractive works, Handelian in the synthesis of South German and Italian keyboard characteristics within a very strict French style and structure. Though never obviously virtuosic they are certainly challenging for the performer and the musical content is definitively that of the Handel of the great oratorios, operas and orchestral music: bold, dramatic and festive or affectionate.
The young Italian pianist Scipione Sangiovianni plays the suites on a modern grand piano, in a stylish, natural and utterly musical way, never trying to imitate the harpsichord but letting the music speak for itself.
Scipione Sangiovanni is winner of several international piano competitions, among which is the Debut International Piano Competition of New York.
Listening
Track list
Disk 1
Georg Frideric Handel: Suite in B-Flat Major, HWV 434: I. Praeludium

Georg Frideric Handel: Suite in B-Flat Major, HWV 434: II. Sonata

Georg Frideric Handel: Suite in B-Flat Major, HWV 434: III. Aria con variazione

Georg Frideric Handel: Suite in B-Flat Major, HWV 434: IV. Minuetto

Georg Frideric Handel: Ciaccona in G Major, HWV 435

Georg Frideric Handel: Suite in D Minor, HWV 436: I. Allemande

Georg Frideric Handel: Suite in D Minor, HWV 436: II. Allegro

Georg Frideric Handel: Suite in D Minor, HWV 436: III. Air

Georg Frideric Handel: Suite in D Minor, HWV 436: IV. Gigue

Georg Frideric Handel: Suite in D Minor, HWV 436: V. Minuetto

Georg Frideric Handel: Suite in D Minor, HWV 437: I. Allemande

Georg Frideric Handel: Suite in D Minor, HWV 437: II. Courante

Georg Frideric Handel: Suite in D Minor, HWV 437: III. Sarabande con variazione

Georg Frideric Handel: Suite in D Minor, HWV 437: IV. Gigue

Georg Frideric Handel: Suite in E Minor, HWV 438: I. Allemande

Georg Frideric Handel: Suite in E Minor, HWV 438: II. Sarabande

Georg Frideric Handel: Suite in E Minor, HWV 438: III. Gigue
Disk 2
Georg Frideric Handel: Suite in G Minor, HWV 439: I. Allemande

Georg Frideric Handel: Suite in G Minor, HWV 439: II. Courante

Georg Frideric Handel: Suite in G Minor, HWV 439: III. Gigue

Georg Frideric Handel: Suite in B-Flat Major, HWV 440: I. Allemande

Georg Frideric Handel: Suite in B-Flat Major, HWV 440: II. Courante

Georg Frideric Handel: Suite in B-Flat Major, HWV 440: III. Sarabande

Georg Frideric Handel: Suite in B-Flat Major, HWV 440: IV. Gigue

Georg Frideric Handel: Suite in G Major, HWV 441: I. Allemande

Georg Frideric Handel: Suite in G Major, HWV 441: II. Allegro

Georg Frideric Handel: Suite in G Major, HWV 441: III. Courante

Georg Frideric Handel: Suite in G Major, HWV 441: IV. Aria

Georg Frideric Handel: Suite in G Major, HWV 441: V. Minuetto

Georg Frideric Handel: Suite in G Major, HWV 441: VI. Gavotto

Georg Frideric Handel: Suite in G Major, HWV 441: VII. Gigue

Georg Frideric Handel: Ciaccona in G Major, HWV 442: I. Praeludium

Georg Frideric Handel: Ciaccona in G Major, HWV 442: II. Ciaccona con variazioni