Guastavino: Piano Music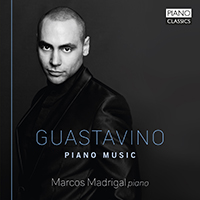 | | |
| --- | --- |
| Composer | Carlos Guastavino |
| Artist | Marcos Madrigal piano |
| Format | 1 CD |
| Cat. number | PCL10203 |
| EAN code | 5029365102032 |
| Release | November 2020 |
About this release
Born in 1984, Marcos Madrigal has been studying and absorbing the piano music of Carlos Guastavino ever since his Havana childhood. This album is the outcome of decades of affection distilled into a single CD, which presents a personal but carefully curated journey through over half a century of fluent composition.

Born and died in the Argentinian city of Santa Fe, hundreds of kilometres from Buenos Aires, Guastavino (1912-2000) spanned the decades of modernism with all its tumultuous innovation, but his language, like most of his compatriot composers, remained rooted in the 19th century. However, while he refined his talent in both song and the piano miniature to capture a world within the space of a five-minute miniature, his idiom is not burdened by nostalgia or a regret for a lost time. Rather, Guastavino finds ever-ingenious ways to celebrate life in all its richness, and perhaps this positive outlook in his music has helped it to travel far beyond his native land. He explores the sounds of his vast nation – the folksongs, the streets and the forests are all here – without undue reliance on picture-postcard naturalism any more than Spanish masters such as de Falla and Granados.

The repertoire ranges from the early and well-known Bailecito (Little dance, 1940), to El Sampedrino (The Man from San Pedro, 1992), from his final decade, via two ten-piece cycles: Diez Cantinelas Argentinas (Ten Argentinian songs), composed in the 1950s, and Diez Cantos Populares (Ten folk songs), written in 1974 – all works that reveal Guastavino's sheer love of melody. Although his writing is never facile in terms of structure or harmony, these technical aspects are always placed in the service of a cantabile upper line that is always distinctive, catchy and clearly influenced by folk song.

Marcos Madrigal continues to make Havana the base of a busy international career, having in 2017 established Habana Clásica, a classical music festival in his native city. He has recorded for the BBC, for RAI and Swiss Radio and won several awards for previous recordings including five stars from Diapason in France.

Carlos Guastavino (1912-2000) was one of the most important and famous composers of 20th century Argentine. He wrote over 500 works, most of them songs and piano works. He chose his own, personal style, rooted in the Romantic period of the 19th century, tonal, seductive and expressing his deep love for his country and its folklore. He is sometimes called "The Schubert of the pampas".
This new recording presents two piano cycles: "10 Cantilenas Argentinas" and "10 Cantos populares", music of great charm, sensual beauty and pianistic invention.
Marcos Madrigal was born in Havana, Cuba. After studying in Cuba with the pianist Teresita Junco he went to Europe, where he attended masterclasses in Lugano and Como, with Andreas Staier, Dimitri Bashkirov, Fou Ts'ong, Malcolm Bilson and especially with his mentor William Grant Naboré. His previous recordings were met with great critical acclaim, awarded with a Choc de Classica, Melomano d'Oro, 5 Stars in Diapason.
Listening
Track list
Disk 1
Carlos Guastavino: 10 Cantilenas Argentinas: I. Santa fe para llorar

Carlos Guastavino: 10 Cantilenas Argentinas: II. Adolescencia

Carlos Guastavino: 10 Cantilenas Argentinas: III. Jacarandá

Carlos Guastavino: 10 Cantilenas Argentinas: IV. El ceibo

Carlos Guastavino: 10 Cantilenas Argentinas: V. Abelarda olmos

Carlos Guastavino: 10 Cantilenas Argentinas: VI. Juanita

Carlos Guastavino: 10 Cantilenas Argentinas: VII. Herbert

Carlos Guastavino: 10 Cantilenas Argentinas: VIII. Santa fe antiguo

Carlos Guastavino: 10 Cantilenas Argentinas: IX. Trébol

Carlos Guastavino: 10 Cantilenas Argentinas: X. La casa

Carlos Guastavino: 10 Cantos populares: I. Canto 1

Carlos Guastavino: 10 Cantos populares: II. Canto2

Carlos Guastavino: 10 Cantos populares: III. Canto3

Carlos Guastavino: 10 Cantos populares: IV. Canto4

Carlos Guastavino: 10 Cantos populares: V. Canto5

Carlos Guastavino: 10 Cantos populares: VI. Canto 6

Carlos Guastavino: 10 Cantos populares: VII. Canto7

Carlos Guastavino: 10 Cantos populares: VIII. Canto 8

Carlos Guastavino: 10 Cantos populares: IX. Canto 9

Carlos Guastavino: 10 Cantos populares: X. Canto 10

Carlos Guastavino: El sampedrino

Carlos Guastavino: Bailecito