Fauré: Complete Nocturnes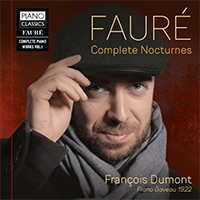 | | |
| --- | --- |
| Composer | Gabriel Fauré |
| Artist | François Dumont piano |
| Format | 1 CD |
| Cat. number | PCL10186 |
| EAN code | 5029365101868 |
| Release | February 2020 |
About this release
The first volume in an exciting new cycle dedicated to the complete piano music of Gabriel Fauré and recorded on French instruments of the period which are uniquely attuned to the composer's elusive sound-world.

Recording Ravel's piano music for Piano Classics, the pianist François Dumont won glowing reviews for performances to the manner born. 'There is much to envy and admire in Dumont's lucid and refined performances. He is ideally sensitive and accurate in 'Le gibet' (Gaspard) in a manner that would surely have won Ravel's admiration. Cool, elegant and affectionate… you will never catch him playing for effect, always respecting the composer's wish that his music should be played rather than interpreted.' (Gramophone)

Dumont now brings his polished technique and refined musicianship to bear on music less frequently encountered in the concert hall but no less sophisticated, and often imbued with the most profound melancholy, the Nocturnes of Fauré. A previous set of the Chopin nocturnes also won golden opinions for Dumont's exquisite touch – the French high-fidelity magazine On-Top Audio rated it among the finest cycles on record – but Fauré's universe is, if anything, even more private, more overtly expressive than Ravel's watchmaker delight in textures, yet flowing with undercurrents of troubled modernity.

Composed over almost half a century, one by one unlike Chopin's sets, Fauré's Nocturnes display the composer's style in evolution, from the apparent spontaneity and relatively carefree tone-pictures of the early pieces to the unfathomable interior world of the late works. Fauré himself had no special attachment to the genre, nor was he especially concerned to paint night-time moods and scenes. Rather, he poured into the genre many of his own private concerns and passions as a composer, experimenting time and again with syncopated rhythms and with luminous harmonies in order to create a mood of serenity and nostalgia that is uniquely his own. Dumont's new recording is accompanied by a personal essay from the pianist in which we gain valuable insight into each Nocturne from the perspective of a performer immersed in the idiom. On this recording he plays a Gaveau piano from 1922.

The start of an exciting new project: the recording of the complete piano works by Fauré, played by François Dumont on period instruments!
Composed over an exceptionally long period of 46 years, Fauré's Nocturnes form a body of work that strikes by its depth, poetry and beauty. It offers a significant panorama of the stylistic evolution of the composer, beginning with the spontaneity of the first Nocturnes and extending towards the complexity of the last ones.
With Fauré, the genre Nocturne, which started off as a rather dreamy, brief work, moves into a larger frame of considerable emotional depth, gradually changing its improvisatory nature into a meditation on eternity.
François Dumont is one of the foremost French pianists of his generation. A prize winner of famous competitions like the Chopin Competition and the Queen Elizabeth Competition he enjoys an active international career. His recent recording of Chopin's Nocturnes was praised by American magazine Fanfare: "There are few recent recordings to compare with this one."
François Dumont plays a magnificent Gaveau piano from 1922. He recorded for Piano Classics the Complete Piano Works by Ravel and a CD with Wagner/Liszt transcriptions.
Listening
Track list
Disk 1
Gabriel Fauré: Nocturne No. 1 in E-Flat Minor, Op. 33 No. 1

Gabriel Fauré: Nocturne No. 2 in B Major, Op. 33 No. 2

Gabriel Fauré: Nocturne No. 3 in A-Flat Major, Op. 33 No. 3

Gabriel Fauré: Nocturne No. 4 in E-Flat Major, Op. 36

Gabriel Fauré: Nocturne No. 5 in B-Flat Major, Op. 37

Gabriel Fauré: Nocturne No. 6 in D-Flat Major, Op. 63

Gabriel Fauré: Nocturne No. 7 in C-Sharp Minor, Op. 74

Gabriel Fauré: Nocturne No. 8 in D-Flat Major, Op. 84 No. 8

Gabriel Fauré: Nocturne No. 9 in B Minor, Op. 97

Gabriel Fauré: Nocturne No. 10 in E Minor, Op. 99

Gabriel Fauré: Nocturne No. 11 in F-Sharp Minor, Op. 104 No. 1

Gabriel Fauré: Nocturne No. 12 in E Minor, Op. 107

Gabriel Fauré: Nocturne No. 13 in B Minor, Op. 119