Fanny Mendelssohn: Piano Music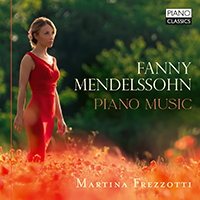 Download booklet
| | |
| --- | --- |
| Composer | Fanny Mendelssohn |
| Artist | Martina Frezzotti piano |
| Format | 1 CD |
| Cat. number | PCL10238 |
| EAN code | 5029365102384 |
| Release | May 2022 |
About this release
One of the most prolific female composers of the 19th century, Fanny Hensel was also a pianist of rare talent and prodigious memory who dazzled private audiences at her concert series in her Berlin home. During her lifetime, Hensel's career was overshadowed by the career of her brother, Felix Mendelssohn. She received much the same liberal education in the arts as Felix, and demonstrated hardly less talent than him as a musician, a linguist and an artist in her early years.

Hensel's music reflects her deep reverence for Bach and Beethoven, but it also exhibits the fine craftsmanship and lyricism associated with her brother's music, and her own experimental and inventive approach to form and content. She allowed her music to be published only in

the year before her early death at the age of 41 – which foreshadowed and probably hastened her brother's demise – though in fact several of her pieces had already appeared in print under her brother's name.

Martina Frezzoti's choice of repertoire focuses on the period of 1838 to 1841, bookended by a pair of dreamy nocturnes. By this point in her life Hensel had been married to the painter Wilhelm Hensel for almost a decade and had produced dozens of Lieder and short piano pieces, as well as a string quartet (one of the first women to do so), concert arias, choral songs and a cantata. The album's major work is a cycle of character pieces based on the months of the year, and ingeniously unified by leitmotifs which run through the 13 pieces (including a final chorale). The 'Spring Song' for May bears comparison with Felix's much more famous example, and several other pieces in the cycle could easily pass for one of his Songs without Words.
Born in 1986, Martina Frezzotti studied with both Lazar Berman and Elisso Virsaladze, and this Russian training manifests itself in both the power and the expressive sensitivity of her playing. She has retained strong performing connections in Russia and Ukraine, as well as her native Italy. This highly appealing collection marks her recorded debut.

"This is a family, the like of which I have never known [...] Felix Mendelssohn is already a mature artist, and he is still only fifteen! [...] His elder sister Fanny, also immensely talented, played some of Bach's fugues and passacaglias by heart and with admirable precision. I believe she can justifiably be called 'a good musician'..." Thus Moscheles wrote down in his journal, in 1818.
Fanny Mendelssohn Hensel was born in Hamburg in November 1805, the eldest of four siblings (the second was Felix, followed by Rebecca and Paul). The Mendelssohn family, of Jewish lineage, and belonging in the upper bourgeois class, gave a brilliant cultural education to their four children. Fanny was not only an exceptional pianist, but also an exceptional composer; her style is very close to that of Felix, the best known of her siblings. Her output is rich and substantial and includes more than four hundred pieces, comprising Lieder, organ works, chamber music, cantatas, an oratorio and an orchestral overture. In spite of her prolific creative output, some of her works remain still unpublished. This CD focuses on a part of her piano works written between 1838 and 1841, which are particularly interesting.
The piano cycle Das Jahr (The Year) (1841) is the main work of this collection, written during her Italian journey. It is made up of twelve pieces, each bearing the name of a month, plus an epilogue, each expressing the particular feelings and atmosphere of the month in question. There are many thematic cross references between the pieces, as well as numerous references to Bach, connected to the music typical for the Lutheran worship.
Also included are the two Nocturnes and the Introduction and Capriccio in B minor, in which the influence of her brother Felix is particularly evident.
Italian pianist Martina Frezzotti studied with Lazar Berman at the Piano Academy of Imola and later with Elisso Virsaladze at the prestigious Tchaikovsky Conservatory in Moscow, where she obtained her Doctorate in Music with full marks in 2012, the first Italian in history of this prestigious university. In 2012 she made her debut in the New York Carnegie Hall.
Listening
Track list
Disk 1
Fanny Mendelssohn: Das Jahr, H.385: I. January. Ein Traum

Fanny Mendelssohn: Das Jahr, H.385: II. February. Scherzo

Fanny Mendelssohn: Das Jahr, H.385: III. March

Fanny Mendelssohn: Das Jahr, H.385: IV. April. Capriccioso

Fanny Mendelssohn: Das Jahr, H.385: V. May. Frühlingslied

Fanny Mendelssohn: Das Jahr, H.385: VI. June. Serenade

Fanny Mendelssohn: Das Jahr, H.385: VII. July. Serenade

Fanny Mendelssohn: Das Jahr, H.385: VIII. August

Fanny Mendelssohn: Das Jahr, H.385: IX. September. Am Flusse

Fanny Mendelssohn: Das Jahr, H.385: X. October

Fanny Mendelssohn: Das Jahr, H.385: XI. November

Fanny Mendelssohn: Das Jahr, H.385: XII. December

Fanny Mendelssohn: Das Jahr, H.385: XIII. Postlude. Choral

Fanny Mendelssohn: Nocturne in G Minor, H.337

Fanny Mendelssohn: Nocturne Napolitano in B Minor

Fanny Mendelssohn: Introduction and Capriccio in B Minor, H.349