Enescu: Piano Sonata Op. 24, Suite Op. 18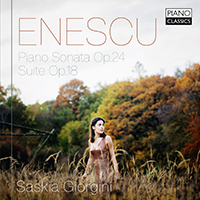 | | |
| --- | --- |
| Composer | George Enescu |
| Artist | Saskia Giorgini piano |
| Format | 1 CD |
| Cat. number | PCL10184 |
| EAN code | 5029365101844 |
| Release | September 2019 |
About this release
Mid-period and late Enescu: a suite of impressionist tone-poems followed by a concise and dizzying sonata that is his masterpiece for the piano.

Blessed with a prodigious memory, Enescu was almost too talented for his own good: as a violinist, composer, pianist, conductor, teacher, even organist and cellist, he excelled in every area of musical endeavour. His violin playing overshadowed the rest during his lifetime, but Parisian critics regarded him as one of the most subtle pianists of their day. By all accounts, Enescu's style of piano playing was much like his violin playing; intense and vibrant, yet tempered by the refined and expressive elegance venerated by Yehudi Menuhin: 'the most extraordinary human being, the greatest musician and the most formative influence I have ever experienced.'

His own compositions are cast in highly individual forms, often evoking not only the folk music of his native Romania but also the sound of bells, with magical and original overtone series. A perfect example is 'Carillon nocturne', the seventh and final movement of his Suite Op.18. This ill-starred suite was composed during the First World War, though its mood is an often wild and dreamy flight from troubled times. The manuscript was lost, much to the composer's dismay, and only rediscovered after his death. It shows off the full range of Enescu's mature compositional language: not only ecstatic contemplations that anticipate the music of Messiaen but also rhythmically complex dances, sometimes reminiscent of Bartok but always alive to a rhapsodic or reflective turn of thought.

The Third Sonata is Enescu's last major work for the piano, composed soon after his crowning masterpiece, the opera Oedipe. Cast in three movements of unusual concision – using the same three themes throughout – it encloses a rapturous Andante cantabile: 'one of the most beautiful pieces of music I know,' according to Saskia Giorgini in her booklet essay.

Saskia Giorgini is an Italian-Dutch pianist who won the Salzburg International Mozart Competition in 2016. She made her debut at the Vienna Musikverein in February 2017 playing an all-Mozart recital. Her Scottish debut in October 2018 was acclaimed in The Observer as 'thrilling, flawless'. As a chamber musician she has partnered the likes of Ian Bostridge, Martin Fröst and Janine Jansen; in 2019 she gives several concerts of the great Schubert song-cycles with Bostridge.

"For me, it is a bit like witnessing one's thoughts freely flowing, developing, disappearing and reappearing as something else. The result is something rather complex but completely honest and deeply human, at the same time sounding natural and almost improvisational", as pianist Saskia Giorgini describes her feelings about the music of Enescu.
Enescu was the most important composer of his native Romania, and a towering figure in 20th century European musical life. He studied in Vienna and Paris, where Massenet and Fauré were his teachers. He was a brilliant violinist (as well as pianist and conductor) and counted famous violinists among his pupils: Ivry Gitlis, Yehudi Menuhin, Arthur Grumiaux, Christian Ferras. His music is personal, rooted in the rich folklore of Romania, imbued with the warmth and humanity of his generous soul.
Presented here are his 3rd Piano Sonata and the Suite Op. 18, played with deep understanding and love by Italian pianist Saskia Giorgini. A student of the famous Imola School in Italy she won the first prize at the prestigious Mozart Competition in Salzburg in 2016. She is a soloist, plays with orchestra and is an avid chamber music player, her partners include Janine Jansen, Ian Bostridge, Martin Fröst and Gilles Apap.
Listening
Track list
Disk 1
George Enescu: Suite No. 3, Op. 18: I. Melodie

George Enescu: Suite No. 3, Op. 18: II. Voix de la steppe

George Enescu: Suite No. 3, Op. 18: III. Mazurk mélancolique

George Enescu: Suite No. 3, Op. 18: IV. Burlesque

George Enescu: Suite No. 3, Op. 18: V. Appassionato

George Enescu: Suite No. 3, Op. 18: VI. Chorale

George Enescu: Suite No. 3, Op. 18: VII. Carillon nocturne

George Enescu: Piano Sonata No. 3 in D Major, Op. 24 No. 3: I. Vivace con brio

George Enescu: Piano Sonata No. 3 in D Major, Op. 24 No. 3: II. Andantino cantabile

George Enescu: Piano Sonata No. 3 in D Major, Op. 24 No. 3: III. Allegro con spirit