Earl Wild: The Complete Transcriptions and Original Piano Works, Vol. 3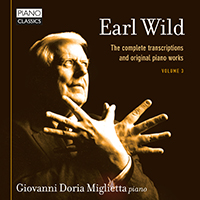 | | |
| --- | --- |
| Composer | Earl Wild |
| Artist | Giovanni Doria Miglietta piano |
| Format | 1 CD |
| Cat. number | PCL10175 |
| EAN code | 5029365101752 |
| Release | April 2019 |
About this release
Thanks to his prodigious technique and phenomenal sight-reading ability, Earl Wild (1915-2010) became pianist for Arturo Toscanini in 1937, while still in his early 20s, and played Rhapsody in Blue with them in 1942.

Gershwin also forms the centrepiece of this third volume in Giovanni Doria Miglietta's comprehensive survey of Wild's own music. The Grand Fantasy on Porgy and Bess works all the best-known themes from the opera into a spectacular half-hour of pianistic devilry and enchantment. Lisztian in scope – and in the use of 'Reminiscences' in its title – Reminiscences of Snow White (1995) opens with glistening high-note scales, taking the listener into fairy-tale territories, with fragments of the principal themes of Disney's movie scattered across the musical texture, most notably 'Whistle while You Work'.

Like Liszt, Wild had the gift of bringing popular music and high art together without compromising either idiom. Miglietta closes this dazzling album with Wild's outrageously entertaining transcription of Jarabe Tapatio, otherwise known as the Mexican Hat Dance. Before that he plays four reworkings of classical repertoire, all respectful of their originals and yet imbued with Wild's own effervescent personality: Le Rouet d'Omphale of Saint-Saëns, the Air and Variations from Handel's harpsichord suite 'The Harmonious Blacksmith', and two Tchaikovsky pieces, a song and a dance from Swan Lake.
'This is tremendously challenging music,' remarked Fanfare of the first volume in this series containing Wild's Piano Sonata, 'and Miglietta certainly has the virtuosity that it requires… Fans of this repertoire will want to hear his perspective — and will eagerly await the rest of the series.'

The third and final instalment of the complete Piano Works by Earl Wild!
Earl Wild (1915-2010) was without doubt one of the greatest pianists of the 20th century. His immense repertoire, his staggering virtuosity, his warmth and his charm deserve him the epithet legendary. Wild was a great improviser as well, and he frequently played his own fantasies in his concerts. Fortunately he wrote these wonderful pieces down, and his creative legacy contains a wealth of transcriptions, fantasies and paraphrases, as well as original piano works.
This new recording contains Wild's famous "Fantasy on Porgy and Bess", "Reminiscences of Snow White" (film music by Frank Churchill for the Disney film Snow White), a rare transcription of Saint-Saëns' symphonic poem Le Rouet d'Omphale (the spinning wheel inspires to plenty of virtuosity..), an elaboration on Handel's Harmonious Blacksmith, two favourite Tchaikovsky waltzes and ending in characteristic exuberance with a Mexican Hat Dance.
The previous issue in this series by Italian pianist Giovanni Doria Miglietta (Piano Classics PCL0069 and PCL0102) received excellent reviews: "extremely well played..possibly my favourite piano disc of 2014.." Classical Net.
Listening
Track list
Disk 1
Earl Wild: Reminiscences of Snow White: I. Whistle While You Work. I'm Wishing. One Song. Heigh-Ho. Someday My Prince Will Come

Earl Wild: Fantasy on Porgy and Bess: I. Introduction - Jasbo Brown Blues. Summertime. Oh, I Can't Sit Down. My Man's Gone Now. I Got Plenty o'Nuttin

Earl Wild: Le rouet d'omphale in A Major, Op. 31

Earl Wild: Air and Variations – The Harmonious Blacksmith

Earl Wild: Dance of the Four Swans from Swan Lake

Earl Wild: At the Ball No. 3, Op.38

Earl Wild: Jarabe Tapatio: Mexican Hat Dance