Dutilleux: Complete Music for Piano Solo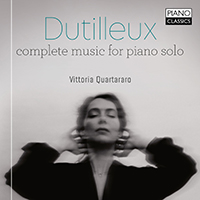 | | |
| --- | --- |
| Composer | Henri Dutilleux |
| Artist | Vittoria Quartararo piano |
| Format | 1 CD |
| Cat. number | PCL10167 |
| EAN code | 5029365101677 |
| Release | November 2021 |
About this release
Though Dutilleux began composing at an early age and undertook the rigorous course of study at the Paris Conservatoire, culminating in the much sought-after Prix de Rome in 1938 with a cantata, he regarded his Piano Sonata of 1946-8 as an Opus 1. This attitude was characteristic of a remarkably fastidious and self-critical composer who dedicated his life to composition – and the nurturing of young composers – and yet whose published output is influential out of all proportion to its size.

He wrote the sonata for the pianist Geneviève Joy whom he married in 1946. The musical language is as much modal as tonal, owing as much to Bartók's methods of musical organization and the 19th-century Germanic concept of the large-scale masterpiece as contemporary developments in harmony. Everything he wrotes seems to repudiate the commonly held idea that French music is essentially frivolous and charming, but Dutilleux's music can smile and relax, too: while working at French radio he composed a series of short pastiche pieces as air-filler, later compiling them as a suite, Au gré des ondes.

Blackbird is Dutilleux's sole trespass on the territory of his contemporary Messiaen: knowingly brief and non-naturalistic by comparison, a portrait of the blackbird's soul more than its song. The Debussian heritage of painting on the piano comes to the fore on the set of Three Preludes composed between 1973 and 1988, while Resonances is a study in timbre built with the composer's individual technique of pivot notes and chords.

As Vittoria Quartararo observes in her booklet introduction, 'the music of Dutilleux often seems to shift towards a visual level. While the verticality of piano chords can resonate like light does on a black canvas, one's gaze becomes more horizontal, distant, and at times visionary, detecting the reverberation of a sound transformed in liquid crystal.'

Born in Sicily in 1989, now resident in Cologne, Vittoria Quartararo is a musician of broad artistic sympathies whose artistic projects range from concert recitals across Europe to experimental meetings of music with improvisation and theatre. As a scholar she specialised in the music of Korngold; she performs Classical-era, Romantic and contemporary repertoire alike, working with notable luminaries in the new-music field such as the oboist/conductor Heinz Holliger and the Cologne-based Ensemble 20/21 as well as many living composers.

Henri Dutilleux (1916-2013) was a French composer whose relatively small body of published works garnered wide international acclaim. As a composer he followed in the tradition of Maurice Ravel, Claude Debussy, Albert Roussel and Olivier Messiaen, but he developed and maintained a highly personal, unique style, characterized by exquisite craftmanship and a feel for instrumental colors and sonorities.
This new recording presents Dutilleux' complete works for piano solo. Between the two pillars of the Piano Sonata and "Trois Préludes" there are a number of miniatures, reflecting the development of his style during his long lifetime.
Vittoria Quartararo received her piano training at the Scuola di Musica di Fiesole with Valentina Pagni and Andrea Lucchesini and continued her musical studies in Germany at the Hochschule für Musik und Tanz Köln with Jacob Leuschner, Claudio Martínez-Mehner as well as David Smeyers in contemporary music performance. Other significant influences in her musical development include Ewa Kupiec, Alexander Lonquich and Pierre-Laurent Aimard. In addition to her accomplished piano studies, she also holds a Master's degree in Musicology, obtained at the University of Florence.
In her solo projects she likes to encompass a wide spectrum of musical works, presenting communicative performances of repertoires, combining the old with the new.
She has worked closely with renowned composers such as Heinz Holliger and Johannes Schöllhorn, and she has given first performances of works by Georg Katzer, Atli Ingólfsson, Daniel Cueto and Antonio Covello among others.
Listening
Track list
Disk 1
Henri Dutilleux: 3 Préludes: I. D'ombre et de silence

Henri Dutilleux: 3 Préludes: II. Sur un même accord

Henri Dutilleux: 3 Préludes: III. Le jeu des contraires

Henri Dutilleux: Au gré des ondes: I. Prélude en berceuse

Henri Dutilleux: Au gré des ondes: II. Claquettes

Henri Dutilleux: Au gré des ondes: III. Improvisation

Henri Dutilleux: Au gré des ondes: IV. Mouvement perpétuel

Henri Dutilleux: Au gré des ondes: V. Hommage à Bach

Henri Dutilleux: Au gré des ondes: VI. Étude

Henri Dutilleux: Mini-prélude en éventail

Henri Dutilleux: Résonances

Henri Dutilleux: Petit air à dormir debout

Henri Dutilleux: Blackbird

Henri Dutilleux: Bergerie

Henri Dutilleux: Tous les chemins mènent... à Rome

Henri Dutilleux: Piano Sonata: I. Allegro con moto

Henri Dutilleux: Piano Sonata: II. Lied

Henri Dutilleux: Piano Sonata: III. Choral et variations