Clementi: Sonatas Op.1 & Op.1A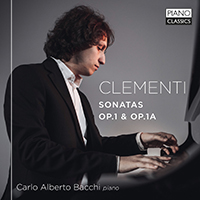 | | |
| --- | --- |
| Composer | Muzio Clementi |
| Artist | Carlo Alberto Bacchi piano |
| Format | 1 CD |
| Cat. number | PCL10284 |
| EAN code | 5029365102841 |
| Release | October 2023 |
About this release
While Clementi's sparkling music has been recorded by many celebrated pianists such as Arturo Benedetti MIchelangeli, few of them have paid much attention to the composer's first published collection. This new recording by Carlo Alberto Bacchi is all the more welcome for being informed by his study of the composer's complete oeuvre as part of the 'Clementi Project' which sees him performing many of the sonatas in concert as well as recording them for Piano Classics.

The inscription on Clementi's tomb in Westminster Abbey commemorates him as 'the father of the piano'. Clementi above all was responsible for devising a modern technique, of the kind still recognisable today, which would serve pianists on the larger instruments being manufactured in the early years of the 19th century. This technique is differentiated from harpsichord technique,and trained not just through lessons but through pianistic 'methods' and publications such as these sets of sonatas, which are arranged in order of progressive difficulty in order to introduced students to technical challenges step by step.

Like Mozart, Clementi also manifested his musical talents at a very early age: at the age of 7, he was already studying organ, singing and counterpoint; he wrote a mass at the age of 11 and an oratorio at the age of 12. The English nobleman and eccentric Sir Peter Beckford effectively bought the young Clementi on a seven-year contract and kept him at his West Country pile. When the contract with Beckford expired in 1774, Clementi moved to London and took off on a career that brought him fame across Europe – as a touring virtuoso, a teacher, publisher – and even sometimes composer.

The six Op.1 sonatas were published in 1771, during Clementi's period in service to Beckford. Although he was not yet 20 and almost completely self-taught, they show his mastery of material and his irrepressible invention. All the sonatas have a simple, playful and light-hearted character, and a two-movement form. The five Sonatas of Opus 1a, on the other hand, date from a decade later, even after the Op.6 Sonatas. They were published in Paris around 1781, and here we sense the stirrings of Clementi as 'father of the piano' in the cascades and doublings and expanded imagination.

- Known as the 'father of the pianoforte', Muzio Clementi (1752–1832) played an incomparable role in the development of both piano repertoire and the instrument itself. As a composer and virtuoso pianist, his sonatas spanned the transition from Scarlatti's keyboard style to the beginnings of the Romantic period; as a publisher and manufacturer, he was responsible for a number of developments to piano performance and construction.
- This new recording presents the Sonatas Op. 1 and Op. 1A. The Sonatas Op. 1 all have a simple, playful and light-hearted character; they are divided into two movements and are all in the major key; the minor key is only touched upon in a few brief transitional moments. The instrumental writing is still simple, harpsichord-like, the first steps of a young and aspiring composer.
- The Sonatas Op. 1A date from ten years later and are a rework of musical material from Op. 1. Their character remains very similar to that of the Sonatas op. 1, but in a much more pianistic guise: the instrumental writing is much fuller than in op. 1, with four-tone chords in the right hand and octave doubles in the left, completely alien to the harpsichord world.
- Carlo Alberto Bacchi, born in 2001, began studying piano at the age of 9 with Sara Bertani. Since 2018, he has been studying with Roberto Prosseda, whose student he is currently at the 'Francesco Venezze' Conservatory in Rovigo. He has participated in various masterclasses with masters such as Carlo Guaitoli, George Vatchnadze, Boris Berman, Bruno Monsaingeon and Roland Pöntinen.
Track list
Disk 1
Muzio Clementi: Sonata Op. 1 No. 1 in E-Flat Major: I. Allegro con comodo

Muzio Clementi: Sonata Op. 1 No. 1 in E-Flat Major: II. Tempo di minuetto

Muzio Clementi: Sonata Op. 1 No. 2 in G Major: I. Spiritoso

Muzio Clementi: Sonata Op. 1 No. 2 in G Major: II. Allegro assai

Muzio Clementi: Sonata Op. 1 No. 3 in B-Flat Major: I. Maestoso

Muzio Clementi: Sonata Op. 1 No. 3 in B-Flat Major: II. Andantino grazioso

Muzio Clementi: Sonata Op. 1 No. 4 in F Major: I. Spiritoso

Muzio Clementi: Sonata Op. 1 No. 4 in F Major: II. Larghetto

Muzio Clementi: Sonata Op. 1 No. 4 in F Major: III. Rondeaux

Muzio Clementi: Sonata Op. 1 No. 5 in A Major: I. Larghetto

Muzio Clementi: Sonata Op. 1 No. 5 in A Major: II. Tempo di menuetto. Grazioso

Muzio Clementi: Sonata Op. 1 No. 6 in E Major: I. Moderato

Muzio Clementi: Sonata Op. 1 No. 6 in E Major: II. Rondeau. Grazioso

Muzio Clementi: Sonata Op. 1a No. 1 in F Major: I. Andante

Muzio Clementi: Sonata Op. 1a No. 1 in F Major: II. "La pantoufle" avec des variations. Allegro

Muzio Clementi: Sonata Op. 1a No. 2 in B-Flat Major: I. Allegro moderato

Muzio Clementi: Sonata Op. 1a No. 2 in B-Flat Major: II. Andantino grazioso

Muzio Clementi: Sonata Op. 1a No. 2 in B-Flat Major: III. Air du balet de mirza avec des variations. Allegro

Muzio Clementi: Sonata Op. 1a No. 3 in G Major: I. Allegretto

Muzio Clementi: Sonata Op. 1a No. 3 in G Major: II. "Black Joke" air anglaise avec des variations. Allegro

Muzio Clementi: Sonata Op. 1a No. 4 in A Major: I. Larghetto

Muzio Clementi: Sonata Op. 1a No. 4 in A Major: II. Tempo di minuetto

Muzio Clementi: Sonata Op. 1a No. 5 in A Minor: I. Allegro