Clara Wieck Schumann: Piano Works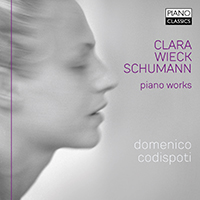 | | |
| --- | --- |
| Composer | Clara Schumann |
| Artist | Domenico Codispoti piano |
| Format | 1 CD |
| Cat. number | PCL10193 |
| EAN code | 5029365101936 |
| Release | October 2019 |
About this release
Marking the bicentenary of her birth, a major new collection of Clara Wieck Schumann's piano music from a critically acclaimed Italian pianist.

'Domenico Codispoti plays with a warmth and fervour worthy of Cortot himself,' according to the veteran Gramophone piano critic Bryce Morrison. 'His sonority, too, has an Arrau-like fullness and richness.'

Born in 1975, Codispoti has a growing discography of Romantic-era music including the piano works of César Franck on Piano Classics (PCL0052): a 'most distinguished and enterprising recital' according to Gramophone, in which 'Codispoti gives us an impetus and virtuosity to set pulses racing.'

Now he turns his attention to music from the other end of the Romantic era, composed by a figure even more significant in the history of the piano and pianists, Clara Wieck Schumann. A leading pianist of her day, the wife of one great composer and the intimate friend of another, Clara was also mother to eight children, a serious composer and a hugely influential teacher during the course of a career in the public eye spanning over 60 years.

We may view Clara now as a strikingly independent woman, a woman of her time yet one who worked tirelessly against the grain of assumption and prejudice. It is right, therefore, that her art should be so celebrated 200 years after her birth in Leipzig.

Her gifts as a creator that were much admired at the time, not only by her husband but by Franz Liszt, the greatest virtuoso of his day. It was Liszt who had created the modern concept of the solo piano recital in 1840, but he retired from performance soon afterwards, and Clara was the one who created the image of the modern pianist.

On this new album, Codispoti performs a prodigiously accomplished set of Soirées Musicales, Op.6, published while Clara was still a teenager; the strikingly mature trio of Romances written before she turned 20; a G minor Sonata dating from the time just before and after her marriage to Robert; and finally the Variations on a theme by Robert which she composed to celebrate her husband's 42nd birthday in 1853. Thus, unlike many previous compilations of her music, Codispoti surveys her output in the round, and allows us to hear it mature even as she found herself given fewer and fewer opportunities to exercise her own creative gifts. With performances of tremendous sweep and conviction it makes for a highly persuasive introduction to Clara's music.

Clara Wieck Schumann's place in history has long been overshadowed by the fame of her husband Robert Schumann, her main claim to fame was her (indeed superb) piano playing and concertizing. Her own compositions, though influenced by her contemporaries (notably her husband..), show an individual and original musical mind, both lyrical and passionate, in highly eloquent and often challenging pianism.
Presented in this new recording are her Piano Sonata, Drei Romanzen Op.11, Soirées Musicales Op.6 and the Variations on a theme of Robert Schumann (the same theme as Brahms later used for his set of variations).
Domenico Codispoti is one of the foremost Italian pianists of today. György Sandor said of him: "one of the finest young concert pianists I know. He has superb technical command, exceptionally fine taste in his interpretation and impressive maturity". Bryce Morrison wrote in Gramophone: "he plays with a warmth and fervor worthy of Cortot himself. His sonority, too, has an Arrau-like fullness and richness". Codispoti also recorded a full Cesar Franck (PCL0052) album for Piano Classics.
Listening
Track list
Disk 1
Clara Schumann: 3 Romanzen, Op. 11: I. Romanze in E-Flat Major

Clara Schumann: 3 Romanzen, Op. 11: II. Romanze in G Minor

Clara Schumann: 3 Romanzen, Op. 11: III. Romanze in A-Flat Major

Clara Schumann: Sonata in G Minor: I. Allegro

Clara Schumann: Sonata in G Minor: II. Adagio

Clara Schumann: Sonata in G Minor: III. Scherzo

Clara Schumann: Sonata in G Minor: IV. Rondo

Clara Schumann: Soirées Musicales, Op. 6: I. Toccatina

Clara Schumann: Soirées Musicales, Op. 6: II. Notturno

Clara Schumann: Soirées Musicales, Op. 6: III. Mazurka

Clara Schumann: Soirées Musicales, Op. 6: IV. Ballade

Clara Schumann: Soirées Musicales, Op. 6: V. Mazurka

Clara Schumann: Soirées Musicales, Op. 6: VI. Polonaise

Clara Schumann: Variationen über ein Thema von Robert Schumann, Op. 20