Chopin: Works for Piano & Orchestra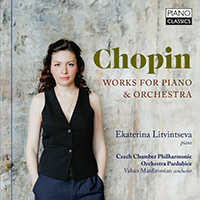 Composer
Frédéric Chopin
Artist
Ekaterina Litvintseva piano
Czech Chamber Philharmonic Orchestra Pardubice
Vahan Mardirossian conductor
Format
1 CD
Cat. number
PCL10142
EAN code
5029365101424
Release
May 2023
About this release
The two early concertos of Chopin are repertoire works, deservedly so, for their prodigious synthesis of virtuoso finesse and lyricism. However, the composer's music for piano and orchestra does not stop there: he produced a quartet of standalone concertante pieces, each on the scale of his concerto first movements, which once were recorded as fill-ups to the concertos but have been neglected in recent years.

The Russian pianist Ekaterina Litvintseva redresses this neglect with a beautifully polished new album of all four pieces, for which she receives warmly idiomatic support from the Czech Chamber Philharmonic Orchestra of Pardubice, on an intimate scale which the composer would have recognised (and preferred).

Chopin wrote his variations of Mozart's 'La ci darem' as a prodigally talented teenager, a composition exercise for his teacher back in Warsaw. While cast in the popular style of its time – a grand introduction for a popular operatic melody, elaborated with pianistic sleights of hand for maximum effect, and a rousing finale – the piece is inspired with moments of originality that elevate it above contemporary comparison pieces.

The Fantasy on Polish Airs and the Krakowiak soon followed, as Chopin was becoming celebrated across Europe as a new star of that new instrument, the piano. The themes in the Krakowiak are Chopin's own,but their character is designedly Polish – mystic in the Romantic, piano-and-horn-led introduction, then sparkling with gaiety in the main Allegro. The same kind of formal balance is developed in the Andante spianato and Grande Polonaise Op.22: it opens with the kind of ethereal melody which would soon become known as inimitably characteristic of Chopin, the dreamer of the piano, pre-eminent master of his art in the generation after Beethoven at translating a poetic consciousness and private thoughts into the domain of music.

- "Hats off gentlemen, a genius!", thus started Robert Schumann's review of the Op.2 by the young virtuoso Frédéric Chopin (1810-1849), freshly arrived from Warsaw, and conquering the astonished audiences of Germany.
- Chopin composed his works for piano and orchestra during just one period in his life: in his youth in Warsaw. This was the period of his composition studies under Józef Elsner at the High School of Music (1826–1829), and shortly afterwards his final year in Poland before he left his homeland for good in November 1830. Thus all his works for piano and orchestra (with the exception of the Grande Polonaise brillante, Op.22) were written in the years 1827-1830, when the composer's individual style was taking shape and maturing.
- On this new recording the 4 works for piano and orchestra are presented: The Variations on La Ci Darem La Mano Op.2, Fantasia on Polish Airs Op.13, Krakowiak Op.14 and the Andante Spianato et Grande Polonaise Brillante Op.22. We hear echoes of Polish dances and folklore in these delightful works, whereas the piano writing is spectacularly brilliant, full of the intricate figurations and acrobatics the young Chopin reveled in.
- Ekaterina Litvintseva is one of the most remarkable pianists of her generation. Her recordings won her enthusiastic acclaim in the international press: "a notable moment in the history of Chopin interpretation" (Fanfare); "a sense of spontaneous invention" in Mozart's K.271 (Gramophone) and "an expressive depth" in Brahms's 1st Piano Concerto (BBC Music Magazine). She previously recorded for Piano Classics an album with piano works by Dora Pejačević.
Listening
Track list
Disk 1
Frédéric Chopin: Variations on 'Là ci darem la mano' in B-Flat Major, Op. 2

Frédéric Chopin: Fantasia on Polish Airs in A Major, Op. 13

Frédéric Chopin: Krakowiak in F Major, Op. 14

Frédéric Chopin: Andante spianato et grande polonaise brillante, Op. 22