Chaminade: Piano Music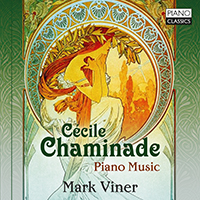 | | |
| --- | --- |
| Composer | Cécile Chaminade |
| Artist | Mark Viner piano |
| Format | 1 CD |
| Cat. number | PCL10164 |
| EAN code | 5029365101646 |
| Release | November 2018 |
About this release
Late-Romantic French piano music of unfailing elegance and wit, chosen by a rising piano star and gifted young advocate of under-rated composers.

Welcoming Mark Viner's Piano Classics album of opera fantasies by Sigismond Thalberg (PCL0092), Gramophone wrote: 'A quite exceptional disc from a blazing young British talent.' Viner has now made his own selection from the hundreds of piano pieces, some light, others more serious, composed
by Cécile Chaminade (1857-1944). Periodically revived in tokenistic ways, Chaminade's output is now being seen in the round, and it reveals a voice of not only feminine delicacy and charm, but also a melodist of refinement whose gift for a well-turned tune never left her in a career spanning over six decades.

The Pierrette, air de ballet Op.41 may be an attractive trifle, but the Six Etudes de concert present a stiffer challenge for the pianist: the first of them, 'Automne', was one of her best-loved pieces at a time when her music was ubiquitous in the smart salons of Europe. The brief Les Sylvains gives the impression of having been conceived at a single sitting, so engaging is its suggestive portrait of wood-nymphs.

Once described as 'nearly a genius who knew what and how to write for pianists of moderate ability,' Chaminade produced countless miniatures of gentle pleasures such as La Lisonjera Op.50, the Arabesque Op.61 and the Songs without Words Op.76. However, the four-movement Poème provençal Op.127 is far more substantial: 'among Chaminade's most inspired final productions' according to Viner in his invaluable booklet essay. His survey concludes with the scintillating Thème varié Op.89 which, like several other works on this album has previously received very few recordings.

Mark Viner is chairman of the British Liszt and Alkan Society and has a busy concert schedule.

Cécile Chaminade (1857-1944) was a highly successful female pianist and composer. As a pianist she toured the European countries, in 1892 making her debut in England, making acquaintance with one of her biggest fans, Queen Victoria. In 1908 she made her American debut, gaining instant and immense popularity.
The reason for Chaminade's popularity is the charm, tunefulness and general accessability of her music. It touches a ready chord with every music lover, and the fancy titles and not overly virtuosic piano writing made that her works became drawing room favourites of the epoch.
British pianist Mark Viner made a generous selection of piano works.
He plays with exquisite charm and wit, with deep sentiment which never spills over into sentimentality.
Mark Viner is recognized as one of the most exciting British pianists of his generation, and is becoming increasingly well-known for his bold championing of unfamiliar repertoire. His earlier recordings for Piano Classics include an excellent Liszt Transcriptions recital and a remarkable recording of Thalberg Operatic Fantasies, which was enthusiastically hailed by the press: "An exceptional disc from a blazing young British talent" (Gramophone). His recent Alkan recording received rave reviews: 5 star in the Guardian, 5 star and Recording of the Month in BBC Music Magazine, and many more.
Listening
Track list
Disk 1
Cécile Chaminade: Pierette air de ballet, Op. 41

Cécile Chaminade: 6 Etudes de concert, Op. 35: I. Scherzo

Cécile Chaminade: 6 Etudes de concert, Op. 35: II. Automne

Cécile Chaminade: 6 Etudes de concert, Op. 35: III. Fileuse

Cécile Chaminade: 6 Etudes de concert, Op. 35: IV. Appassionato

Cécile Chaminade: 6 Etudes de concert, Op. 35: V. Impromptu

Cécile Chaminade: 6 Etudes de concert, Op. 35: VI. Tarentelle

Cécile Chaminade: Les sylvains in D Major, Op. 60

Cécile Chaminade: Arabesque No. 1, Op. 61

Cécile Chaminade: Poème provençal, Op. 127: I. Dans la lande

Cécile Chaminade: Poème provençal, Op. 127: II. Solitude

Cécile Chaminade: Poème provençal, Op. 127: III. Le passé

Cécile Chaminade: Poème provençal, Op. 127: IV. Pêcheurs de nuit

Cécile Chaminade: La lisonjera, Op. 50

Cécile Chaminade: 6 Romances sans paroles, Op. 76: I. Souvenance

Cécile Chaminade: 6 Romances sans paroles, Op. 76: II. Elévation

Cécile Chaminade: 6 Romances sans paroles, Op. 76: III. Idylle

Cécile Chaminade: 6 Romances sans paroles, Op. 76: IV. Eglogue

Cécile Chaminade: 6 Romances sans paroles, Op. 76: V. Chanson brétonne

Cécile Chaminade: 6 Romances sans paroles, Op. 76: VI. Méditation

Cécile Chaminade: Thème varié in A Major, Op. 89