Chaminade: Piano Music, Volume 2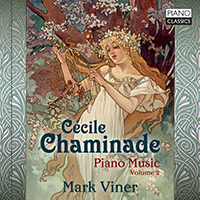 | | |
| --- | --- |
| Composer | Cécile Chaminade |
| Artist | Mark Viner piano |
| Format | 1 CD |
| Cat. number | PCL10249 |
| EAN code | 5029365102490 |
| Release | October 2022 |
About this release
The first volume of Cécile Chaminade's piano music on Piano Classics won the same kind of universal accolades as the rest of Mark Viner's fast-growing catalogue of albums for the label. His masterful advocacy is helping her to regain the reputation she enjoyed during her lifetime, when she could count Queen Victoria among her legion of ardent fans, in a long and fruitful career capped by becoming the first female composer to be awarded the Legion d'honneur, in 1913 – when she still had more than 30 years of productive music-making ahead of her.

Chaminade is principally remembered today as a composer of salon music, but she began her career writing on a much grander scale and with loftier expressive ambitions, both for the piano and in other genres. Such ambitions leave a mark on the set of six Etudes de concert which Mark Viner has compiled from different opus numbers (distinct from the Op.35 set recorded on Volume 1), beginning in dazzling style with the flashing runs of the Etude romantique, Op.132 and ending with the no-nonsense counterpoint of the Etude scolastique, Op.139.

Au pays dévasté Op.155 (In the devastated country) is one of Chaminade's most profound conceptions, among the most serious of her late works, published in 1919 in the wake of the First World War, which she had spent as a nurse to wounded soldiers away from the front line. However, there is also plenty of Chaminade the charmer here, at the peak of her powers in the Six Pièces humoristiques – the first and last of which receive their world premiere recordings here.

The album opens with Ondine, among her most supple and delicately textured tone-poems, and closes with the irrepressibly cheeky Lolita, a 'caprice espagnol' worthy of Carmen herself. Further highlights in between include a swaying and sensuous Danse creole Op.94 and the offbeat, coquettish Guitare Op.34. Under Mark Viner's fingers, Chaminade casts the same spell here as she did over audiences across Europe 150 years ago.

Cécile Chaminade (1857-1944) was a highly successful female pianist and composer. As a pianist she toured the European countries, in 1892 making her debut in England, making acquaintance with one of her biggest fans, Queen Victoria. In 1908 she made her American debut, gaining instant and immense popularity.
The reason for Chaminade's popularity is the charm, tunefulness and general accessibility of her music. It touches a ready chord with every music lover, and the fancy titles and not overly virtuosic piano writing made that her works became drawing room favorites of the epoch.
For his second Chaminade disc British pianist Mark Viner chose the Six Concert Studies, substantial and demanding works, Six Pièces humoristiques Op. 87, and some engaging and attractive character pieces: L'Ondine, Danse Créole and the favorite Lolita, Caprice Espagnol, all played with Viner's unerring feeling for the witty and charming style, pouring out sentiment without being sentimental.
Gramophone wrote about Viner's first Chaminade CD: "This new survey must count among the finest yet, showing the range and ambition of Chaminade in short works, played with an innate charm and understanding of the genre. In addition, it is most beautifully recorded.
Mark Viner is recognized as one of the foremost British pianists, a strong advocate of lesser-known romantic piano music. One of his most ambitious and successful enterprises is the recording of the complete piano music by Charles-Valentin Alkan, now at volume 5, several of which issues received the highest praise in the press (5 star review, Gramophone Editor's Choice).
Listening
Track list
Disk 1
Cécile Chaminade: L'Ondine, Op. 101

Cécile Chaminade: Pas des echarpes, 3me air de ballet, Op. 37

Cécile Chaminade: 6 Pièces humoristiques, Op. 87: I. Réveil

Cécile Chaminade: 6 Pièces humoristiques, Op. 87: II. Sous bois

Cécile Chaminade: 6 Pièces humoristiques, Op. 87: III. Inquiétude

Cécile Chaminade: 6 Pièces humoristiques, Op. 87: IV. Autrefois

Cécile Chaminade: 6 Pièces humoristiques, Op. 87: V. Consolation

Cécile Chaminade: 6 Pièces humoristiques, Op. 87: VI. Norwégienne

Cécile Chaminade: Guitare, Op. 32

Cécile Chaminade: Au pays dévasté, Op. 155

Cécile Chaminade: Danse créole, 2me havanaise, Op. 94

Cécile Chaminade: Etude romantique, Op. 132

Cécile Chaminade: Etude pathétique, Op. 124

Cécile Chaminade: Etude mélodique, Op. 118

Cécile Chaminade: Etude humoristique, Op. 138

Cécile Chaminade: Etude symphonique, Op. 28

Cécile Chaminade: Etude scolastique, Op. 139

Cécile Chaminade: Sérénade, Op. 29

Cécile Chaminade: Lolita, caprice espagnol, Op. 54