Brahms: Piano Concerto Nos 1 & 2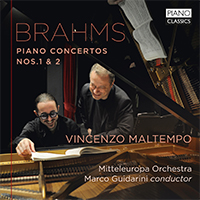 Composer
Johannes Brahms
Artist
Vincenzo Maltempo piano
Mitteleuropa Orchestra
Marco Guidarini conductor
Format
2 CD
Cat. number
PCL10145
EAN code
5029365101455
Release
May 2018
About this release
Crowning the very summit of the piano concerto literature are the two examples by Brahms, posing as stern a test of technique, temperament and poetic feeling to the interpreter now as they did when they were composed over a century and a half ago. The urgent, impulsive drama of the First, which propelled Brahms into international standing as a performer as well as a composer, was answered more than 20 years later by the more spaciously conceived Second, often more light-hearted in character yet making even more strenuous demands upon its performers as a fully symphonic concerto.

Those demands are met here by the Italian pianist Vincenzo Maltempo (b.1985), whose recordings of Romantic piano music have won critical superlatives. Of his debut on the label with the notoriously exacting music of Alkan, PianoNews considered Maltempo to be 'one of the greatest contemporary interpreters of this composer… no other pianist as Maltempo has managed to dominate in a so well thought-out and orchestral way the enormous difficulties.' According to Andrew Clements in The Guardian, the album is 'Exhilarating, demonic, a real revelation'. Four further albums of Alkan's music followed for the label, as well as the Hungarian Rhapsodies by Liszt and the 12 Etudes d'exécution transcendante Op.11 of Lyapunov.

As Maltempo's first concerto recording, this album is sure to be welcomed by not only his many followers but also all those listeners with their ear to the ground for modern virtuoso pianists. Here he is partnered by the Italian-based Mitteleuropa Orchestra under its principal conductor, Marco Guidarini, who is an experienced opera conductor across Europe and the US.

This 2-CD set presents the live registration of both the Brahms piano concertos, as played by Vincenzo Maltempo on two consecutive nights with the Mitteleuropa Orchestra, conducted by Marco Guidarini.
Vincenzo Maltempo is one of the most interesting pianists of his generation. His extensive discography on Piano Classics includes works by Alkan, Schumann, Lyapunov and Liszt. His CD's are received with the highest critical acclaim: "Exhilarating, a revelation!" (5-star in The Guardian), "Very close to ideal, 9/9" (Jed Distler on the Liszt Hungarian Rhapsodies on Classicstoday.com), "The finest I've heard..little short of perfection" (Editor's Choice, Gramophone), 5-star in Diapason etc.
In the mighty Brahms concertos Maltempo shows himself a strong architect, a sensitive and utterly romantic soul and a superb technician, always in service of the music.
Listening
Track list
Disk 1
Johannes Brahms: Piano Concerto No. 1 in D Minor, Op. 15: I. Maestoso

Johannes Brahms: Piano Concerto No. 1 in D Minor, Op. 15: II. Adagio

Johannes Brahms: Piano Concerto No. 1 in D Minor, Op. 15: III. Rondo. Allegro
Disk 2
Johannes Brahms: Piano Concerto No. 2 in B-Flat Major, Op. 83: I. Allegro non troppo

Johannes Brahms: Piano Concerto No. 2 in B-Flat Major, Op. 83: II. Allegro appassionato

Johannes Brahms: Piano Concerto No. 2 in B-Flat Major, Op. 83: III. Andante

Johannes Brahms: Piano Concerto No. 2 in B-Flat Major, Op. 83: IV. Allegretto grazioso