Berceuse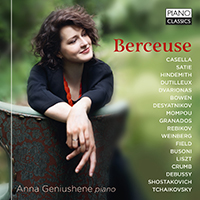 | | |
| --- | --- |
| Composer | Alfredo Casella, Claude Debussy, Dmitri Shostakovich, Erik Satie, Enrique Granados, Franz Liszt, Federico Mompou, Ferruccio Busoni, George Crumb, Henri Dutilleux, John Field, Leonid Desyatnikov, Mieczyslaw Weinberg, Paul Hindemith, Piotr Ilyich Tchaikovsky, Vladimir Rebikov, York Bowen |
| Artist | Anna Geniushene piano |
| Format | 1 CD |
| Cat. number | PCL10279 |
| EAN code | 5029365102797 |
| Release | September 2023 |
About this release
A unique and imaginative collection newly recorded by a recent star of the Van Cliburn Piano Competition.
Anna Geniushene's fresh, layered, and powerful interpretations won her a worldwide following at the 2022 edition of the Van Cliburn International Piano Competition, where she took Silver Medal with a stunning account of Tchaikovsky's First Piano Concerto which the critic for Gramophone compared in its power and nuance to Van Cliburn himself.

Born in Moscow, Anna Geniushene pursued graduate studies in London and now lives in Lithuania with her husband, the pianist Lukas Geniusas. In her own booklet introduction, she explains the inspiration for this quirky collection of instrumental lullabies. The Berceuse is 'associated with tenderness, care, purest love, and the most sensitive moments in our lives.' She dedicates the album to her two young sons.
Perhaps the most celebrated Berceuse of all, by Chopin, is missing, because it was Anna Geniushene's particular wish to find and share neglected examples of the genre, even by well-known composers. Debussy composed the Berceuse heroique during the First World War as a tribute to the soldiers on the Western Front. The Berceuse Elegiaque of Busoni is better known in its orchestral guise. The brief Berceuse by Hindemith, unpublished in his lifetime, 'draws listeners' attention by its utterly eloquent and typically sarcastic character, which has nothing in common with traditional lullabies.'

The sheer diversity of composers makes for a continually varied sequence. George Crumb evokes a magical night-time stillness with a minimum of notes. Mompou's Berceuse is likewise remarkable for its distilled serenity, whereas the examples by Granados, John Field and Liszt bring comfort with more Romantically moulded melodies in the tradition of Chopin. Anna Geniushene closes the album with two Russian Berceuses, by Shostakovich and Tchaikovsky, lyrical, simple and utterly beguiling in her hands.

- An original and challenging selection of Berceuses, written by 19th and 20th century composers for piano.
- The characteristics of the Berceuse (Lullaby, Wiegenlied) are basically quiet and soothing, aimed at putting a child to sleep. The music on this recording however display a wide range of emotions: from idyllic and childlike, to brooding, even menacing atmospheres, reflecting the times it was written in: a fascinating journey!
- Anna Geniushene was born in 1991 in Moscow, where she graduated with full honors from the State Conservatory. She was a finalist in the Leeds Competition in 2018, and the Silver Medallist of the Cliburn Competition in 2022. She is an active international soloist and chamber music player, and forms a duo with her husband Lukas Geniusas.
Listening
Track list
Disk 1
Alfredo Casella: Berceuse tristė, Op. 14

Erik Satie: Berceuse from "Enfantillages pittoresques"

Paul Hindemith: Berceuse für Klavierpianoforte

Henri Dutilleux: Prélude en berceuse from "au gré des ondes"

Balys Dvarionas: Lopšinė from "24 Piano Pieces"

York Bowen: Berceuse Op. 83

Leonid Desyatnikov: Berceuse from Film "Moscow"

Federico Mompou: Cuna from "Impresiones Intimas"

Enrique Granados: Berceuse from "Escenas Romanticas"

Vladimir Rebikov: Berceuse Op. 8 from "rêveries d'automne"

Mieczyslaw Weinberg: Wiegenlied, Op. 1

John Field: Nocturne in F Major – Cradle Song

Ferruccio Busoni: Elegie No. 7 "Berceuse"

Franz Liszt: Wiegenlied, S.198

George Crumb: Berceuse for the Infant Jesu from "A Little Suite for Christmas"

Claude Debussy: Berceuse héroique

Dmitri Shostakovich: Berceuse from Third Ballet Suite

Piotr Ilyich Tchaikovsky: Berceuse, Op. 72 No. 2