Balakirev, Glazunov, Kosenko: Russian Piano Sonatas Vol. 1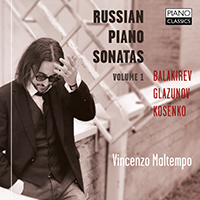 | | |
| --- | --- |
| Composer | Alexander Glazunov, Mily Balakirev, Viktor Kosenko |
| Artist | Vincenzo Maltempo piano |
| Format | 1 CD |
| Cat. number | PCL10159 |
| EAN code | 5029365101592 |
| Release | September 2018 |
About this release
After his 'outstanding' (The Guardian) series of Piano Classics albums dedicated to the music of Alkan, Vincenzo Maltempo turns to repertoire that also belongs to the post-Romantic age of sweeping eloquence and high-flown fantasy, growing out of the work of Liszt and Brahms, whose concertos featured on Maltempo's most recent Piano Classics recording (PCL10145). Here are three sonatas from the 'Silver Age' of Russian music from the turn of the last century, all exploiting a virtuoso technique to the full.

The narrative arc and harmonies of Robert Schumann's music make their mark on the rippling arpeggios and ardent lyricism of the Second Sonata by Alexander Glazunov. The Guardian also praised Maltempo's handling of Schumann on a recent album of the Sonata Op.14 and other, less-familiar works: with his 'intimate, delicately coloured
accounts', 'it's clear in every phrase here that Maltempo is much, much more than just an Alkan specialist.'

Least known of the composers here is the Ukrainian Victor Kosenko (1896-1938), whose sonatas have long attracted pianists in search of grand statements in the Lisztian tradition. The three movements of the Second are laid out on a relatively compact scale that belies their technical demands and majestic vein of expression; any listener who appreciates the architecture of Medtner's sonatas will find much to enjoy in Kosenko.

The four-movement sonata by Balakirev begins with a modestly self-contained Andantino but builds through a stamping mazurka and ardent intermezzo to a finale of exhilarating drive and passion on the scale of the composer's Islamey which remains a barnstorming showpiece for virtuoso pianists at the highest level. On this showing, Maltempo may certainly be counted among them.

This new recording presents three piano sonatas by Russian composers, Balakirev, Glazunov and Kosenko. Balakirev's highly attractive sonata is strongly rooted in the Russian folklore, using "folk" melodies and rhythms in colorful and overtly virtuosic pianism; Glazunov's second piano sonata, in its powerful formalism, looks back at Brahms and Schumann, while Viktor Kosenko is clearly influenced by the mysticism and ecstatic romanticism of Scriabin.
Italian pianist Vincenzo Maltempo, one of the most interesting pianists of the young generation, is clearly at home in this repertoire, which he showed in his staggering recording of the Transcendental Studies by Lyapunov (PCL0124), which received 5 stars in several classical magazines (a.o. the French Diapason). His recording of Liszt's Hungarian Rhapsodies received rave reviews, a Gramophone Editor's Choice: "extraordinary breadth and nobility..little short of perfection..", "9/9, close to ideal" (Jed Distler Classicstoday.com). His recordings of Alkan have "confirmed his place in the restricted circle of Alkan's best performers, 5 stars"(Diapason), "Exhilarating, thrillingly demonic, 5 Stars" (Andrew Clement in The Guardian).
The booklet contains excellent liner notes written by Ates Orga.
Listening
Track list
Disk 1
Mily Balakirev: Piano Sonata No. 2 in B-Flat Minor, Op. 102: I. Andantino

Mily Balakirev: Piano Sonata No. 2 in B-Flat Minor, Op. 102: II. Mazurka, moderato

Mily Balakirev: Piano Sonata No. 2 in B-Flat Minor, Op. 102: III. Intermezzo, larghetto

Mily Balakirev: Piano Sonata No. 2 in B-Flat Minor, Op. 102: IV. Finale, allegro non troppo, ma con fuoco

Alexander Glazunov: Piano Sonata No. 2 in E Minor, Op. 75: I. Moderato-poco più mosso

Alexander Glazunov: Piano Sonata No. 2 in E Minor, Op. 75: II. Scherzo, allegretto

Alexander Glazunov: Piano Sonata No. 2 in E Minor, Op. 75: III. Finale, allegro moderato

Viktor Kosenko: Piano Sonata No. 2 in C-Sharp Minor, Op. 14: I. Andante con moto

Viktor Kosenko: Piano Sonata No. 2 in C-Sharp Minor, Op. 14: II. Moderato assai espressivo

Viktor Kosenko: Piano Sonata No. 2 in C-Sharp Minor, Op. 14: III. Allegro vivo