Bacewicz: Piano Music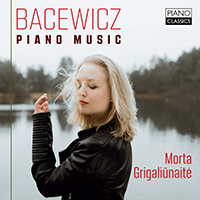 | | |
| --- | --- |
| Composer | Grazyna Bacewicz |
| Artist | Morta Grigaliūnaitė piano |
| Format | 1 CD |
| Cat. number | PCL10183 |
| EAN code | 5029365101837 |
| Release | April 2019 |
About this release
Grażyna Bacewicz (1909-1969) is one of the most significant composers of the mid-20th century, and yet her music remains largely unknown. In the period be- tween the two world wars, she studied in Paris with Nadia Boulanger, like so many American, British, and Polish composers, but during her lifetime her reputation rarely translated itself into frequent performances outside her native Poland.

Bacewicz had a distinctive creative personality and an intuitive approach to form that rewards close study. Her experience as an orchestral leader and concert violinist informed and enriched the string writing in the string quartets, violin concerts and sonatas which have received some attention on record. However, distinguished pianists such as Krystian Zimerman have recently begun to make a persuasive case for Bacewicz's piano writing, which may be appreciated at its freest and most demanding in the Second Piano Sonata which brings Morta Grigaliūnaitė's recital to a thrilling close.

Bacewicz declared that she did not see herself as an innovator but as a progressive composer: 'Each work completed today becomes the past yesterday.' Her two sets of etudes tackle different techniques of pianism within clear, often ternary forms, but the imaginative ideas within them hint at her larger works in a similar way to the etudes and mazurkas of her compatriots Chopin and Szymanowski, highlighting her seemingly endless capacity for reinvention.

Morta Grigaliūnaitė also includes in her survey a series of lighter works: the Little Triptych, the Concert Krakowiak, a Children's Suite and Trois pièces caractéristiques – most of them hardly more than a minute or two in length, yet all bursting with individual ideas which reveal Bacewicz's own considerable talents as a pianist. This album marks the debut on Piano Classics of a young Lithuanian pianist who has appeared throughout her own country and across Europe as a soloist since graduating from the Royal Academy of Music in London and completing her studies in Cologne and Madrid. Her recording makes a major contribution to the ever-growing appreciation of Bacewicz's music.

Grażyna Bacewicz (1909-1969) was one of the foremost and influential Polish composers of the 20th century. Her multi-faceted talent forged a path for female composers in a predominantly male and conservative musical era and climate. After studying in Warsaw she went to Paris to study composition with Nadia Boulanger and violin with Carl Flesch. She became a successful soloist, concertmaster of the Polish Radio Orchestra and, after WWII, a teacher at Łódź Conservatory.
This new recording presents the substantial 2nd Piano Sonata, the Concert Krakowiak, 10 concert studies, a Children's Suite and several shorter pieces: exhilarating music full of bold ideas and buoyant energy!
Played with obvious enthusiasm and drive by young Lithuanian pianist Morta Grigaliūnaitė. At the age of 12 Morta was invited by Mstislav Rostropovich to play in the National Philharmonic Hall of Vilnius, and she was supported later on by the Rostropovich Foundation. She played in the Berliner Philharmonie, Wigmore Hall, Unesco Headquarters in Paris and many more international venues. Dimitri Bashkirov, Claudio Martinez Mehner and Hamish Milne were her teachers.
Track list
Disk 1
Little Triptych: I. —

Little Triptych: II. —

Little Triptych: III. —

Concert Krakowiak

Children's Suite: I. Prelude

Children's Suite: II. March

Children's Suite: III. Waltz

Children's Suite: IV. Lullaby

Children's Suite: V. Burlesque

Children's Suite: VI. Minuet

Children's Suite: VII. Gavotte

Children's Suite: VIII. Scherzino

Two Etudes for Double Notes: I. Moderato

Two Etudes for Double Notes: II. Vivace

Ten Concert Etudes: I. Allegro non troppo

Ten Concert Etudes: II. Vivace

Ten Concert Etudes: III. Allegretto

Ten Concert Etudes: IV. —

Ten Concert Etudes: V. Andante

Ten Concert Etudes: VI. —

Ten Concert Etudes: VII. Giocoso

Ten Concert Etudes: VIII. —

Ten Concert Etudes: IX. Presto

Ten Concert Etudes: X. Allegro

Trois pièces caractéristiques: I. Allegretto

Trois pièces caractéristiques: II. Moderato

Trois pièces caractéristiques: III. Vivace

Piano Sonata No. 2: I. Maestoso. Agitato

Piano Sonata No. 2: II. Largo

Piano Sonata No. 2: III. Toccata. Vivo