Amy Beach: Piano Music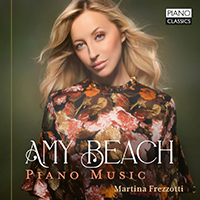 | | |
| --- | --- |
| Composer | Amy Beach (1) |
| Artist | Martina Frezzotti piano |
| Format | 1 CD |
| Cat. number | PCL10277 |
| EAN code | 5029365102773 |
| Release | November 2023 |
About this release
A wide-ranging introduction to the distinctive compositional voice of Amy Beach through her solo piano music, featuring both well-known and unfamiliar pieces. While Amy Beach is now among the best-known female composers of classical music history, her story becomes more remarkable as details of it are disseminated. The pianist Mark Viner introduces her life and music in a detailed but approachable essay to accompany this new recording of her piano music on Piano Classics. She was essentially self-taught, and a prodigy to match any previous celebrated male examples, at least in technical terms. She translated Berlioz's treatise on orchestration in order to use it herself. She became a formidably accomplished pianist in her own right, but was then prevented from giving more than two recitals a year by her husband.
Beach continued to compose, however, and steadly so through the last decade of the 19th century and well into the 20th. The earliest piece on Martina Frezzotti's recital is also one of her most familiar, the nocturne Dreaming from 1892, in which she emulates a Chopin model with piano writing that's deceptively simple on the page but uniquely haunting on the ear.

The album's most substantial work is the 25-minute Variations on Balkan Themes, from 1904. The four themes in question were passed on to her by a missionary to the region, and the piece amounts to a proud cry for Serbian nationalism in the post-Lisztian style. Through its course, Beach writes in the style of a barcarolle, a parlour waltz, a funeral march, a Hungarian dance and much more, weaving together her material with a sure hand.
Beach's own skill as a pianist surely contributes to the soft tonal shades she conjures in her transcription of Richard Strauss's song Ständchen. She also explored the possibilities of making accurate musical transcriptions of birdsong decades before Olivier Messiaen did so, and her most celebrated work in this vein is the achingly beautiful Hermit-Thrush at Eve from 1922.
Martina Frezzotti's album of Fanny Mendelssohn for Piano Classics (PCL10238) won enthusiastic praise from David Hurwitz on a video review for Classics Today. According to pianodao.com (Andrew Eales), 'Frezzotti proves a brilliant advocate for these pieces in this recording, combining a poetic sensibility with the necessary weight and flair to showcase the more dazzling elements of Mendelssohn's piano writing. The recording is bright, reverberant and luminous.'

- Amy Beach (1867-1944) was a pioneering American composer and pianist. She was the first female composer in the United States to achieve significant recognition, and her music was widely performed during her lifetime. Beach's piano works are an important part of her legacy and demonstrate her virtuosity as a performer and her innovative approach to composition.
- Beach's style is characterized by her ability to capture the essence of folk music while also incorporating her own unique musical style. Her piano music is full of complex rhythms and harmonies, and it requires great technical skill to perform.
- Beach composed numerous solo piano works, including preludes, waltzes, and nocturnes. These pieces are characterized by their rich harmonies, lyrical melodies, and intricate textures. They demonstrate Beach's ability to create evocative musical landscapes, and they are a testament to her status as one of the most important American composers of her time.
- Next to a selection of shorter character pieces this CD presents the substantial Variations on Balkan Themes, a masterwork in its genre.
- Italian pianist Martina Frezzotti studied with Lazar Berman at the Piano Academy of Imola and later with Elisso Virsaladze at the prestigious Tchaikovsky Conservatory in Moscow, where she obtained her Doctorate in Music with full marks in 2012, the first Italian in history of this prestigious university. In 2012 she made her debut in the New York Carnegie Hall.
- Her first CD for Piano Classics, with piano works by Fanny Mendelssohn (PCL10238), received many excellent reviews, 5 stars and Recording of the Month in the Italian magazine Musica.
Listening
Track list
Disk 1
Amy Beach: Out of the Depths in B Minor, Op. 130

Amy Beach: Variations on Balkan Themes in C-Sharp Minor, Op. 60: Theme. Adagio malincolico I. Più mosso II. Maestoso III. Allegro ma non troppo IV. Andante alla Barcarola V. Largo con molta espressione /Poco più mosso VI. Quasi Fantasia/Allegro all' Ongarese VII. Vivace/Valse lento VIII. Con vigore/Lento calmato Marcia funerale Cadenza. Grave/Quasi fantasia/Maestoso/Adagio

Amy Beach: 4 Sketches, Op. 15: III. Dreaming

Amy Beach: Serenade "Ständchen" after Richard Strauss

Amy Beach: Prelude and Fugue, Op. 81

Amy Beach: Canoeing, Op. 119 No. 3

Amy Beach: From Grandmother's Garden, Op. 97: V. Honeysuckle

Amy Beach: A Hermit Thrush at Eve, Op. 92 No. 1

Amy Beach: Nocturne, Op. 107

Amy Beach: 3 Piano Pieces, Op. 128: I. Scherzino. A Peterborough Chipmunk

Amy Beach: 3 Piano Pieces, Op. 128: II. Young Birches

Amy Beach: 3 Piano Pieces, Op. 128: III. Humming Bird