Alkan: Character Pieces & Grotesqueries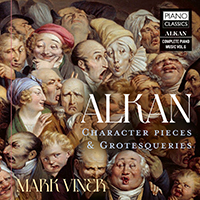 | | |
| --- | --- |
| Composer | Charles Henri Valentin Alkan |
| Artist | Mark Viner piano |
| Format | 1 CD |
| Cat. number | PCL10275 |
| EAN code | 5029365102759 |
| Release | December 2023 |
About this release
Mark Viner's survey of the complete solo piano music of Alkan continues to turn up discoveries and reveal previously little-known or misunderstood sides of a protean figure in late French romanticism. Viner himself regards Alkan as 'the most enigmatic figure in the history of music as a whole'.
The sixth volume of his survey focuses not on the grand cycles which have won this series such uniformly glowing reviews, but on sketches and miniatures which demonstrate Alkan's capacity to charm as well as astound and dazzle his listeners. All these pieces are further illuminated, as before, by his own comprehensive booklet notes.
Several of them will be unfamiliar to all except the most dedicated of Alkan connoisseurs. Jean qui pleure et Jean qui rit is a pair of two 'chamber fugues' inspired by Voltaire's account of a man who goes, with great ease, from a state of depression in the morning to making merry in the evening. The Capriccio alla-soldatesca also has a poetic origin, as a paraphrase of an evocation of a night-watch – the subject of Rembrandt's most famous canvas – by Joseph Christian von Zedlitz. Le Tambour bat aux champs is its companion piece, underpinned from the outset by a relentless ostinato of drum beats as a noble theme emerges, dignified and laconic.
Better known, the Toccatina Op.75 can be counted among Alkan's finest shorter pieces for the piano, demanding phenomenal dexterity and lightness of touch. At the other end of the expressive scale, Désir is a little fantasy, one of Alkan's most homely-sounding miniatures, yet still coloured by his characteristic use of the ninth.
Previous volumes in the series have demonstrated to listeners and critics that Mark Viner is the pre-eminent Alkan interpreter of our day. Jeremy Nicholas remarked in Gramophone: 'It takes a certain kind of temperament and a superior finger technique to take him on. Those who cut the mustard are few and far between. Mark Viner is such a one.' Reviewing the most recent volume, he noted: 'Viner responds to the composer's unique voice with great sensitivity and imagination.' The series looks set to claim definitive status.

- This 6th instalment of the recording of the complete piano music by Charles-Valentin Alkan (1813-1888) by Mark Viner presents a collection of works under the title "Character Pieces and Grotesqueries".
- The piano music of Charles-Valentin Alkan is fortunately gaining more and more recognition by today's general public. This eccentric pianist-composer lived the most part of his life in total reclusion, embittered by his lack of public success. He was a phenomenal pianist, the only pianist in whose presence the celebrated Franz Liszt was nervous to play!
- Alkan's piano works are of colossal substance and difficulty, earning him the nickname of "The Berlioz of the Piano". Even today only a handful of pianists can do justice to the fierce demands of his music. But it wouldn't be fair to let the technical difficulties distract the listener from his truly original, personal style, full of wit, energy and deep feelings.
- This volume contains some of the most eccentric, iconic and bizarre works written by Alkan: the two "military" pieces Capriccio alla Soldatesca and Le Tambour bat aux champs, the devilish Toccatina, the obsessive Le Chemin de Fer (a crazy train journey), Quasi Caccia, two fugues and the Trois Petites Fantaisies (actually far from "petite"...) and several more rarities.
- "For the second disc in his gargantuan 17-CD project of recording all Alkan's music Mark Viner gives us the 25 Préludes with an exemplary musicianship and assurance...makes you eager for further issues from this outstanding and most enterprising pianist" (Bryce Morrison in International Piano). Viner's previous recording of the Alkan Etudes Op.35 (PCL10127) received 5 stars and CD of the Month in BBC Music Magazine as well as 5 stars in The Guardian ("Viner rises to Alkan's extraordinary challenges"). Grande Sonata Op.33 (PCL10209): '[Viner] can claim a place at the top table as one of the pre-eminent Alkan players de nos jours… a disc of piano playing out of the top drawer.' Gramophone.
Listening
Track list
Disk 1
Charles Henri Valentin Alkan: Petit conte

Charles Henri Valentin Alkan: Pour monsieur Gurkhaus

Charles Henri Valentin Alkan: Jean qui pleure et Jean qui rit, due fughe da camera: I. Jean qui pleure

Charles Henri Valentin Alkan: Jean qui pleure et Jean qui rit, due fughe da camera: II. Jean qui rit

Charles Henri Valentin Alkan: Toccatina, Op. 75

Charles Henri Valentin Alkan: Désir, fantaisie

Charles Henri Valentin Alkan: Capriccio alla-soldatesca, Op. 50

Charles Henri Valentin Alkan: Le tambour bat aux champs, esquisse, Op. 50bis

Charles Henri Valentin Alkan: Fantasticheria

Charles Henri Valentin Alkan: Chapeau bas!, 2da Fantasticheria

Charles Henri Valentin Alkan: 2 Petites pièces, Op. 60: I. Ma chère liberté!..

Charles Henri Valentin Alkan: 2 Petites pièces, Op. 60: II. Ma chère servitude!..

Charles Henri Valentin Alkan: Quasi-Caccia, caprice, Op. 53

Charles Henri Valentin Alkan: Le chemin de fer, étude, Op. 27

Charles Henri Valentin Alkan: 3 Petites fantaisies, Op. 41: I. Assez gravement

Charles Henri Valentin Alkan: 3 Petites fantaisies, Op. 41: II. Andantino

Charles Henri Valentin Alkan: 3 Petites fantaisies, Op. 41: III. Presto