Alkan: 11 Pièces dans le style religieux, Op.72, Étude Alla-Barbaro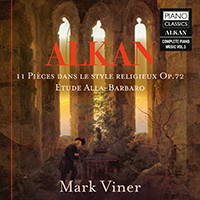 Download booklet
| | |
| --- | --- |
| Composer | Charles Henri Valentin Alkan |
| Artist | Mark Viner piano |
| Format | 1 CD |
| Cat. number | PCL10197 |
| EAN code | 5029365101974 |
| Release | June 2022 |
About this release
The latest volume in a series which is rapidly accumulating critical superlatives. Described by International Piano as 'one of the most gifted pianists of his generation', Mark Viner is steadily gaining a reputation as one of Britain's leading concert pianists; his unique blend of individual artistry combined with his bold exploration of the byways of the piano literature garnering international renown.

Having set down dazzling accounts of the knuckle-breaking studies and solo Concerto, Mark Viner here shows his ability to distil the spirit of Alkan's more intimate and spiritual works. Liszt is reputed to have said that Alkan was the only pianist before whom he felt ill at ease to perform, so daunting was Alkan's technique. However, Alkan was a serious scholar of Jewish learning and ancient biblical texts, a preoccupation, not a pastime, that took precedence for him over music and the piano.

The atmosphere and design of this Op.72 cycle (completed in 1867) harkens back to the grave passion instilled in the earlier 25 Préludes Op.31 (1847 - PCL10189). Several of the pieces venture beyond evocations of devotion to present psychologically probing dialogues of conflict and reconciliation. From the Revivalist sturdiness of the cycle's opening number through the inward contemplation of No.2 to the austere fugue of No.3 and beyond, Alkan continues to spring surprises on the listener, including sudden harmonic clashes which abruptly break the tonal fabric and anticipate 20th-century trends of modernism.

To the Op.72 cycle, Mark Viner adds a rarely heard Etude which Alkan originally composed for a pianistic encyclopedia compiled by his former professor. He concludes with the Etude Alla-Barbaro which was rediscovered as recently as 1996: it remains utterly arresting, unique and decades ahead of its time.

In his authoritative booklet essay, Viner introduces every piece on the album in detail.

This is the 5th instalment of the complete recording of the piano works by Charles-Valentin Alkan by Mark Viner.
The piano music of Charles-Valentin Alkan (1813-1888) is fortunately gaining more and more recognition by today's general public. This eccentric pianist-composer lived the most part of his life in total reclusion, embittered by his lack of public success. He was a phenomenal pianist, the only pianist in whose presence the celebrated Franz Liszt was nervous to play!
Alkan's piano works are of colossal substance and difficulty, earning him the nickname of "The Berlioz of the Piano". Even today only a handful of pianists can do justice to the fierce demands of his music. But it wouldn't be fair to let the technical difficulties distract the listener from his truly original, personal style, full of wit, energy and deep feelings.
British pianist Mark Viner continues his Alkan journey with the "11 Pièces dans le style religieux, Op. 72". Like much of Alkan's later music, the writing is of a more conservative idiom, shorn of excess and in which it seems not a note is wasted while the harmonic language is often laced with vintage piquancies that characterise so much of his later output. Enigmatic, sometimes bleak and inward-looking, they show a composer intensely occupied with the relationship between the human condition and religion.
As extras we hear the recently discovered Étude alla-Barbaro (not to be confused with the Etude Op. 35 No. 5, Allegro Barbaro), and the A minor Etude. From beginning to end, this study is wrought almost entirely from an interlocking chordal device, the rhythm of which might best be described as a paradiddle which, at the tempo marking of allegro molto, makes for a rather bruising study in chord playing, the effect of which is screamingly outrageous and, like so much of Alkan's music, far ahead of its time.
Critical praise for Mark Viner's Alkan recordings on Piano Classics:
Etudes Op.35 (PCL10127): 'The finest account ever committed to disc.' Gramophone
Preludes Op.31 (PCL10189): 'Another quite exceptional disc…beautifully recorded.' Gramophone
Grande Sonata Op.33 (PCL10209): '[Viner] can claim a place at the top table as one of the pre-eminent Alkan players de nos jours… a disc of piano playing out of the top drawer.' Gramophone.
Listening
Track list
Disk 1
Charles Henri Valentin Alkan: 11 Pièces dans le style religieux et 1 transcription du Messie de Hændel, Op.72: I. Tempo giustissimo

Charles Henri Valentin Alkan: 11 Pièces dans le style religieux et 1 transcription du Messie de Hændel, Op.72: II. Andante

Charles Henri Valentin Alkan: 11 Pièces dans le style religieux et 1 transcription du Messie de Hændel, Op.72: III. Quasi-Adagio

Charles Henri Valentin Alkan: 11 Pièces dans le style religieux et 1 transcription du Messie de Hændel, Op.72: IV. Assez doucement

Charles Henri Valentin Alkan: 11 Pièces dans le style religieux et 1 transcription du Messie de Hændel, Op.72: V. Lentement

Charles Henri Valentin Alkan: 11 Pièces dans le style religieux et 1 transcription du Messie de Hændel, Op.72: VI. Majesteusement

Charles Henri Valentin Alkan: 11 Pièces dans le style religieux et 1 transcription du Messie de Hændel, Op.72: VII. Molto moderato

Charles Henri Valentin Alkan: 11 Pièces dans le style religieux et 1 transcription du Messie de Hændel, Op.72: VIII. Assez vite

Charles Henri Valentin Alkan: 11 Pièces dans le style religieux et 1 transcription du Messie de Hændel, Op.72: IX. Assez lentement

Charles Henri Valentin Alkan: 11 Pièces dans le style religieux et 1 transcription du Messie de Hændel, Op.72: X. Modérément

Charles Henri Valentin Alkan: 11 Pièces dans le style religieux et 1 transcription du Messie de Hændel, Op.72: XI. Dolcemente

Charles Henri Valentin Alkan: 11 Pièces dans le style religieux et 1 transcription du Messie de Hændel, Op.72: XII. XIII. Du Messiah de Hændel. Larghetto

Charles Henri Valentin Alkan: Etude from the Encyclopédie du pianiste compositeur

Charles Henri Valentin Alkan: Etude Alla-Barbaro