Albeniz: Piano Sonata Nos. 3, 4, 5, Suite Ancienne Nos. 1, 2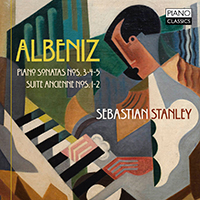 | | |
| --- | --- |
| Composer | Isaac Albéniz |
| Artist | Sebastian Stanley piano |
| Format | 1 CD |
| Cat. number | PCL10194 |
| EAN code | 5029365101943 |
| Release | November 2019 |
About this release
Albéniz wrote seven piano sonatas during the 1880s, but only Nos. 3, 4, and 5 survive as complete works. As with so much of his output they are now better known in the form of guitar transcriptions – at least for Nos. 3 and 5 – but the piano originals show the same fantastical imagination and romantic temperament as his masterpiece Iberia, while conforming to a more conventionally Classical form. Their craftsmanship in harmony, scoring, and voice-leading are beyond reproach, but it is the lyric sweep and often playful touches of harmony that secure their place on the fringes of the repertoire.

As a pianist, Albéniz was a noted interpreter of 18th-century music – not only Bach and Scarlatti but also Handel, Couperin and Rameau – at a time when such music was often disparaged as dryly academic or old- fashioned. The Suites anciennes are an early example of musical neoclassicism, comprising suites of gavottes, minuets, sarabandes and chaconnes in his own tribute to the Baroque era. But then the minuets, rondos and well-worked counterpoint to be enjoyed in the three sonatas also belong to an earlier era. The Fourth is a particular highlight, establishing Albéniz as the leading Spanish composer of keyboard sonatas since Antonio Soler, but the others are every bit its equal in raftsmanship and elegance.

Sebastian Stanley is a British pianist who has specialised in the piano music of Spain, making well-received recordings of the Danzas Espanolas and Goyescas by Granados. This is his debut album on Brilliant Classics, enhanced by booklet notes by the noted authority on Spanish piano music, Walter A. Clark.

Isaac Albéniz' most famous work is undoubtedly his suite Iberia, a landmark of Spanish culture and the perfect example of "Españolismo", the fusing of folkloristic elements in romantic music. His other works, especially the Piano Sonatas, are rarely performed and that is a shame, as they are highly attractive works in classic/romantic style, full of wonderful melodies and highly idiomatic pianism (hardly surprising from such a great performing pianist as Albeniz was..).
This new recording presents the three complete piano sonatas, the numbers 3-4-5, as well as two beautiful Suites Anciennes, which contain baroque dance forms in romantic disguise.
A beautiful recording by young pianist Sebastian Taylor, who has Spanish roots in is ancestry. A student of the Royal College of Music in London he attended masterclasses by Menahem Pressler and Gary Graffman. His recording of Granados' Goyescas received 5-star reviews in Fanfare, and American Record Guide.
The liner notes in the booklet were written by Walter E. Clark of the University of California.
Listening
Track list
Disk 1
Isaac Albéniz: Piano Sonata No. 3 in A-Flat Major, Op. 68: I. Allegretto

Isaac Albéniz: Piano Sonata No. 3 in A-Flat Major, Op. 68: II. Andante

Isaac Albéniz: Piano Sonata No. 3 in A-Flat Major, Op. 68: III. Allegro assai

Isaac Albéniz: Suite Ancienne No. 1, Op. 54: I. Gavotta

Isaac Albéniz: Suite Ancienne No. 1, Op. 54: II. Minuetto

Isaac Albéniz: Piano Sonata No. 4 in A Major, Op. 72: I. Allegro

Isaac Albéniz: Piano Sonata No. 4 in A Major, Op. 72: II. Scherzo. Allegro

Isaac Albéniz: Piano Sonata No. 4 in A Major, Op. 72: III. Minuetto. Andantino

Isaac Albéniz: Piano Sonata No. 4 in A Major, Op. 72: IV. Rondo. Allegro

Isaac Albéniz: Suite Ancienne No. 2, Op. 64: I. Sarabande

Isaac Albéniz: Suite Ancienne No. 2, Op. 64: II. Chaconne

Isaac Albéniz: Piano Sonata No. 5 in G-Flat Major, Op. 82: I. Allegro non troppo

Isaac Albéniz: Piano Sonata No. 5 in G-Flat Major, Op. 82: II. Minuetto del Gallo

Isaac Albéniz: Piano Sonata No. 5 in G-Flat Major, Op. 82: III. Rêverie

Isaac Albéniz: Piano Sonata No. 5 in G-Flat Major, Op. 82: IV. Allegro