Albanian Piano Music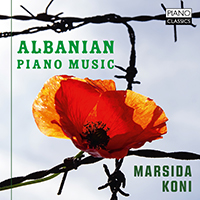 | | |
| --- | --- |
| Artist | Marsida Koni piano |
| Format | 1 CD |
| Cat. number | PCL10149 |
| EAN code | 5029365101493 |
| Release | September 2018 |
About this release
Punchy folkloristic suites, dances and miniatures from a musically neglected corner of Europe.

There are two generations of Albanian composers represented on this invaluable guide to the country's piano music. Simon Gjoni, Cesk Zadeja and Tonin Harapi belong to the first generation of professional composers from Albania, all born in the 1920s, studying abroad but returning to the capital and artistic hub, Tirane, to lead cultural life while the country suffered from comparative international isolation in the 1950s and 60s. It is to this later generation that Pellumb Vorpsi, Thomas Simaki and Vasil Tole belong.

The Adriatic culture shared by Albania and Italy is celebrated in several bilingually titled works such as Ja gëzimi kthen përsëri, (La gioia ritorna ancora) by Harapi, whose works are among the simplest, briefest and most charming on the album. At the other end of the scale, pianistically speaking, are the Lisztian Variations on a Popular Theme by Vorpsi. Even so, both composers, and most of the others, share a direct, fresh, folk-inspired mode of expression that carries with it strains of Bartók and Vaughan Williams, to name two more noted ethno musicological explorers in the early years of the last century.

This album marks the debut of Marsida Koni (b.1981) on Piano Classics. An Albanian native, she grew up in her home country and made her broadcast debut at the age of just nine, and her orchestral concerto debut two years later. Having graduated from the university in Tirane, she pursued further studies in Italy, where she now makes her career. She has a recorded partnership with the clarinettist Piero Vincenti, and she is artistic director of the Lazar Berman International Piano Competition in Camerino in the Marche region of northern Italy.

Due to its extreme isolation the musical development in Albania kept its own pace and direction, independent of what was happening in other countries. This new recording presents a unique overview of the music by Albanian composers of the 20th century. From the 1950´s on the musical life received a new impetus in the development of musical education systems and the founding of several symphony orchestras, and composers were inspired to write in a new national style, which was rooted in the rich folk music tradition of the country.
The piano music presented here is generally in traditional style, highly attractive , alternating melancholy romanticism and joyous, rhythmically vibrant folk music. Marsida Koni is one of the foremost pianists of Albania. She studied in Italy with the famous pianist and teacher Franco Scala, and she founded a Piano Academy in Perugia.
The booklet contains extensive liner notes about all the featured composers.
Listening
Track list
Disk 1
Thomas Simaku: Duaje emrin tend

Pëllumb Vorpsi: Variacione mbi një temë popullore – Balladë

Kozma Lara: Dhuratë për mësuesen

Kozma Lara: Valle

Kozma Lara: Ballada No. 4 "Pastorale"

Kozma Lara: Këngë

Kozma Lara: Prelud

Kozma Lara: Marsh

Kozma Lara: Vals

Feim Ibrahim: Tokatë

Feim Ibrahim: Valle

Feim Ibrahim: Valle e vogël

Feim Ibrahim: Nina nana

Cesk Zadeja: Humoreska

Cesk Zadeja: Tokata

Simon Gjoni: Luleborë

Vasil Tole: Rondo

Limos Dizdari: Peisazh ne '36

Limos Dizdari: Valle

Tonin Harapi: Ja gëzimi kthen përsëri

Tonin Harapi: Moll' e kuqe top sheqere

Tonin Harapi: Një dhembje e vogël

Tonin Harapi: Valle

Tonin Harapi: Romancë

Tonin Harapi: Bisedë

Tonin Harapi: Gjeta një bilbil

Tonin Harapi: Valle

Tonin Harapi: Këngë