Albéniz: Suite Española Op. 47 & 97, Suite Ancienne No.3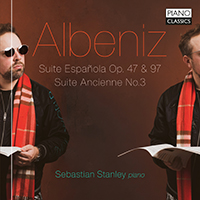 | | |
| --- | --- |
| Composer | Isaac Albéniz |
| Artist | Sebastian Stanley piano |
| Format | 1 CD |
| Cat. number | PCL10262 |
| EAN code | 5029365102629 |
| Release | February 2023 |
About this release
The first volume of Sebastian Stanley's Albéniz survey was greeted with enthusiasm for the repertoire and praise for the interpretations in the pages of Fanfare and elsewhere: 'He is tender and sentimental in the lyrical moments, animated and energetic in his attack elsewhere. He clearly loves the music, and dispatches it with unapologetic flair.'
His sequel opens with the First Suite Española which contains several of the composer's most colourful and best-known pieces. It begins with the vibrant guitar-strumming textures and Moorish harmonies of 'Granada (Serenata)' and continues with his own interpretation of a dance from his native Catalonia. Evocations of Seville, Cadiz and Asturias all spring from the pages with the sharp colours of a Goya canvas, and the suite comes to an exotic, sensuous conclusion with a Cuban habanera.
The Second Suite Española is much smaller and less well-known. Its two movements are evocations of Zaragoza and (once more) Seville. Sebastian Stanley includes two further landscapes in sound: the Zambra granadina (Danse orientale) evokes flamenco dance that features a haunting melody to a seductively syncopated accompaniment. The rolled chords of Cádiz (Gaditana) suggest the strumming of guitars, setting the scene for an animated copla dance.
The neoclassical side of Albéniz comes to the fore with the third of his Suites Anciennes – consisting of a graceful Minuet and sprightly Gavotte – which anticipate similar projects to revive Baroque forms in modern guise by Ravel and Respighi. As a reminder of the incomparable richness of the finest Spanish piano music,' Sebastian Stanley's Albéniz series should invite the attention of curious listeners and pianophiles alike.

- Isaac Albéniz' most famous work is undoubtedly his suite Iberia, a landmark of Spanish culture and the perfect example of "Españolismo", the fusing of folkloristic elements in romantic music. His other works, especially the two Suites Espanola, are rarely performed and that is a shame, as they are highly attractive works in classic/romantic style, full of wonderful folk like melodies and highly idiomatic pianism (hardly surprising from such a great performing pianist as Albeniz was...).
- This new recording presents the two Suites Espanola, including popular works like Cadiz and Asturias (with its unique guitar imitations), as well as the third Suite Ancienne, which contains baroque dance forms in romantic disguise.
- A beautiful recording by pianist Sebastian Stanley, who has Spanish roots in his ancestry. A student of the Royal College of Music in London he attended masterclasses by Menahem Pressler and Gary Graffman. His recording of Granados' Goyescas received 5-star reviews in Fanfare, and American Record Guide. His previous Albeniz recording for Piano Classics contained the three rarely heard Piano Sonatas (PCL10194).
Listening
Track list
Disk 1
Isaac Albéniz: Suite espanola No. 1, Op. 47: I. Granada

Isaac Albéniz: Suite espanola No. 1, Op. 47: II. Cataluna

Isaac Albéniz: Suite espanola No. 1, Op. 47: III. Sevilla

Isaac Albéniz: Suite espanola No. 1, Op. 47: IV. Cadiz

Isaac Albéniz: Suite espanola No. 1, Op. 47: V. Asturias

Isaac Albéniz: Suite espanola No. 1, Op. 47: VI. Aragon

Isaac Albéniz: Suite espanola No. 1, Op. 47: VII. Castilla

Isaac Albéniz: Suite espanola No. 1, Op. 47: IX. Cuba

Isaac Albéniz: Suite espanola No. 2, Op. 97: I. Zaragoza

Isaac Albéniz: Suite espanola No. 2, Op. 97: II. Sevilla

Isaac Albéniz: Suite ancienne No. 3: I. Minuetto

Isaac Albéniz: Suite ancienne No. 3: II. Gavota

Isaac Albéniz: Zambra granadina (danse orientale)

Isaac Albéniz: Cadiz (gaditana)